Ratusan Pendaftar Bersaing Masuk STPP Magelang, Ini Foto-fotonya
Indonesian Youth are Interested in Developing Agribusiness Opportunities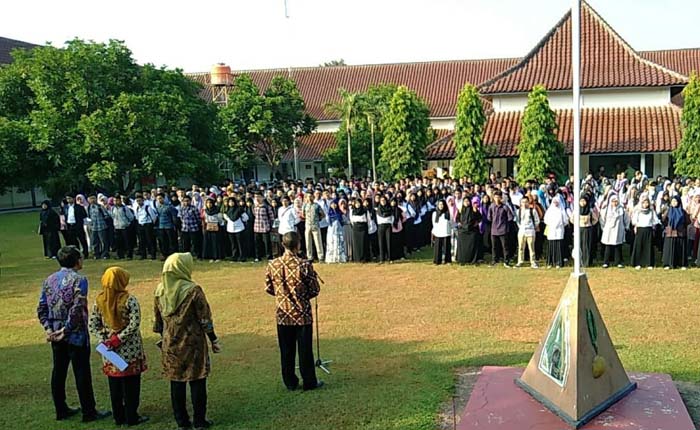 AGRIBISNIS dan sektor pertanian tetap menarik minat generasi muda Indonesia, khususnya lulusan sekolah menengah atas (SMA) dan sederajat untuk mengembangkan potensi dan bakat menjadi wirausahawan muda dan penyuluh pertanian melalui Politeknik Pembangunan Pertanian (Polibangtan).
Terbukti di Sekolah Tinggi Penyuluhan Pertanian - STPP Magelang untuk Jurusan Penyuluhan Pertanian (Jurluhtan) di Yogyakarta, tercatat 315 yang mengikuti apel penerimaan mahasiswa baru (PMB) dipimpin oleh Ketua STPP Magelang, Ali Rachman diwakili oleh Wakil Ketua I dan II, Rajiman dan Yudiani RK. Tampak hadir Kabag Administrasi Umum STPP Yogyakarta, Irwan Johan Sumarno.
Kepala Badan Penyuluhan dan Pengembangan SDM Pertanian (BPPSDMP) Kementerian Pertanian RI, Momon Rusmono memantau langsung kegiatan PMB di Sekolah Tinggi Penyuluhan Pertanian - STPP Magelang pada Selasa (3/7).
AGRIBUSINESS and agricultural sectors still attract young Indonesians, especially high school graduates to develop the potential and talent become young entrepreneurs and agricultural extensionist through the Agricultural Polytechnic or the Polibangtan.
Proven in Magelang's Agriculture Extension College or the STPP Magelang recorded 315 who attended the new admissions ceremony led by Rector of STPP Magelang, Ali Rachman was represented his the deputies, Rajiman and Yudiani RK. Also attended the Head of General Affairs of STPP Yogyakarta, Irwan Johan Sumarno.
Director General of Indonesia's Agricultural Extension and Agricultural Human Resources or the BPPSDMP at the Agriculture Ministry, Momon Rusmono monitor the written exam in the STPP Magelang.