Berita Foto Mentan Resmikan Polbangtan Gowa Kampus II di Bone
News in Pics of 2nd Campus of Indonesian´s Polbangtan Gowa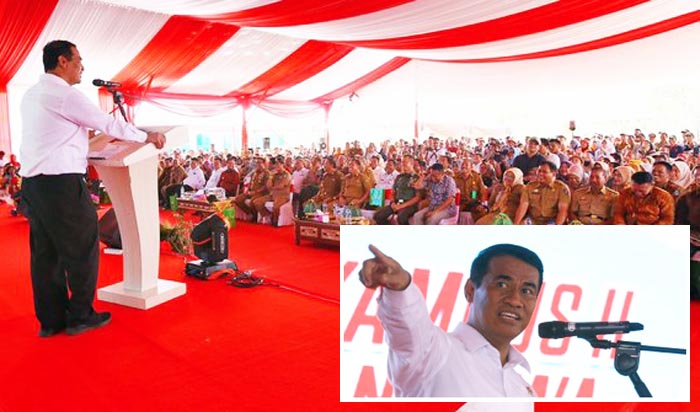 "Jadikan kampus Bone sebagai pusat inseminasi buatan di Sulsel."
SETELAH meninjau fasilitas peternakan dan kesehatan hewan di sekitar kampus, Menteri Pertanian RI Andi Amran Sulaiman meresmikan Kampus II dari Polbangtan Gowa di Kabupaten Bone, Provinsi Sulawesi Selatan yang berlokasi di Desa Mappasangka, Kecamatan Ponre, Senin [8/4].
"Lokasi kampus berada di Bone, karena pertimbangan daerah ini merupakan daerah terpencil sehingga diharapkan mendorong perekonomian daerah," kata Mentan usai peresmian.
Selain dihadiri Kepala BPPSDMP Kementan, Momon Rusmono turut hadir Wakil Gubernur Sulsel, Andi Sudirman Sulaiman; Bupati Bone A Fahsar M Padjalangi; Kepala Pusdiktan, Idha Widi Arsanti; dan Direktur Polbangtan Gowa, Dr Ir Syarifuddin MP [Cha/Foto2: Humas BPPSDMP Kementan]
INDONESIAN Agriculture Ministry Andi Amran Sulaiman inaugurated the second campus of Polbangtan Gowa in Bone district of South Sulawesi province on Monday [April 8].
"Campus in Bone, because it is a remote area so it is expected to boost Bone's economy," Minister Sulaiman said.
The Polbangtan Gowa is the transformation of the Agricultural Extension College or STPP becomes become a Agricultural Development Polytechnic or Polbangtan.