Blueberry Organik Kisarazu, Berita Foto Sekjen Kementan di Jepang
Senior Indonesian Agricultural Officials Visit Japan in Pictures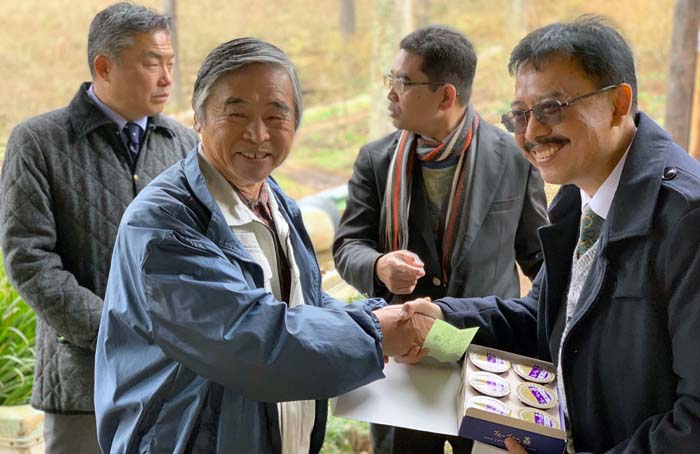 Sekjen Kementan Syukur Iwantoro (kanan) menerima cenderamata dari Ezawa
INDONESIA akan membudidayakan blueberry organik Kisarazu dari Jepang, setelah Sekjen Kementan Syukur Iwantoro bertemu Walikota Kisarazu Prefektur Chiba, Yoshikuni Watanabe dan Ezawa, ketua asosiasi petani blueberry Jepang, beluma lama ini, terkait rencana hibah bibit blueberry dari Ezawa.
Sekjen Syukur menyatakan terima kasih atas kesediaan Ezawa ke Indonesia dalam waktu dekat, memberikan 10 varietas terbaik rabbiteye blueberry untuk dibudidayakan di Bandung, Jawa Barat, Kaliurang [Yogyakarta] dan Soe [NTT].
Ezawa akan menerapkan teknik budidaya organik seperti dilakukannya selama 50 tahun terakhir di kebun miliknya.=
Terima kasih Mr Ezawa atas kesediaannya, demikian pula dengan Walikota Kisarazu," kata Syukur I didampingi Kapus Distribusi dan Cadangan Pangan BKP Kementan, Risfaheri. (Foto2: Biro Humas Kementan)
INDONESIA will cultivate Kisarazu organic blueberries of Japan, after the Secretary General of Agriculture Ministry Syukur Iwantoro met Mayor Kisarazu Chiba Prefecture, Yoshikuni Watanabe and Ezawa, chairman of the Japanese blueberry farmers' association, recently, related to granting blueberry seeds from Ezawa.
Iwantoro expressed his gratitude for Ezawa's plan to Indonesia in the near future, giving 10 best varieties of rabbiteye blueberry for cultivation in Bandung, West Java, Kaliurang [Yogyakarta] and Soe [East Nusa Tenggara].
Ezawa will apply organic cultivation techniques like he did for the last 50 years in his garden.
"Thank you for the willingness of Mr. Ezawa and Mayor Kisarazu," Iwantoro said.