Dukungan BPPSDMP Kementan untuk Santri Tani Milenial, Ini Foto-fotonya
News in Pics of Indonesian Govt Support the Islamic Students in Agriculture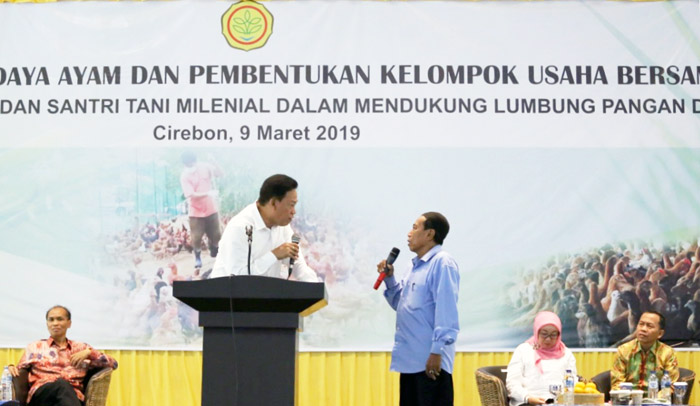 Kepala BPPSDMP Kementan Momon Rusmono dialog dengan petani
KENALI sosoknya dan ketahui masalahnya menjadi kiat Momon Rusmono melalui dialog dengan para petani dan santri di Cirebon, Sabtu (9/3).
Badan Penyuluhan dan Pengembangan SDM Pertanian - Kementerian Pertanian RI (BPPSDMP) melaksanakan instruksi Menteri Pertanian Andi Amran Sulaiman untuk mengembangkan potensi pondok pesantren sebagai 'garda utama' ketahanan pangan nasional, dengan membentuk 850 kelompok santri tani milenial (KSTM).
Pusat Penyuluhan Pertanian (Pusluhtan) mengawal pengembangan KSTM dan kelompok usaha bersama (KUB) di Provinsi Jawa Barat. (Foto2: Pusluhtan BPPSDMP/Bima)
GET TO KNOW the profiles and find out the problem became tips of Indonesian senior official of Agriculture Ministry, Momon Rusmono through dialogue with farmers and students of Islamic boarding school in Cirebon, West Java province on Saturday (March 9).
Directorate General of Extension and Agricultural HR Development or the BPPSDMP to developing potential of Islamic boarding schools or the pesantren to support national food security, as instructed of Agriculture Minister Andi Amran Sulaiman.
The Agricultural Extension Center will support developing of 850 santri farmer groups or the KSTM.