Bayi Penyuluh jadi `Puncak Acara` Pertemuan GOR Sudiang, Ini Foto-fotonya
Indonesian Minister Meet with Agriculture Extentionist in Pictures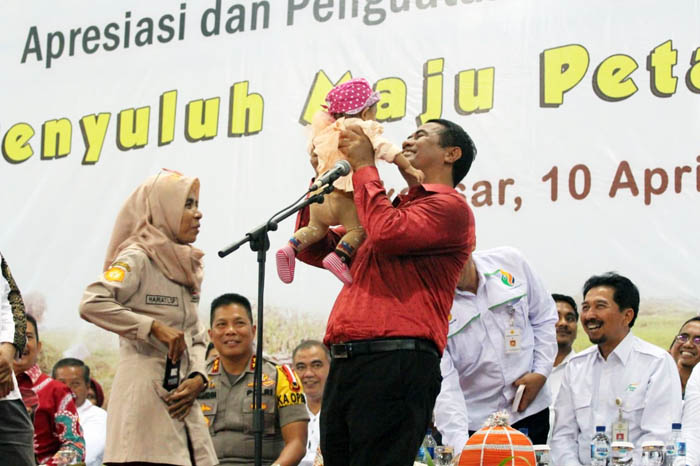 Kuis smartphone digagas KaBadan SDM Momon Rusmono [Foto: Bima NS]
"BAYI LUCU ini membuat saya batal bertanya pada ibu penyuluh," kata Mentan Amran Sulaiman saat kuis berhadiah lima smartphone Android pada kegiatan 'apresiasi penyuluh dan petani andalan' di GOR Sudiang Makassar, Sulsel, Rabu [10/4].
Spontanitas Mentan menggendong bayi menjadi 'puncak acara' pertemuan 12.000 penyuluh, petani dan santri tani dari seluruh Indonesia yang diselenggarakan BPPSDMP Kementan di Makassar.
Banyak kejutan dari GOR Sudiang seperti bonus ke Thailand untuk penyuluh, bantuan pertanian Rp21.03 miliar untuk Kabupaten Maros dan Mentan mendaulat Kepala BPPSDMP Kementan, Momon Rusmono sebagai 'Bapak penyuluhan Indonesia'. [One76/Foto2: Penyelenggaraan Penyuluhan/Septalina P, Bima PS & Purwanto N]
"THE CUTE baby made me cancel asking the mother," said Indonesian Agriculture Minister Amran Sulaiman of quiz prize five Android smartphones on the appreciation of agricultural extensionist and farmers in Makassar, South Sulawesi, Wednesday [April 10].
Spontaneity Minister Sulaiman holds a baby as the 'peak event' of a meeting of 12,000 agriculture extensionist and farmers across the country in Makassar.
Many surprises of Sudiang Stadium such as bonuses to Thailand for agricultural extensionist and IDR21.03 billion central government assistance for Maros district.