Mentan Kuliah Umum di Unmul dan Pertemuan Rektor PTN-KTI di Samarinda
Indonesian Agriculture Minister Asked the Students Support Food Self-sufficiency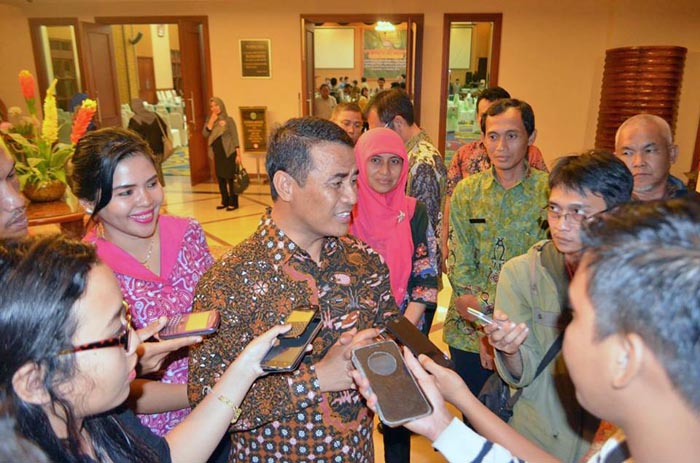 MENTERI Pertanian RI Andi Amran Sulaiman mendorong para mahasiswa untuk optimistis menghadapi masa depan bagi kemajuan bangsa, dengan menerapkan prinsip hidup jujur, kerja keras dan berkomitmen.

"Lima atau 10 tahun lagi harus ada menteri yang merupakan alumni Unmul," kata Mentan pada kuliah umum di hadapan civitas academica Universitas Mulawarman, Samarinda, Kalimantan Timur pada Selasa (11/10).

Sementara kepada para rektor perguruan tinggi negeri di Kawasan Timur Indonesia (KTI), Mentan Amran Sulaiman menantang sekaligus memberi peluang kepada fakultas-fakultas pertanian kepada perguruan tinggi negeri (PTN) di KTI untuk mengembangkan lahan pertanian seluas 1.000 hektar.

Untuk tahap awal, pemerintah akan membantu menyediakan benih unggul, pupuk dan Alsintan dan akan kami beli hasil panen pertama," kata Mentan pada rapat koordinasi Konsorsium PTN-KTI di Samarinda pada hari yang sama. (Foto2: Humas Kementan & Humas BPTP Samarinda)
INDONESIAN Agriculture Minister Andi Amran Sulaiman encourage college students are optimistic facing the future for the nation's progress, by applying the principle of life honest, hard working and committed.

"Five or 10 years from now there must be a minister of Indonesia as an alumni of this university," Mr Sulaiman at a public lecture in Samarinda`s Mulawarman University of East Borneo on Tuesday (10.11.16)

Meanwhile to the While to the rectors of public universities (PTN) in Eastern Indonesia (KTI), he challenged the faculties of agriculture to developing agricultural land of 1000 hectares.

For the first phase, the government will provide superior seeds, fertilizers, agricultural mechanization, and the first harvest we were purchased," he said the coordination meeting of Unity State University of Eastern Indonesia (KPTN-KTI) in Samarinda on the same day.