Berita Foto STPP Jurluhtan Yogyakarta Dampingi Pelatihan Operator Alsintan
Indonesian Students Support Farmer Assistance in Pictures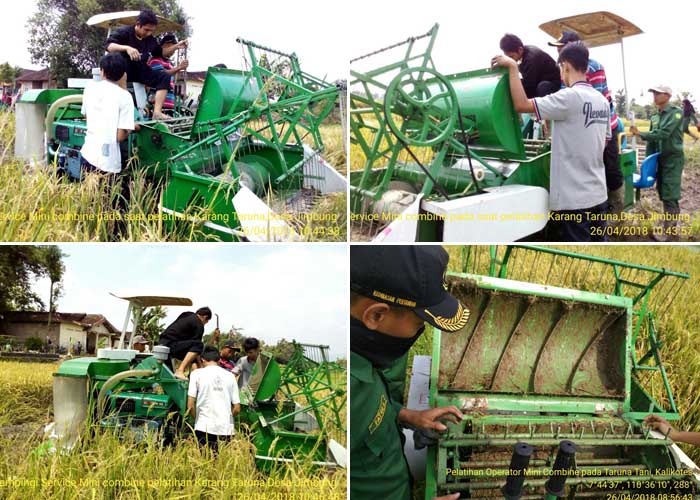 OPTIMALISASI alat dan mesin pertanian (Alsintan) mestinya begini! 10 mahasiswa Sekolah Tinggi Penyuluhan Pertanian jurusan penyuluh pertanian - STPP Yogya melatih Karang Taruna Mekar Bakti di Desa Jimbung, Kabupaten Klaten, Jateng, belum lama ini.

Mereka melatih para pemuda karang taruna di Kecamatan Kalikotes untuk mengoperasikan mini combine harvester (MCH) di lahan seluas 4.000 meter milik Azis, petani setempat.

Kendala lahan berlumpur tak menyurutkan minat ke-10 mahasiswa melatih remaja seusia mereka mengoperasikan MCH, meski beberapa kali terperosok lumpur dan semangat gotong royong mengatasi kendala tersebut.

"Tujuan pelatihan operator MCH untuk mengasah keterampilan operasional penggunaan Alsintan secara optimal," kata Kabag Administrasi Umum STPP Yogyakarta, Irwan Johan Sumarno.
THE OPTIMIZATION of agricultural machinery or Alsintan should be like this! 10 students of Agricultural Extension College majoring in agricultural extension - STPP Yogya trains young people in Jimbung village, Klaten district, Central Java province, recently.

They trained youths in Kalikotes sub-district to operate a mini combine harvester on Azis' 4,000-meter land, local farmers.

Obstacles of muddy land did not dampen the resolve of 10 students training teenagers to operate mini combine harvester, although several times muddy but the spirit of mutual cooperation to overcome these obstacles.

"The purpose of operator training to improve operational skills of mini combine harvester usage," said Head of General Affairs of STPP Yogyakarta, Irwan Johan Sumarno.