Diajak Bos Tajir, Pengasuh Anak Pamer Liburan di Instagram
Nannies and Au Pairs have been Showing Off Travel Snaps on Instagram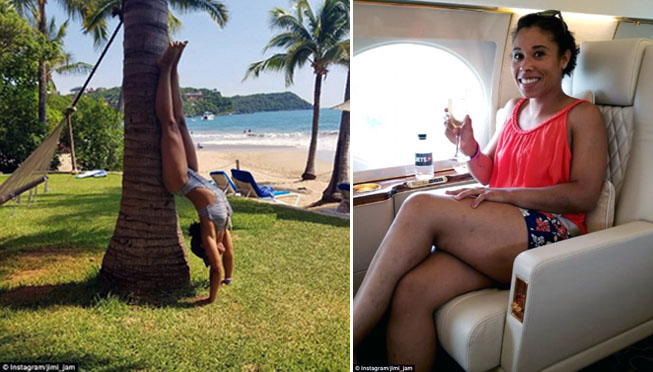 Pengasuh Jamie latihan yoga saat istirahat di Ixtapa, Meksiko dan Jamie menikmati kemewahan jet pribadi ke Meksiko.
Nanny Jamie enjoys a glass of bubbly on the private jet to Mexico (left) and practicing her yoga moves during a break from looking after the children in Ixtapa, Mexico.
BEKERJA sebanyak 60 jam dalam sepekan untuk merawat anak orang lain dari pagi sampai malam, bukanlah impian banyak orang sebagai pekerjaan ideal.

Namun tidak disangkal imbalan yang diterima pengasuh di negara maju cukup menarik (bukan di sini lho) terutama jika sang tajir.

Nah mereka `dapat bonus` ketika musim panas bergabung dengan keluarga bos menikmati liburan keluarga dan mereka pun mendokumentasikan dengan bangga pengalaman mereka di Instagram.

Dari terbang ke Meksiko dengan jet pribadi untuk berenang di sekitar perairan Nassau di Bahama hingga ke Paris seperti dilansir MailOnline.
WORKING as many as 60 hours a week taking care of someone else's children from morning to night isn`t everyone's idea of a dream job.

But there`s no denying that being a nanny or au pair certainly comes with perks, especially if your employers have a few quid in the bank.

Now that the summer holidays are in full swing, nannies who get paid to join the family on exotic trips have been busily documenting their travels on Instagram.

From flying off to Mexico on a private jet to bobbing around the crystal waters of Nassau in the Bahamas on a unicorn float, these snaps give a whole new meaning to the concept of a work trip. (Pictures of MailOnline)