Kadistan Lampung Jadi `Cameo` Dukung Visualisasi Korporasi Petani, Ini Foto-fotonya
Visualization of Indonesian´s Lampung Farmer Corporations in Pictures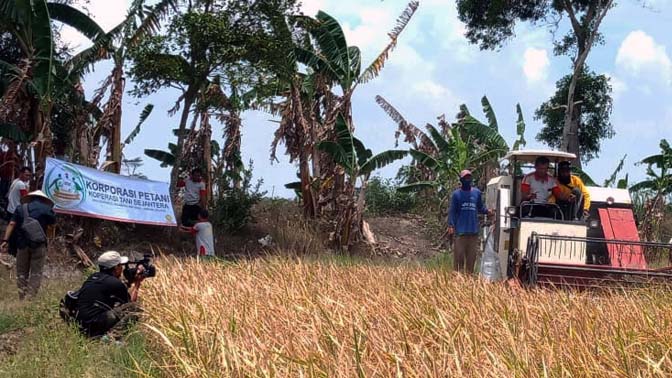 KEPALA Dinas Tanaman Pangan dan Hortikultura (TPH) Provinsi Lampung, Edi Yanto tidak menyia-nyiakan 'panggung' yang digelar Pusat Penyuluhan Pertanian (Pusluhtan) saat melakukan syuting untuk visualisasi dalam bentuk features video Korporasi Petani pada tiga kelompok ekonomi pertanian (KEP) berprestasi di Provinsi Lampung, dan akan ditayangkan di TVRI Nasional dalam waktu dekat.
Pusluhtan di Badan Penyuluhan dan Pengembangan SDM Pertanian mengerahkan tim khusus dipimpin Kasubbid Informasi dan Materi Penyuluhan, Septalina Pradini; dan Kasubbid Pemberdayaan Kelembagaan Petani, Yoyon Haryanto melakukan syuting ke Lampung.
Tim bergerak sejak Minggu petang (21/10) dan berakhir hari ini, Rabu (24/10) melalui jalan darat pulang pergi (pp) atas arahan Kabid Penyelenggaraan Penyuluhan Pusluhtan, Zahron Helmy.
Aksi 'cameo' sang Kadis salah satu dari keseruan aktivitas pengambilan gambar di Lampung. (Naskah & Montase M. Achsan Atjo/Foto2: Septalina Pradini)
HEAD of Lampung's Agriculture Office, Edi Yanto appeared as a 'cameo' in the filming of the Indonesian Farmers Corporation of the Agriculture Ministry in Lampung province.
Filming on corporate farmers in Lampung province initiated by initiated by the Indonesian Agricultural Extension Center to be aired on state television this week. The visual team is led by Septalina Pradini and Yoyon Haryanto, senior officials at the ministry.
The team headed to Lampung since Sunday afternoon and ends today through a land trip according to the instruction of the Head of the Organization of Agricultural Extension, Zahron Helmy.