Berita Foto Plt Kapusdik BPPSDMP Kementan Kunjungi Polbangtan Gowa dan Malang
Senior Indonesian Official Monitor Agricultural Vocational Education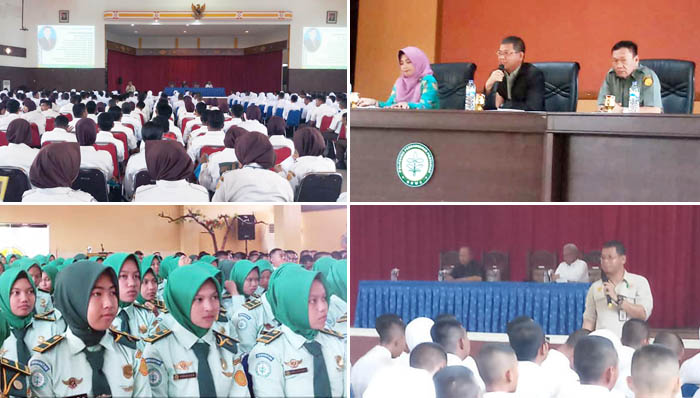 BADAN Penyuluhan dan Pengembangan SDM Pertanian (BPPSDMP) Kementerian Pertanian RI berupaya meningkatkan kualitas pendidikan dan dukungan prasarana dan sarana pendidikan dan pembelajaran pendidikan vokasi pertanian di Politeknik Pembangunan Pertanian (Polbangtan).
Pelaksana Tugas (Plt) Kepala Pusat Pendidikan Pertanian (Pusdiktan) BPPSDMP Kementan, Andriko Noto Susanto melakukan kunjungan kerja ke Polbangtan Gowa di Provinsi Sulawesi Selatan pada Senin (22/10), dilanjutkan ke Polbangtan Malang pada Rabu (24/10).
"Transformasi STPP menjadi Polbangtan bukan sekadar mencetak tenaga terampil, tapi menciptakan para wirausahawan muda pertanian," kata Andriko, yang juga menjabat Sekretaris BPPSDMP Kementan dalam arahannya di kedua kampus Polbangtan. (Naskah & Foto2: M. Achsan Atjo & BPPSDMP Kementan/Surahman)
INDONESIAN'S Directorate General of Agency for Agricultural Extension and Human Resources Development or the BPPSDMP seeks to improve the quality of education and support infrastructure and facilities for education and learning of agricultural vocational education in the Agricultural Development Polytechnic or Polbangtan.
Acting Director of Agricultural Education Center, Andriko Noto Susanto made a working visit to the Agricultural Development Polytechnic or Polbangtan in campus of Gowa in South Sulawesi province on Monday (October 22) and Malang in East Java province on Wednesday (October 24).
"The transformation of STPP into Polbangtan not just change the name, but how to manage Polbangtan is a vocational college according to the profile of graduates of study programs compiled with various parties," Mr Susanto said.