Sosialisasi KUR, Kostrada Solok Selatan Dorong Peternak Orientasi Bisnis
Indonesian Govt Support Cattle Insurance for Farmers across the Country
Editor : M. Achsan Atjo
Translator : Dhelia Gani

PUBLISHED: Sabtu, 18 Juli 2020 , 11:48:00 WIB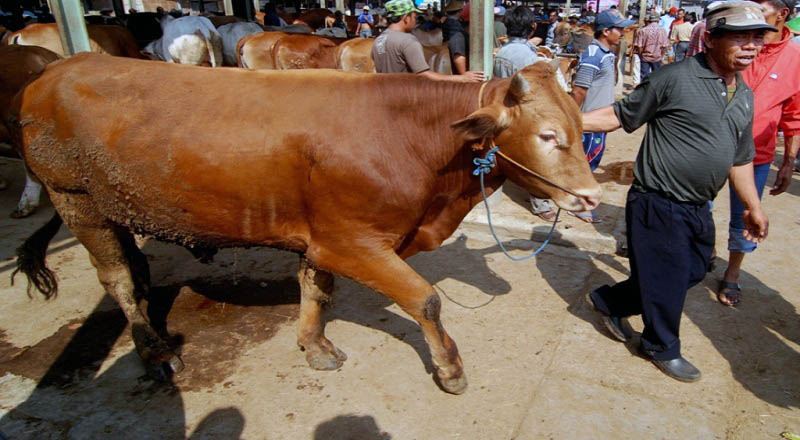 SWASEMBADA DAGING: Guna menunjang keberhasilan usaha pembibitan sapi, Distan Solok Selatan mendukung teknologi inseminasi buatan (IB) dan pendampingan melalui kegiatan penyuluhan [Foto: Pusluhtan]
Solok Selatan, Sumbar [B2B] - Kabupaten Solok Selatan khususnya Kecamatan Pauh Duo dikenal sebagai sentra peternakan sapi potong, pembibitan dan penggemukan di Provinsi Sumatera Barat. Saat ini jumlah ternak sapi potong mencapai 1.150 ekor terdiri atas 500 ekor betina dan 650 ekor jantan.
Sentra ternak sapi Kecamatan Pauh Duo tersebar pada tiga nagari yakni Luak Kapau, Pekonina Alam Pauh Duo dan Pauh Duo Nan Batigo. Usaha peternakan sapi dikelola oleh peternak yang tergabung pada 15 kelompok tani (Poktan) dengan jenis usaha pembibitan dan penggemukan sapi potong.
Kepala Seksi Penyuluhan Pertanian pada Dinas Pertanian (Distan) Solok Selatan, Vera mengatakan pembibitan sapi potong dimulai sejak 2011, diawali beberapa orang peternak kemudian berkembang pada masyarakat tani.
"Sekarang sapi induk sudah hampir mencapai 500 ekor, dengan jenis induk ras simental."
Guna menunjang keberhasilan usaha pembibitan sapi, Distan Solok Selatan mendukung teknologi inseminasi buatan (IB) dan pendampingan melalui kegiatan penyuluhan. Tingkat keberhasilan IB cukup tinggi karena SDM peternak dan teknologi deteksi birahi maupun manajemen pemeliharaan sapi induk dan pembibitan.
"Petani biasanya menjual anak sapi jantan pada umur lima hingga enam bulan, harganya minimal Rp13 juta per ekor, dan anak betina jadi calon indukan," kata Vera.
Widodo, penyuluh pembina peternak Kecamatan Pauh Duo, mengatakan usaha penggemukan sapi potong sudah mulai sejak 1991, dengan jenis sapi peranakan ongol, tapi sekarang beralih pada sapi ras Simental.
"Setiap peternak rata-rata memelihara sapi satu sampai enam ekor per kepala keluarga, yang tergabung dalam kelompok tani. Rata-rata pertumbuhan berat badan sapi yang digemukkan mencapai satu hingga 1,3 kg per hari untuk ras Simental dan Limosin," kata Widodo melalui keterangan tertulis yang dihimpun Pusat Penyuluhan Pertanian (Pusluhtan BPPSDMP).
Menurutnya, secara umum sapi yang akan digemukkan dibeli peternak dari peternak sekitarnya, harganya Rp20 juta sampai Rp 25 juta, lama pemeliharaan enam sampai 12 bulan. Hasilnya, peternak dapat meraih laba rata-rata Rp1 juta hingga Rp1,5 juta per bulan.
Widodo menambahkan untuk modal usaha maka peternak sudah bermitra dengan bank dan koperasi. Bank Nagari sebagai bank yang menyalurkan Kredit Usaha Rakyat (KUR) untuk peternakan telah menyalurkan Rp7,1 miliar bagi tiga Poktan dan 86 nasabah. Sementara Koperasi Agro Visi Nusantara menyalurkan sebanyak KUR Rp600 juta kepada 28 peternak. [Liene]
South Solok of West Sumatera [B2B] - Indonesian Agriculture Ministry seeks to increase the motivation of farmers to develop their livestock businesses, by facilitating business financing through the People´s Business Credit [KUR] agricultural sector for the livestock subsector, and to ensure that their business is sustainable, farmers receive subsidies for livestock insurance premiums according to senior official of the ministry.