Kepala BPPSDMP: Pertanian Tradisional identik dengan Kolonial bukan untuk Milenial
Digital Agriculture 4.0 for Indonesian Millennial Farmers: Senior Official
Editor : Cahyani Harzi
Translator : Dhelia Gani

PUBLISHED: Jum'at, 16 Agustus 2019 , 01:27:00 WIB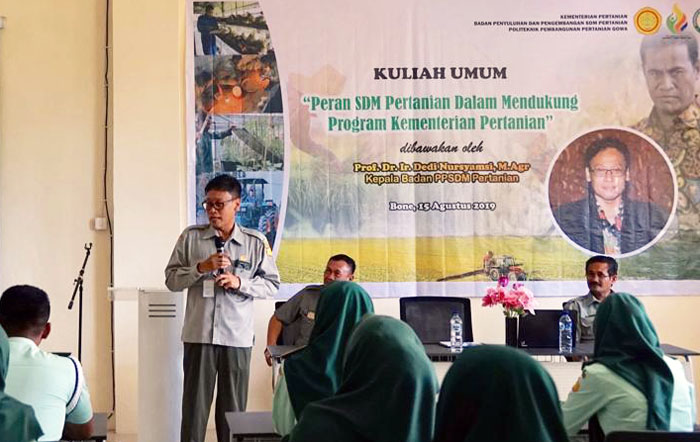 KULIAH UMUM: Kepala BPPSDMP Kementan, Prof [R] Dedi Nursyamsi [berdiri] memberi semangat pada mahasiswa Polbangtan Gowa Kampus II di Bone [Foto: Humas BPPSDMP/Prabu]
Gowa, Sulsel [B2B] - Pendekatan nasionalisme untuk menggugah semangat patriotisme dilakukan oleh Kepala BPPSDMP Kementan, Prof [R] Dedi Nursyamsi menjelang peringatan HUT Kemerdekaan RI ke-74, dengan menyebut 'pertanian tradisional identik dengan kolonial bukan untuk milenial di era pertanian digital 4.0' pada kuliah umum di Polbangtan Gowa.
Prof Dedi Nursyamsi menyebut tentang smart automatization, big data, artificial intelligence, information communication technology dan internet of things [IOT] sebagai teknologi masa depan di era 4.0 yang sangat bermanfaat bagi pembangunan pertanian nasional, dan Kementerian Pertanian RI mendorong pelaku utama di sektor pertanian segera beralih pada pendekatan teknologi digital.
"Pertanian tradisional itu untuk kolonial bukan milenial. Pilihan tersebut semua tergantung Anda semua, para mahasiswa yang ada di depan saya saat ini," kata Dedi Nursyamsi di Polbangtan Gowa Kampus II di Bone, Provinsi Sulawesi Selatan, Kamis [15/8].
Dia mengajak para petani milenial untuk memanfaatkan industri 4.0 untuk kepentingan pertanian nasional. "Untuk itulah kalian semua ada disini. Kalian semua harus menguasai seluruh inovasi teknologi pertanian. Kalian semua harus melek teknologi. Mampu memelihara dan menghasilkan teknologi baru yang lebih efisien lebih produktif."
Polbangtan Kampus II di Kabupaten Bone merupakan bagian dari Polbangtan Gowa sebagai center of excellence peternakan di wilayah timur, khususnya bagi enam provinsi di Pulau Sulawesi.
"Banyak tokoh nasional berasal dari Bone. Sebut misalnya mantan Menhankam/Pangab dan Ketua BPK, Jenderal [Purn[ Mohammad Jusuf. Wakil Presiden RI Jusuf Kalla, dan Andi Amran Sulaiman yang saat ini menjabat menteri pertanian. Kalian semua harus mengikuti jejak mereka untuk tampil menjadi tokoh nasional," kata Prof Dedi Nursyamsi.
Dia mengingatkan para mahasiswa Polbangtan untuk bangga menjadi insan pertanian seperti halnya petani, peternak, nelayan, dan penyuluh pertanian. Tanamkan kebanggaan pada diri Anda semua mengemban tugas mulia untuk menyediakan pangan bagi manusia dan juga mahluk hidup lain.
"Tugas mulia tersebut membutuhkan peran serta generasi milenial, termasuk mahasiswa Polbangtan Gowa dan Bone. Saya hadir di sini untuk memotivasi kalangan milenial untuk semangat membangun pertanian. Semua orang harus menyadari pembangunan penyediaan pangan adalah usaha yang sangat mulia, penting dan strategis," katanya.
Bone of South Sulawesi [B2B] - The approach of Indonesian nationalism to arouse the spirit of patriotism was carried out by Director General of Agricultural Extension and HR Development, Prof [R] Dedi Nursyamsi ahead of the 74th anniversary of Indonesia's Independence, by calling 'traditional agriculture synonymous with colonial era not for millennials in the era of digital agriculture 4.0 'at a public lecture at the Polbangtan Gowa.