Pusat Data Pertanian, Mentan Luncurkan `Agriculture War Room` Multiguna
Indonesia`s Agricultural Extension Connected through the War Room
Reporter : Gusmiati Waris
Editor : Cahyani Harzi
Translator : Dhelia Gani

PUBLISHED: Selasa, 04 Februari 2020 , 21:10:00 WIB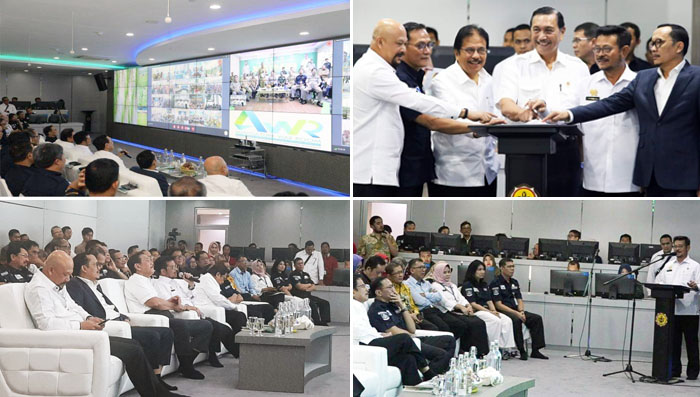 TEKNOLOGI MULTIGUNA: Agriculture War Room dikembangkan Kementan didukung Kementerian ATR/BPN, BPS, BPPT, Lapan, BIG untuk mendukung single data pertanian nasional [Foto2: Biro Humas Kementan & B2B/Mya]
Jakarta [B2B] - Kementerian Pertanian RI memastikan bahwa ke depan tidak ada lagi perbedaan data statistik pertanian, karena seluruh daya dukung sektor pertanian akan terpantau akurat mulai dari tingkat kecamatan hingga ke provinsi melalui Agriculture War Room [AWR], yang dirancang multiguna untuk mendukung kinerja petani didampingi penyuluh pertanian di seluruh Indonesia.
Hal itu dikemukakan oleh Menteri Pertanian RI Syahrul Yasin Limpo [SYL] saat meluncurkan AWR dari Komando Strategis Pembangunan Pertanian [KostraTani] di Jakarta, Selasa [4/2]. Turut hadir Menko Kemaritiman, Luhut Binsar Pandjaitan; Menteri ATR/BPN Sofyan Djalil; Kepala Badan Pusat Statistik [BPS] Suhariyanto; dan Kepala BPPT Hammam Riza.
"Keberadaan AWR ini penting sekali. Apabila ada yang bicara tentang kekurangan pupuk di Kabupaten Pasuruan, Jawa Timur, akan saya ketahui di desa mana dan kecamatan apa. Saya juga bisa ketahui pupuk itu intervensinya di mana? Apakah lini empat, lini tiga atau lini satu," kata Mentan SYL.
Menurutnya, dukungan citra satelit dari Lapan maka aneka informasi terkait kondisi pertanaman di lapangan bisa didapat secara langsung dan akurat hingga tingkat kecamatan dan desa.
"Sebutlah misalnya, hari ini akan turun hujan di mana? Panen seluas apa? Kondisi terkini lahan pertanian per desa hingga kecamatan. Apakah sudah tanam atau belum? Kendalanya apa? Berapa Alsintan yang bekerja hari ini?" kata Mentan SYL.
Dia mengharapkan kecanggihan AWR dapat mendorong peningkatan produksi pertanian, dengan kualitas panen di atas rata-rata sehingga dapat memenuhi ketersediaan pangan nasional dan kebutuhan global.
Pengembangan AWR di lantai dua Gedung A kantor pusat Kementan didukung kementerian dan lembaga terkait seperti Kementerian Agraria dan Tata Ruang atau Badan Pertanahan Nasional [ATR/BPN], BPS, Badan Pengkajian dan Penerapan Teknologi [BPPT], Lembaga Penerbangan dan Antariksa Nasional [Lapan] dan Badan Informasi Geospasial [BIG].
Mentan SYL mengumpamakan AWR sebagai ruang kontrol yang mirip Pentagon, Departemen Pertahanan Amerika Serikat [AS]. "Kemampuan AWR Kementan mirip dengan Pentagon di AS. Kami bisa perang dari sini."
Sistem data dan teknologi AWR dirancang multiguna dan menjadi alat ukur dalam melakukan pengawasan dan pengendalian sekaligus mapping lahan pertanian nasional, Mentan SYL memastikan data statistik pertanian akan terpantau akurat. Petani pun tidak perlu membeli drone untuk melaporkan lahan pertaniannya ke Kementan, karena disediakan pemerintah pusat dan operasionalnya didukung oleh penyuluh pertanian di balai penyuluhan pertanian [BPP].
"Kita sudah punya alat ukur berbasis internet of thing dan artificial intelligence. Namun, sejauh ini kami belum memutuskan apa-apa saja yang akan menjadi kebijakan secara utuh, yang jelas saat ini kami masih mengawasi secara langsung di lapangan," katanya. [Liene]
Jakarta [B2B] - The Indonesian Agriculture Ministry to disseminate the development of agricultural extension centers at the sub-district level [BPP] into the center of Indonesian agricultural development [KostraTani] across the country, according to Agriculture Minister Syahrul Yasin Limpo.