KostraTani Batola, Kementan Harapkan Parlemen Daerah Dukung Program Mentan
Indonesian Agriculture Ministry Coordinated with Regional Parliament
Editor : M. Achsan Atjo
Translator : Dhelia Gani

PUBLISHED: Rabu, 22 Januari 2020 , 05:59:00 WIB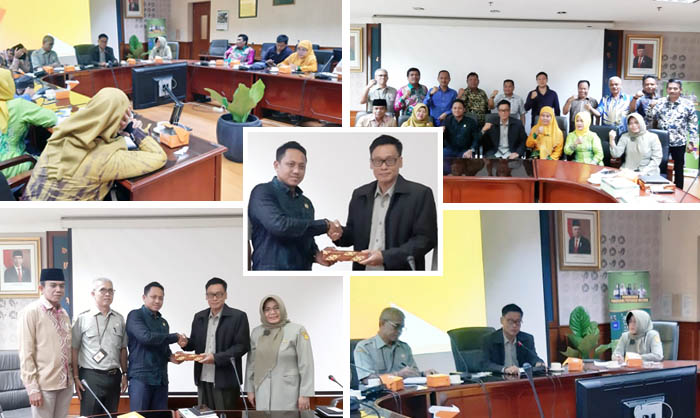 DUKUNGAN LEGISLATOR: Kepala BPPSDMP Prof Dedi Nursyamsi [kanan] menerima plakat dari pimpinan komisi DPRD Batola [inset tengah]; Kapusluh Leli Nuryati hadir mendampingi bersama I Wayan Ediana [Foto2: Humas Pusluhtan/Bima PS]
Jakarta [B2B] - Kementerian Pertanian RI mengharapkan dukungan parlemen di daerah terhadap program-program sektor pertanian, khususnya KostraTani yang digagas Menteri Pertanian RI Syahrul Yasin Limpo merevitalisasi peran penyuluh di balai penyuluhan pertanian [BPP] di kecamatan, selaku locust pertanian mendampingi petani dan pengusaha milenial di sektor agribisnis, sekaligus mendorong pemanfaatan asuransi pertanian dan target ekspor.
Harapan tersebut dikemukakan oleh Kepala BPPSDMP Kementan, Prof Dedi Nursyamsi saat menerima 12 Anggota DPRD Kabupaten Barito Kuala, Provinsi Kalimantan Selatan [Batola Kalsel] disertai Sekretaris Dinas Pertanian, Tanaman Pangan dan Hortikultura [TPH] Pemkab Batola, HM Arsyad MP. Turut hadir Kepala Pusat Penyuluhan Pertanian [Pusluhtan BPPSDMP] Leli Nuryati dan Kabid Penyelenggaraan Penyuluhan - Pusluhtan, I Wayan Ediana di Jakarta, Senin [20/1].
"Kami berharap DPRD turut mendukung program-program pemerintah pusat di daerah, khususnya KostraTani, penumbuhan pengusaha pertanian milenial, program tiga kali ekspor atau GratiEks, dan KUR untuk kredit usaha rakyat," kata Dedi Nursyamsi.
Dia mengharapkan Kadis TPH segera membuat SK Penugasan Tanggung Jawab KostraTani yakni bupati dan camat sesuai ketentuan Permentan No 49/2020 tentang Pedoman KostraTani.
Sementara ke-12 DPRD Pemkab Batola yang membidangi sosial dan ekonomi dalam paparannya, menguraikan tujuan kunjungan ke Kementan adalah untuk mengetahui ´arah kebijakan pembangunan pertanian pertanian ke depan, khususnya KostraTani.´
Kabadan SDM Kementan pun terlibat diskusi tentang dukungan dari masing-masing pihak terhadap kebijakan pertanian di pemerintah pusat serta dukungan daerah terhadap pembangunan sektor pertanian nasional.
"Pembahasan lain adalah tentang keberadaan penyuluh THL yang sudah lulus tes CAT. Diskusi berlangsung hangat penguatan fungsi dan peran BPP dikaitkan ketersediaan pangan bagi 267 juta penduduk yang menjadi fokus Mentan SYL," kata I Wayan Ediana yang bertindak selaku moderator dalam keterangan persnya.
Menurutnya, Kepala BPPSDMP mengingatkan DPRD Batola tentang pentingnya keberadaan penyuluh pertanian dalam pembangunan pertanian yang menjadi fokus Mentan SYL, khususnya penambahan formasi penyuluh hingga lima tahun ke depan meskipun UU Pemerintahan Daerah No 23/2014 adalah di daerah.
"Mentan SYL tetap berupaya memperjuangkan penambahan formasi penyuluh ke Menpan RB bahkan sampai Presiden RI. Sedangkan bagi THL yang telah dinyatakan lulus sambil menunggu keluarnya peraturan pemerntah tentang ASN P3K, maka BPPSDMP Kementan tetap mengalokasikan anggaran untuk honor penyuluh dari pemerintah pusat untuk tahun anggaran 2020," kata I Wayan Ediana mengutip arahan Prof Dedi Nursyamsi. [Liene]
Jakarta [B2B] - The Indonesian Agriculture Ministry to disseminate the development of agricultural extension centers at the sub-district level [BPP] into the center of Indonesian agricultural development [KostraTani] across the country, according to senior official of the ministry.