Portugal Menang 1-0, Istri dan Kekasih Bintang Prancis Berderai Air Mata
Heartbroken WAGs of France Stars after Eder Inspired Euro 2016 Final Defeat
Editor : Cahyani Harzi
Translator : Dhelia Gani

PUBLISHED: Senin, 11 Juli 2016 , 21:41:56 WIB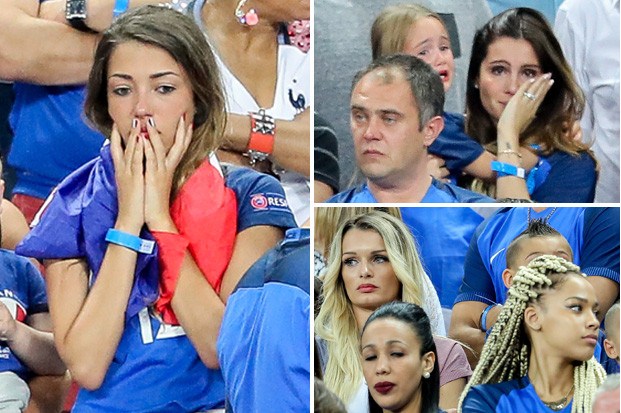 Istri dan keluarga timnas Prancis berduka setelah ditekuk Portugal 1-0, istri dan putri kiper Hugo Llaris berduka (kanan atas), istri dan kekasih Olivier Giroud, Bacary Sagna, Patrice Evra, Paul Pogba, Dimitri Payet turut kecewa (Foto2: The Sun)
PORTUGAL memukul telak tuan rumah Piala Eropa 2016 pada laga perpanjangan waktu oleh pesepakbola Portugal yang kurang cemerlang di Swansea, tapi berhasil menjebol gawang Prancis setelah Cristiano Ronaldo harus keluar lapangan karena cedera.

Istri dan kekasih dari bintang timnas Prancis turut berduka dan kecewa berat menyaksikan kesebelasan kebanggaan Prancis dikalahkan Portugal pada final Euro 2016 pada Senin dini hari WIB.

Eder, pesepakbola Portugal yang tidak cemerlang bermain di Swansea masuk lapangan sebagai pemain pengganti dan mencetak gol setelah Cristiano Ronaldo harus keluar karena cedera pada awal pertandingan.

Tim tuan rumah nyaris menang ketika Antoine Griezmann dan Andre-Pierre Gignac memiliki peluang mencetak gol tapi gagal masuk gawang Portugal.

Dan tim asuhan pelatih Didier Deschamps tampaknya gagal memanfaatkan peluang bertanding selama 90 menit dan Portugal yang menjadi juara.

Ronaldo tampak menangis ketika harus meninggalkan lapangan untuk memimpin rekan-rekannya karena cedera dengan lutut diperban.

Namun air mata duka mengalir dari sederet wanita cantik di tribun penonton yang dipadati pendukung Prancis yang mendukung suami dan kekasih mereka yang bertanding di lapangan hijau pada laga final.

Dimitri Payet, superstar West Ham musim lalu, ternyata tidak berkutik menghadapi kokohnya benteng Portugal dan gagal mengulang suksesnya di awal kompetisi Euro 2016.

Dan putranya - yang faham pada kemampuan ayahnya mencetak gol dari bola mati turut kecewa, sehingga harus dihibur oleh ibunya yang juga berduka.

Keluarga dari striker Arsenal Olivier Giroud juga hadir di stadion Stade de France, begitu pula keluarga Hugo Lloris, yang juga kiper Spurs di Liga Premier Inggris (EPL).

Istri dari mantan bek Manchester United Patrice Evra juga tampak di kerumunan penonton saat dia harus bertanding melawan mantan mitranya di Old Trafford, Nani yang bermain untuk Portugal.

Kekasih dari Paul Pogba yang diincar Manchester United senilai Rp2 triliun juga duduk di tribun VIP bersama teman dekat Moussa Sissoko, pemain tengah Prancis yang kini merumput di Newcastle, seperti dilansir The Sun.
THE WIVES and girlfriends of the heartbroken France stars could not contain their pain after Portugal robbed them of Euro 2016 glory.

Swansea flop Eder came off the bench to fire home a brilliant winner after Cristiano Ronaldo went off injured early on in the tense clash.

The hosts went close with Antoine Griezmann and Andre-Pierre Gignac missing chances to settle the tie.

And Didier Deschamps' men were punished late on when the unlikely hero snatched success.

Ronaldo was left in streaming tears of joy after he had co-managed his team-mates from the sidelines with his bandaged knee.

But the tears streaming down the stunning faces of the women in the French crowd there supporting their Premier League partners were ones of woe as their men fell at the final hurdle.

Dimitri Payet, West Ham's superstar last season, was subbed off during the game after failing to reproduce his early tournament form.

And his young son – who is a dead ringer for his dead-ball specialist dad – was comforted by his blonde mum.

Arsenal striker Olivier Giroud also had his family as the Stade de France, as did north London rival and Spurs keeper Hugo Lloris.

Former Manchester United defender Patrice Evra also had his Mrs in the crowd as he did his best to contain ex-Old Trafford team-mate Nani.

Manchester United's £100million target Paul Pogba had his nearest and dearest in the VIP section but he was overshadowed in the France midfielder by Newcastle's Championship man Moussa Sissoko who had a brilliant match.