Persiapan Perang Kawasan, Xi Jinping Dorong Perkuat Militer China
Chinese President Xi Jinping said Beijing Will Strengthen Military Training and Prepare for any War
Editor : Cahyani Harzi
Translator : Novita Cahyadi

PUBLISHED: Rabu, 09 November 2022 , 11:22:00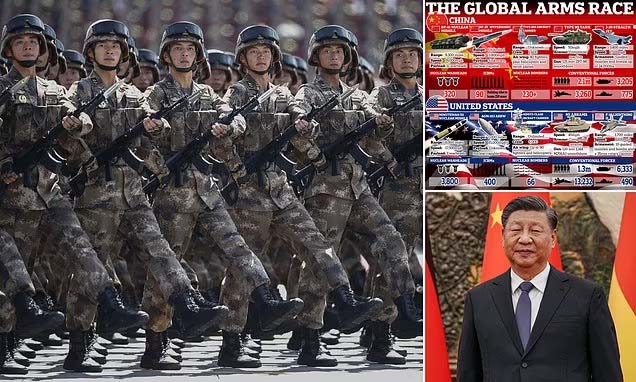 PERANG KAWASAN: Saat ini China akan secara komprehensif memperkuat pelatihan dan persiapan militernya untuk perang apa pun. (Foto2: MailOnline)
PRESIDEN China Xi Jinping meminta agar tentara china untuk mempersiapkan diri pada perang yang akan datang. Mengingat, keamanan negara semakin tidak stabil dan pasti.
"Beijing sekarang akan secara komprehensif memperkuat pelatihan dan persiapan militernya untuk perang apa pun," tegas Xi Jinping.
Peringatannya datang setelah Xi bulan lalu menyerukan pengembangan militer yang lebih cepat, 'kemandirian dan kekuatan' dalam teknologi dan pertahanan kepentingan China di luar negeri, meningkatkan kemungkinan konflik lebih lanjut.
Pengumuman Xi bahwa China akan fokus pada persiapan perang akan menimbulkan kekhawatiran bahwa negara itu dapat menyerang pulau Taiwan yang memiliki pemerintahan sendiri, yang diklaim Beijing sebagai miliknya.
China, yang memiliki ekonomi dan militer terbesar kedua di dunia, telah berulang kali mengancam akan mencaplok Taiwan dengan paksa jika perlu.
Para ahli mengatakan komentar Xi 'sangat memprihatinkan' dan Barat harus 'menerima janjinya' dan menggunakan segala cara yang diperlukan untuk mencegah pemimpin China itu menyerang Taiwan.
Dr Alan Mendoza, Direktur Eksekutif kelompok hak asasi manusia Henry Jackson Society di London, mengatakan kepada MailOnline: 'Komentar seperti ini dari Xi Jinping sangat memprihatinkan, seperti dilansir MailOnline.
'Selama bertahun-tahun, Xi telah meningkatkan retorikanya seputar penggunaan kekuatan militer untuk menyatukan kembali Taiwan dengan China daratan, dan sebagai tanggapan, Barat hanya melakukan sangat sedikit. Demokrasi Liberal sekarang harus menepati janjinya, dan bekerja secara kolektif, menggunakan segala cara yang diperlukan untuk mencegah Xi menginvasi Taiwan.'
Dr Mendoza menambahkan: 'Sebagai prioritas, negara-negara Barat harus memulai proses menghilangkan semua pengaruh China dari industri penting seperti energi, air dan tenaga nuklir.
'Selanjutnya, kita harus segera memulai proses pemisahan Cina dari banyak jaringan rantai pasokan kita yang paling diandalkan dan mengembangkan yang baru dengan negara-negara mitra yang berpikiran sama.
'Jika komunitas global akan memukul China dengan tingkat sanksi yang sama yang telah melumpuhkan Rusia, kita harus siap untuk pergolakan ekonomi yang diakibatkannya. Jika kita tidak bersiap, konsekuensi ekonomi akan menjadi setetes air di lautan dibandingkan dengan krisis biaya hidup saat ini yang disebabkan oleh sanksi terhadap energi Rusia.'
Bulan lalu, Partai Komunis China menambahkan garis ke konstitusinya tentang 'dengan tegas menentang dan menghalangi' kemerdekaan Taiwan dan 'dengan tegas menerapkan kebijakan 'satu negara, dua sistem', formula yang digunakan untuk mengatur pulau itu di masa depan. .
Jika China benar-benar menyerang Taiwan, konflik hampir pasti akan menarik Amerika Serikat, yang memberi Taiwan senjata pertahanan dan secara hukum diharuskan untuk memperlakukan ancaman terhadap pulau itu sebagai masalah 'perhatian serius', bersama dengan sekutu perjanjiannya, yang paling penting. dan terdekat secara geografis adalah Jepang.
AS telah menanggapi ancaman China untuk menyerang Taiwan dengan mengumumkan akan mengerahkan pembom berkemampuan nuklir ke Australia - dalam upaya untuk 'memperingatkan' China terhadap apa yang akan menjadi 'perang terburuk dalam sejarah modern'.
Itu terjadi ketika China melakukan latihan militer terbesarnya di sekitar Taiwan setelah kunjungan baru-baru ini oleh Ketua DPR AS Nancy Pelosi. Perjalanan itu membuat marah Beijing, yang melihatnya sebagai upaya AS untuk ikut campur dalam urusan dalam negeri China.
Beijing mengirim kapal dan pesawat melintasi garis tengah Selat Taiwan - zona penyangga antara kedua sisi - dalam apa yang dilihat oleh beberapa orang sebagai latihan blokade yang bisa menandakan serangan.
CHINA will focus on preparing for war with the country's security 'increasingly unstable and uncertain', President Xi Jinping has declared.
Beijing will now comprehensively strengthen its military training and preparation for any war, Xi said today, according to state broadcaster CCTV.
His warning comes after Xi last month called for faster military development, 'self-reliance and strength' in technology and defence of China's interests abroad, raising the likelihood of further conflict.
Xi's announcement that China will focus on preparing for a war will raise fears that the nation may invade the self-governing island of Taiwan, which Beijing claims as its own.
China, which has the second-largest economy and military in the world, has repeatedly threatened to annex Taiwan by force if necessary.
Experts say Xi's comments are 'extremely concerning' and the West must 'take him at his word' and use all means necessary to deter the Chinese leader from invading Taiwan.
Dr Alan Mendoza, Executive Director of the human rights group Henry Jackson Society in London, told MailOnline: 'Comments like this from Xi Jinping are extremely concerning.
'For years, Xi has been ratcheting up his rhetoric around the use of miliary force to reunify Taiwan with mainland China, and in response the West has done very little. Liberal Democracies must now take him at his word, and work collectively, using all means necessary to deter Xi from invading Taiwan.'
Dr Mendoza added: 'As a priority, Western nations must begin the process of removing all Chinese influence from critical industries such as energy, water and nuclear power.
'Next, we must immediately start the process of decoupling China from many of our most relied upon supply chain networks and develop new ones with likeminded partner nations.
'If the global community is to hit China with the same level of sanctions that has crippled Russia, we must be ready for the economic upheaval caused as a result. If we do not prepare, the economic ramifications will be a drop in the ocean compared to the current cost-of-living crisis caused by the sanctions against Russian energy.'
Last month, China's Communist Party added a line to its constitution on 'resolutely opposing and deterring' Taiwan's independence and 'resolutely implementing the policy of 'one country, two systems',' the formula by which is plans to govern the island in the future.
If China does attack Taiwan, the conflict would almost certainly draw in the United States, which provides Taiwan with defensive weapons and is legally required to treat threats to the island as matters of 'grave concern,' along with its treaty allies, the most important and closest in geographical proximity being Japan.
The US has responded to China's threats to attack Taiwan by announcing it will deploy nuclear-capable bombers to Australia - in a bid to 'warn' China against what would be the 'worst war in modern history'.
It comes as China carried out its largest-ever military exercises around Taiwan after a recent visit by US House Speaker Nancy Pelosi. The trip infuriated Beijing, which saw it as a U.S. attempt to interfere in China's internal affairs.
Beijing sent ships and planes across the midline of the Taiwan Strait - a buffer zone between the sides - in what was seen by some as a rehearsal of a blockade that could presage an attack.
China also declared testing zones around the island in some of the world's most heavily traveled shipping lanes and fired at least four missiles over Taiwan, some of them landing in Japan's exclusive economic zone.