Potert Raja Charles III dalam Uang Kertas Poundsterling Baru
Check Out the New-Look Banknotes as King Becomes Second British Monarch
Editor : Ismail Gani
Translator : Novita Cahyadi

PUBLISHED: Selasa, 20 Desember 2022 , 14:19:00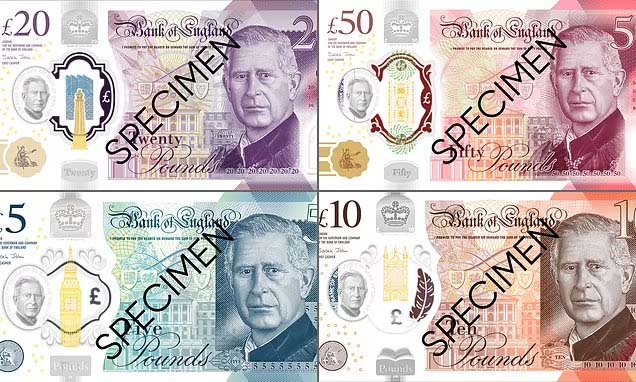 MONARKI INGGRIS: Raja Charles III menjadi Raja Inggris kedua yang muncul di mata uang Poundsterling. (Foto: MailOnline)
BANK INGGRIS meluncurkan uang kertas baru dengan potret Raja Charles III, yang diambil dari jepretan asli dari Istana Buckingham pada tahun 2013 – dan kemudian diperbarui selama bertahun-tahun, seiring bertambahnya usia.
Charles, tanpa mahkota, akan berada di bagian depan semua uang kertas polimer – £5, £10, £20 dan £50 – tanpa perubahan lain pada desain yang ada.
Uang kertas baru ini akan mulai beredar pada pertengahan 2024, dengan uang kertas saat ini menampilkan alat pembayaran sah mendiang Ratu.
Uang kertas pertama yang membawa potretnya - atau potret raja Inggris mana pun - adalah uang kertas £1 yang dikeluarkan pada tahun 1960.
Gambar Raja akan muncul di bagian depan uang kertas, serta di jendela keamanan tembus pandang.
Bagian belakang uang kertas, menampilkan tokoh sejarah, tidak akan berubah, memungkinkan untuk diperiksa menggunakan fitur keamanan yang ada.
Sejalan dengan panduan dari Rumah Tangga Kerajaan untuk meminimalkan dampak lingkungan dan keuangan dari perubahan ini, uang kertas baru hanya akan dicetak untuk menggantikan uang kertas yang sudah usang dan untuk memenuhi peningkatan permintaan uang kertas secara keseluruhan.
Oleh karena itu, catatan yang menampilkan mendiang Ratu dan putranya akan beredar bersamaan pada waktu yang bersamaan.
Berbicara menjelang rilis, Gubernur Bank of England Andrew Bailey berkata: ´Saya sangat bangga bahwa Bank merilis desain uang kertas baru kami yang akan memuat potret Raja Charles III, seperti dilansir MailOnline.
´Ini adalah momen penting, karena Raja hanyalah raja kedua yang ditampilkan di uang kertas kami. Orang-orang akan dapat menggunakan uang kertas baru ini saat mereka mulai beredar pada tahun 2024.´
Potret baru Charles menunjukkan sang Raja, mengenakan apa yang tampak seperti Jubah Garternya, menghadap ke kamera dan melihat sedikit ke kiri.
THE BANK of England has unveiled his portrait for the notes, taken from an original snap supplied by Buckingham Palace in 2013 – and then updated over the years since, as he aged.
Charles, without a crown, will be on the front of all polymer notes – the £5, £10, £20 and £50 – with no other changes to existing designs.
These new notes are due to enter circulation by mid-2024, with current ones featuring the late Queen remaining legal tender.
The first note to carry her portrait – or that of any British monarch – was the £1 note issued in 1960.
The King´s image will appear on the front of the notes, as well as in the see-through security window.
The reverse of the banknotes, featuring historical figures, will remain unchanged, allowing them to be checked using existing security features.
In line with guidance from the Royal Household to minimise the environmental and financial impact of this change, new notes will only be printed to replace worn banknotes and to meet any overall increase in demand for banknotes.
Notes featuring both the late Queen and her son will, therefore, circulate together at the same time.
Speaking ahead of the release, Bank of England Governor Andrew Bailey said: ´I am very proud that the Bank is releasing the design of our new banknotes which will carry a portrait of King Charles III.
´This is a significant moment, as the King is only the second monarch to feature on our banknotes. People will be able to use these new notes as they start to enter circulation in 2024.´
The new portrait of Charles shows the King, wearing what appears to be his Garter Robes, facing the camera and looking slightly to the left.