Penembakan di Pub Inggris saat Malam Natal Tewaskan Satu Perempuan
Gun Horror on Xmas Eve Leaves Woman Dead and Multiple People Wounded
Editor : Ismail Gani
Translator : Novita Cahyadi

PUBLISHED: Minggu, 25 Desember 2022 , 19:06:00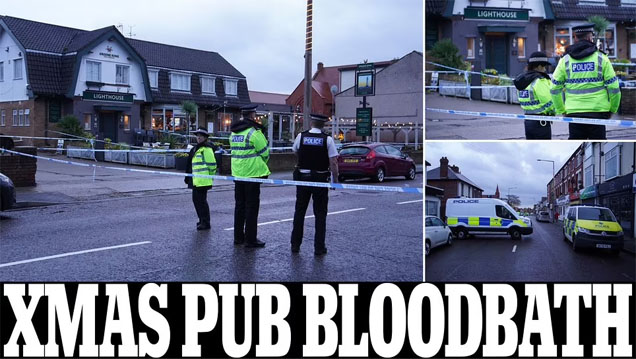 INSIDEN PENEMBAKAN: Polisi Merseyside saat meninjau lokasi tempat kejadian perkara penembakan oleh seorang pria di Pub Inggris. (Foto: MailOnline)
SEORANG pria bersenjata melepaskan tembakan ke sebuah pub di Inggris pada Malam Natal. Akibatnya, seorang wanita tewas dan beberapa lainnya terluka.
Polisi Merseyside menjelaskan bahwa penembakan itu terjadi sekitar pukul 23.50 waktu setempat, sebelum pria bersenjata itu melarikan diri dari tempat kejadian dengan Mercedes berwarna gelap usai melepaskan tembakan.
"Kami telah meluncurkan penyelidikan pembunuhan terkait kematian seorang perempuan di Desa Wallasey," ungkap Kepolisian Merseyside dalam sebuah pernyataan, akhir pekan ini.
Polisi menambahkan, beberapa orang lainnya menderita luka-luka. Sementara tiga orang dirawat di rumah sakit karena luka tembak.
"Seorang wanita dibawa ke rumah sakit dengan luka tembak yang membuatnya meninggal dan dengan sedih kami nyatakan meninggal," bunyi penyataan tersebut, seperti dilansir MailOnline.
A YOUNG woman was killed and several others injured after a gunman opened fire on a packed pub on Christmas Eve, marking the latest attack in a community battling an uptick in gun violence.
The gunman fired shots in Lighthouse Inn in Wallasey, near Liverpool, around 11.50pm last night before fleeing the scene in a dark coloured Mercedes, Merseyside Police confirmed.
One woman was taken to hospital with a gunshot injury and later died. Three men were also hospitalised with gunshot wounds and a number of others were injured in the incident.
Last night's tragedy is one of several gun violence incidents that have plagued the Merseyside area this year.
Earlier this month, police launched a crackdown on a 'dangerous' gang that has been linked to drug dealing, violence and several shootings in the area. The crime group has not been connected to the shooting at the Lighthouse Inn.