Wanita Ini 40 Tahun Hidup Sendiri di Pulau Terpencil
Meet the Woman who has Lived on One of the World`s Most Remote Islands for 40 Years
Editor : Ismail Gani
Translator : Novita Cahyadi

PUBLISHED: Rabu, 26 Juli 2017 , 17:40:00 WIB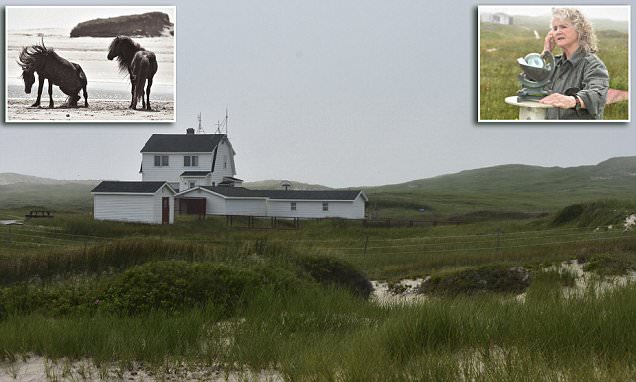 Dia mendirikan kamp di salah satu ujung pulau, bekas bangunan dari stasiun penyelamat yang ditinggalkan begitu berdiri. Persediaan diterbangkan setiap pekan untuk mendukung kelangsungan hidupnya (Foto2: MailOnline)
SEORANG wanita tinggal sendirian di sebuah pulau terpencil di lepas pantai Kanada layaknya kehidupan Robinson Crusoe.

Zoe Lucas, 67, lebih dari 40 tahun hidup sendirian di Pulau Sable, sebuah pulau berbentuk lebar berukuran panjang sekitar 26 mil.

Dia hidup di pulau hanya ditemani sekitar 400 ekor kuda, 300.000 anjing laut dan 350 spesies burung.

Berbicara dengan MailOnline Travel, Lucas, yang disanjung sebagai pencinta lingkungan sejati, mengaku bahwa dirinya mampu beradaptasi dengan kehidupan di pulau tersebut dan tidak pernah merasa kesepian.

Dia mengatakan fasilitas utama bagi dirinya adalah buku catatan, jadi dia bisa mencatat, dan teropong untuk mengamati satwa liar di tepi pantai.

Terkadang ada beberapa hal aneh yang dia lihat melalui lensa-nya, bagaimanapun, penampakan dengan kaki palsu menjadi salah satu hal paling aneh yang pernah muncul di pantai.

Ilmuwan warga dari Halifax ini pertama kali berkunjung ke Pulau Sable ketika masih remaja berusia 21 tahun pada 1971 saat mempelajari pantai emas.

"Saya mengumpat dan marah-marah, karena susah mengunjungi pulau ini. Awalnya saya datang ke sini untuk mengamati kuda-kudanya," kata Lucas.

Pulau Sable, yang hanya dapat diakses dengan perahu atau pesawat carter, merupakan rumah bagi ratusan kuda liar, yang sama sekali tidak terkelola.

Dia meyakini bahwa hewan-hewan tersebut tiba di pulau itu pada awal abad ke-18 untuk membantu pekerjaan pertanian ketika sebuah pemukiman dicoba dan kemudian kuda-kuda didatangkan untuk membantu para pekerja.

Pulau Sable - yang diselimuti kabut selama sekitar 125 hari dalam setahun - merupakan kawasan yang rawan bagi pelayaran.

Disebut sebagai tempat bagi lebih dari 300 bangkai kapal, membuatnya dijuluki sebagai 'kuburan Atlantik'. Salah satu kecelakaan terbaru adalah pada 1981.

Namun Lucas mengatakan bahwa lingkungan yang tidak bersahabat tidak menghalangi dia untuk kembali ke Pulau Sable dan menjadikannya sebagai tempat tinggal.

Dia mendirikan kamp di salah satu ujung pulau, bekas bangunan dari stasiun penyelamat yang ditinggalkan begitu berdiri. Persediaan diterbangkan setiap pekan untuk mendukung kelangsungan hidupnya.

Hari ini Lucas tinggal di sebuah rumah dari kayu yang terletak di sebuah kumpulan bukit pasir. Tempat tinggal sederhana yang dibangun saat pulau tersebut masuk Taman Nasional Kanada.

Pulau Sable dinyatakan sebagai Taman Nasional pada 20 Juni 2013, berkat negosiasi oleh mantan Menteri Lingkungan Kanada, Jim Prentice, yang tewas akibat kecelakaan pesawat.

Sepanjang tahun sebuah tim staf bergiliran datang ke pulau itu, yang merupakan peluang bagi dirinya untuk bersosialisasi.

Berbicara dengan staf taman nasional, jelas bahwa Lucas sangat dihormati.

Greg Stroud, seorang manajer perjalanan yang berpengalaman, mengatakan kepada MailOnline Travel: 'Zoe adalah wanita yang luar biasa dan telah mengabdikan hidupnya untuk Pulau Sable. Dia kembali ke markasnya di Halifax sesekali tapi ini adalah tempat tinggalnya yang sebenarnya.'

"Dia bekerja sama dengan Taman Nasional agar bisa berkolaborasi dalam proyek."

Stroud menyoroti bahwa kehidupan di pulau tersebut tidak terlalu melelahkan secara fisik, karena cuaca Pulau Sable relatif kondusif sepanjang tahun dengan suhu tahunan rata-rata 18,6 derajat Celsius.

Dia menambahkan: 'Zoe tergolong sosok yang pendiam sehingga tidak mengherankan bila dia mampu hidup sendirian di sini.'

Saat berkunjung ke Pulau Sable dengan perusahaan ekspedisi Adventure Canada, Lucas berbicara tentang beberapa karya ilmiah yang dia hasilkan. Sebagian besar karyanya didanai oleh donor dan oleh organisasi nirlaba, Friends of Sable Island Society.

Selama bertahun-tahun Lucas telah mengumpulkan tengkorak kuda, sehingga para ilmuwan dapat lebih memahami bagaimana mereka bisa menyesuaikan diri dengan lansekap yang menakjubkan.

Dia juga mendukung petugas stasiun cuaca dan melakukan pengumpulan sampah setiap hari yang mendukung informasi tentang tingkat polusi perairan.
Saat dikunjungi, Lucas mengeluarkan sekantong plastik pita raksasa. Dia mengungkapkan bahwa bangkai balon yang muncul biasanya bersih.

Potongan-potongan puing unik lainnya yang muncul termasuk kantong sampah obat-obatan terlarang, lemari es dan sedikit rasa cemas dari kontainer.

Meskipun Pulau Sable memiliki latar belakang yang sedikit menyeramkan, dengan cerita tentang bangkai kapal dan cerita hantu yang mengerikan, bagi Lucas, pulau berpasir tersebut adalah surga baginya, tanpa pohon palem.

"Dia akan tinggal di Sable selama dia bisa," kata Stroud.
A WOMAN LIVING on a remote island off the coast of Canada devoid of human life could certainly give Robinson Crusoe a run for his money.

Zoe Lucas, 67, has spent more than 40 years living on Sable Island, a large smile-shaped sandbar measuring around 26 miles long.

The only other residents on the patch of land are around 400 horses, 300,000 grey seals and 350 species of bird.

Talking to MailOnline Travel, Lucas, who is revered for her work as a naturalist, revealed that she has adapted to island life and never gets lonely.

She says her essential survival tools include a jotter pad, so she can take notes, and binoculars to observe the wildlife on the sandy shores.

Sometimes there are some rather odd things she spots through her lenses, however, with a fake leg being one of the more bizarre things that have surfaced on shore.

The citizen scientist from Halifax first visited Sable Island as a 21-year-old in 1971 while studying goldsmithing.

'I squawked and squawked, I wanted to come so bad. I originally came out here for the horses,' Lucas explains.

Sable Island, which is only accessible by boat or charter plane, is home to hundreds of wild horses, which are completely unmanaged.

It's believed the animals arrived on the island in the early 18th century to help with agricultural work when a settlement was attempted and later they were recruited to help man a lifesaving station.

Sable Island - which is shrouded in fog for around 125 days of the year - is a notorious shipping hazard.

It is said to be home to more than 300 shipwrecks, earning it the nickname 'graveyard of the Atlantic'. One of the more recent accidents occurred in 1981.

But Lucas says the hostile environment didn't deter her and she swiftly returned to Sable Island and made it her home.

She set up camp on one end of the island, where former buildings from the abandoned lifesaving station once stood. Supplies are flown in on a weekly basis to enable her survival.

Today Lucas lives in a wooden-clad house nestled in a collection of sand dunes. The simple abode was constructed when National Parks Canada stepped in.

Sable Island became a National Park Reserve on June 20, 2013, thanks to negotiations by Canada's former Environment Minister, Jim Prentice, who sadly died in a plane crash.

Throughout the year a team of staff rotate shifts on the island, offering Lucas a little bit of company.

Talking with parks staff, it is clear that Lucas is highly respected.

Greg Stroud, a visitor experience manager, told MailOnline Travel: 'Zoe's an amazing woman and has dedicated her life to Sable Island. She goes back to her base in Halifax occasionally but this is her real home.

'She's worked closely with the National Parks so we can collaborate on projects.'

Stroud highlighted that island life isn't too physically taxing, as Sable stays relatively mild all year around with an average annual temperature range of 18.6 degrees Celsius.

He continued: 'Zoe is a very private person but it's not surprising when you spend so much time out here alone.'

During a visit to Sable Island with the expedition company Adventure Canada, Lucas talked about some of the science she carries out. Much of her work has been funded by donors and by the non-profit organisation, Friends of Sable Island Society.

Over the years Lucas has collected the skulls of horses, so that scientists can better understand how they've managed to adapt to the stark landscape.

She also helps man a weather station and does a daily rubbish collection to help track the ocean's pollution levels.

The day we visited, she hauled out a giant bag of plastic ribbons. She revealed that popped balloon carcasses commonly wash up.

Other quirky pieces of debris that have surfaced include a garbage bag of drugs, a refrigerator and a crateful of fresh peppers from a shipping container.

Though Sable Island has a slightly spooky guise, with tales of shipwrecks and ghost stories making the rounds, for Lucas this solitary spit of sand is pure paradise, minus the palm trees.

'She'll stay on Sable as long as she can,' Stroud mused.