Pengelola Keuangan Dekonsentrasi Penyuluhan Pertanian Dituntut Kritis Sikapi Perubahan
State Fnancial Managers in Indonesia should be Capable
Editor : M. Achsan Atjo
Translator : Dhelia Gani

PUBLISHED: Sabtu, 21 April 2018 , 02:33:00 WIB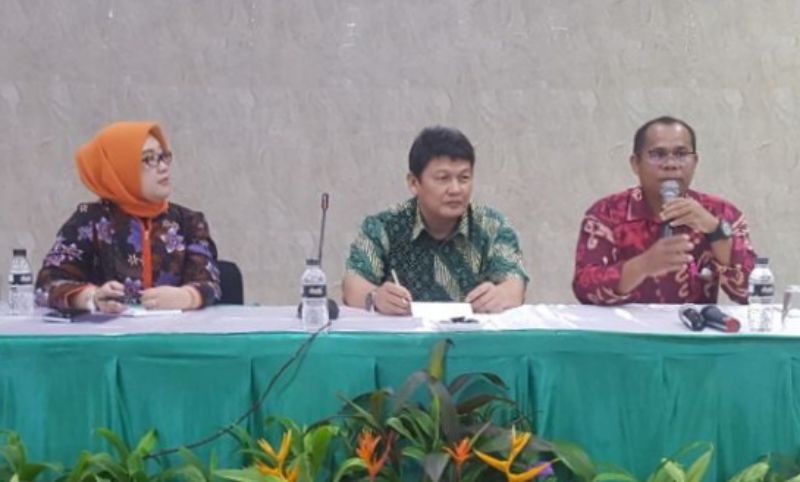 Kasubbid Program Penyuluhan - Pusat Penyuluhan Pertanian (Pusluhtan) Kementan, Hasan Latuconsina pada pembekalan bagi pengelola keuangan dana dekonsentrasi/satuan kerja dari 34 provinsi
Jakarta (B2B) - Pengelola keuangan dekonsentrasi dituntut berpikir kritis agar mampu mengantisipasi perubahan kebijakan yang berdampak pada pengalihan kegiatan atau pemotongan anggaran, sehingga tidak mengurangi pencapaian ukuran kinerja atau pun output dari unit kerja di Badan Penyuluhan dan Pengembangan SDM Pertanian (BPPSDMP) Kementerian Pertanian RI.
"Program pembangunan pertanian yang didukung dengan anggaran yang tertuang dalam daftar isian pelaksanaan anggaran atau DIPA adalah satu kesatuan yang terangkum dalam pakta integritas yang harus dipertanggungjawabkan pencapaiannya di akhir tahun," kata Hasan Latuconsina, Kasubbid Program Penyuluhan - Pusat Penyuluhan Pertanian (Pusluhtan) Kementan.
Hal itu dia kemukakan pada pembekalan bagi pengelola keuangan dana dekonsentrasi/satuan kerja dari 34 provinsi yang berlangsung di Depok, Kamis (19/4).
Menurutnya, pengetahuan dan pemahaman terkait visi, misi, kebijakan dan program unit kerja menjadi sangat penting ketika semua itu harus diimplementasikan.
Sementara perubahan yang begitu cepat terhadap kemajuan teknologi dan informasi suatu wilayah yang menuntut perubahan-perubahan terhadap kebijakan terhadap program maupun anggaran, juga menuntut pemikiran yang kritis dari seorang pengelola keuangan.
"Tujuannya agar dalam pengambilan keputusan pengelolaan anggaran terkait dengan perubahan kebijakan yang berdampak kepada pengalihan kegiatan ataupun pemotongan anggaran, sedapat mungkin tidak mengurangi pencapaian ukuran kinerja ataupun output dari unit kerja sebuah organisasi," katanya.
Dia mengingatkan tentang indikator kinerja utama (IKU) yang juga merupakan IKU BPPSDMP Kementan meliputi penerapan sistem pertanian terpadu, penilaian kelas kemampuan kelompok tani dan pengembangan kelembagaan ekonomi petani (KEP) harus dapat dicapai melalui beberapa kegiatan sepert sekolah lapangan, peningkatan kapasitas bagi penyuluh swadaya, adaptasi teknologi, biaya operasional penyuluh (BOP), pembentukan dan pengelolaan badan usaha milik petani (BUMP).
Jakarta (B2B) - State finance managers in the Indonesian ministry are required to think critically in order to anticipate policy changes that impact on budget cuts, so it does not affect the output target of the working unit of the Directorate General of Agriculture Extention and HR Development at the Indonesian Agriculture Ministry.
Agricultural development programs supported by budgets according to the list of budget utilization or DIPA set out in an integrity pact to be accounted for at the end of the year," said Hasan Latuconsina, the fourth echelon official at BPPSDMP.
It was stated in Depok of West Java province at the briefing for financial managers at the ministry.
According to him, knowledge and understanding related to vision, mission, policy and program of work unit become very important for every manager of state finance.
While changes due to advances in technology and information demand changes in program and budget policies, it also demands critical thinking from a financial manager.
The goal is that in making budget management decisions related to policy changes that impact on the transfer of activities or budget cuts, does not reduce the achievement of output from the work unit of an organization," he said.
He reminded the key performance indicators covering the implementation of integrated farming systems, the assessment of farmer group ability classes and the development of farmers ´economic institutions should be achieved through field schools, capacity building for self-help trainers, technological adaptation, operational costs of extension workers, establishment and management of farmers´ enterprises.