Kepala BPPSDMP Ingatkan `Militansi PPL` Dukung Swasembada Pangan
Indonesia`s Agriculture Extentionist Must Support Food Self-sufficiency
Editor : M. Achsan Atjo
Translator : Dhelia Gani

PUBLISHED: Jum'at, 29 Juni 2018 , 11:35:00 WIB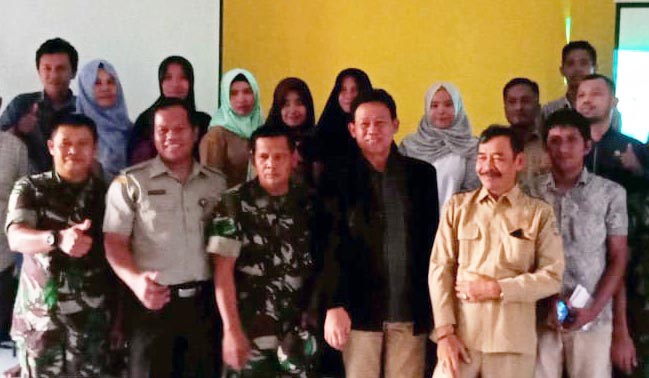 Kepala BPPSDMP Kementan, Momon Rusmono (jaket hitam) dan Kadistran Kayong Utara, Wahono dan Kepala BPTP Kalbar, Achmad Musyafak (ke-2 kiri) bersama Babinsa dan PPL Kayong Utara (Foto: Humas Pusluhtan/ Septalina P)
Kayong Utara, Kalbar (B2B) - Penyuluh pertanian lapangan (PPL) seharusnya tidak bergantung pada anggaran pemerintah daerah dalam melaksanakan tugas pokok dan fungsinya (Tupoksi), PPL harus bersikap militan untuk mendukung program dan kebijakan pemerintah pusat untuk kepentingan petani dan pembangunan pertanian nasional untuk mencapai swasembada pangan strategis.
Seruan kepada PPL tersebut dikemukakan oleh Kepala Badan Penyuluhan dan Pengembangan SDM Pertanian (BPPSDMP) Kementerian Pertanian, Momon Rusmono di Provinsi Kalimantan Barat pada rapat koordinasi (Rakor) dengan Kepala Dinas Pertanian Kabupaten Kayong Utara, Wahono, Senin (25/6).
"Militansi penyuluh pertanian sangat dibutuhkan saat ini untuk mendukung program dan kebijakan dari pemerintah baik pusat dan daerah, meskipun dukungan pemerintah daerah tidak maksimal maka PPL harus berani jemput bola mendukung petani," kata Momon Rusmono yang didampingi Kepala Balai Pengkajian Teknologi Pertanian (BPTP) Kalbar, Achmad Musyafak.
Menurutnya, PPL berperan penting dan strategis dalam mengawal program pembangunan pertanian, sebagai faktor penggerak pelaku pembangunan pertanian maka harus mampu dan berperan aktif menjadi komunikator, fasilitator, advisor, motivator, edukator, organisator dan dinamisator mendampingi dan mengawal petani melaksanakan program pembangunan pertanian.
"Tujuannya adalah mencapai swasembada pangan berkelanjutan, diversifikasi pangan, peningkatan nilai tambah, daya saing dan ekspor komoditas pertanian," kata Momon Rusmono yang berada di Kalbar selama tiga hari, 24 - 26 Juni untuk mendorong akselerasi PPL dan dinas pertanian daerah mendukung pencapaian target luas tambah tanam (LTT) dan optimalisasi Alsintan (Opsin) dari Kementan.
Momon mengingatkan bahwa PPL menggerakkan pemanfaatan alat dan mesin pertanian (Alsintan) di wilayah kerja masing-masing, dengan pendampingan dan pengawalan berkelanjutan untuk mendapatkan hasil maksimal mendukung pencapaian targedt luas tambah tanam (LTT).
Tampak hadir Liaison Officer (LO) LTT Kubu Raya, Zuhran dan Tim Upsus Kalbar, Septalina Pradini. (Liene)
North Kayong of West Borneo (B2B) - Agricultural extensionist should not rely on local government budgets to carry out their main tasks and functions, but must be militant to support the programs and policies of the central government for the benefit of farmers, and national agricultural development to achieve strategic food self-sufficiency, according to Indonesian senior official.
It was stated by Director General of Agricultural Extension and Agricultural Human Resources or the BPPSDMP of Indonesian Agriculture Ministry, Momon Rusmono here on Monday (June 25) at the coordination meeting with Head of Kayong Utara Agriculture Office, Wahono
"Agricultural extensionist are vital to support central government programs and policies, despite budget support from the local government is not optimal," said Mr Rusmono who was accompanied by Director of West Borneo´s Assessment Institute for Agricultural Technology, Achmad Musyafak.
According to him, Agricultural extensionists play an important role in supporting agricultural development programs, then it should be able to act as a communicator, facilitator, advisor, motivator, educator, organizer and dynamicator for farmers.
"The goal is to achieve sustainable food self-sufficiency, food diversification, increased value-added agricultural production, competitiveness and export of agricultural commodities," said Mr Rusmono.
He reminded that agricultural extensionist should mobilize the use of agricultural machinery or Alsintan in their respective working areas, with ongoing facilitation and escort to get maximum results support the achievement of plant extensification targets.
Also attended Liaison Officer of Kubu Raya district for extensification of paddy fields program locally known as the LTT and team of LTT Septalina Pradini.