Kompetensi Produksi Benih, Puslatan Kementan Kaji Ulang SKKNI Pemilihan Bibit
Indonesia`s Agribusiness Management Competence of Plant Seeds
Editor : M. Achsan Atjo
Translator : Dhelia Gani

PUBLISHED: Sabtu, 31 Maret 2018 , 22:44:00 WIB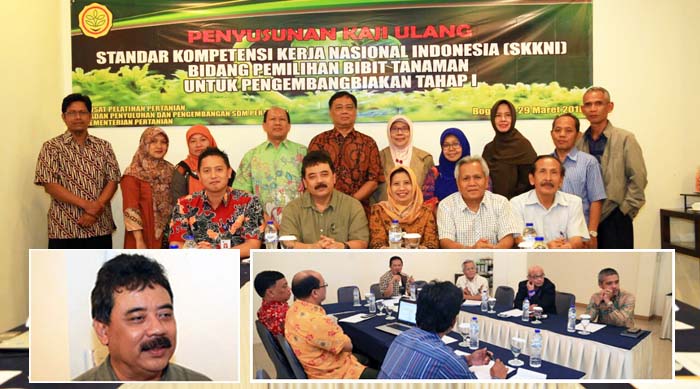 Kapuslatan BPPSDMP Kementan, Widi Hardjono bersama peserta pertemuan penyusunan kaji ulang SKKNI bidang pemilihan bibit tanaman untuk pengembangbiakan (Foto2: Humas BPPSDMP/Pito)
Jakarta (B2B) - Kementerian Pertanian RI melibatkan birokrat, pakar, akademisi, dan praktisi perbenihan tanaman untuk melakukan kaji ulang Standar Kompetensi Kerja Nasional Indonesia (RSKKNI) bidang pemilihan bibit tanaman untuk pengembangbiakan, meskipun SKKNI-nya telah ditetapkan oleh Menakertrans pada 2014 namun perlu penyesuaian sesuai tuntutan dan kondisi nyata dunia kerja terhadap SKKNI bidang tersebut, khususnya penjabaran standar kompetensi kerja dan unit kompetensi yang dihilangkan karena redandem.

"SKKNI bidang pemilihan bibit tanaman untuk pengembangbiakan telah ditetapkan oleh Menaker pada 2014, tetapi setelah lebih tiga tahun perlu ada penyesuaian mengacu pada kondisi terkini," kata Kepala Pusat Pelatihan Pertanian (Kapuslatan) di Badan Penyuluhan dan Pengembangan SDM Pertanian (BPPSDMP) Widi Hardjono di Bogor, Selasa (27/3).

Menurutnya, penyesuaian tersebut berdampak pada terjadinya perubahan SKKNI terkait dengan substansi maupun tata penulisan; terdapat jabatan-jabatan baru yang perlu dijabarkan standar kompetensi kerjanya dan adanya unit kompetensi yang dapat dihilangkan karena redandem atau tidak sesuai lagi dengan penerapannya di lapangan.

"Ketersediaan benih saja tidak cukup jika tidak diikuti dengan kualitas benih yang tinggi. Upaya peningkatan produksi tanaman saat ini lebih diarahkan pada peningkatan produktivitas tanaman dengan pemanfaatan teknologi pertanian dengan memanfaatkan benih varietas unggul bersertifikat," kata Widi Hardjono.

Dia menambahkan, salah satu upaya yang ditempuh agar penyediaan benih varietas unggul bersertifikat dapat memenuhi kriteria enam tepat menyangkut jenis, varietas, mutu jumlah, waktu, tempat dan harga adalah dengan meningkatkan kompetensi pelaku utama produksi benih.

"Kompetensi pelaku usaha produksi benih dapat ditingkatkan dengan baik apabila dilakukan sesuai standar kompetensi kerja yang diberlakukan terutama dalam menghadapi era keterbukaan dan globalisasi," katanya.

KKNI Sektor Pertanian
Kementerian Pertanian RI telah menyusun sembilan jenjang Kerangka Kualifikasi Nasional Indonesia (KKNI) sektor pertanian, sehingga dapat menyandingkan, menyetarakan dan mengintegrasikan pendidikan setiap PNS di kementerian dengan pelatihan kerja dan pengalaman kerja untuk meraih pengakuan kompetensi kerja sesuai dengan struktur pekerjaan di berbagai sektor pertanian.

Dasar peraturan KKNI adalah Perpres No 8/2012 tentang KKNI, persaingan kualitas dan profesional di era pasar bebas ASEAN (MEA), Peraturan Menristek Dikti No 44/2015 tentang standar nasional pendidikan tinggi, Peraturan Mendikbud No 73/2013 tentang penerapan KKNI bidang pendidikan tinggi.

Pada 2015, Kementan menerbitkan Permentan No 53/2015 tentang pemberlakuan 25 SKKNI sektor pertanian, dan pada 2016 hingga 2017 telah disusun lagi 12 judul SKKNI atau total 37 judul SKKNI yang menjadi skala prioritas.

Dengan menyadari pentingnya KKNI maka Kementan harus segera menyelaraskan kebutuhan standar kompetensi sektor pertanian dengan identifikasi kebutuhan kompetensi di tempat kerja yang disandingan dengan unit kompetensi pada SKKNI dalam kerangka KKNI.
Jakarta (B2B) - Indonesian Agriculture Ministry is reviewing Indonesian work competency standards or RSKKNI in selecting plant seeds for breeding supported by experts, academics, bureaucrats and practitioners seed crops, although in 2014 it has been ratified by labor and transmigration minister but needs to be adjusted to the employment sector, according to senior government official.

"Although it has been ratified, adjustments are required to refer to current conditions," said Widi Hardjono, Director of the Agricultural Training Center in Director General of Agency for Agricultural Extension and Human Resources Development or BPPSDMP of the ministry in Bogor on Tuesday (March 27).

According to him, changes in circumstances and conditions affect the change SKKNI on substance and writing; new positions requiring the elaboration of work competency standards, and units of competence that can be eliminated due to redandem or no longer appropriate to their application in the field.

"The availability of seeds is not enough if not followed by high seed quality. The current increase in crop production is directed at crop productivity from certified superior variety seeds, agricultural technology innovation results," Mr Hardjono said.

He added that the provision of certified superior varieties of seeds must meet six criteria of species, varieties, quality of quantities, time, place and price is to increase the competence of the main actors of seed production.

"Competence of seed production business can be improved well if done according to work competence standard applied especially in face of era of openness and globalization," he said.

Agribusiness Management Competence
The Indonesian Agriculture Ministry has compiled nine levels of Indonesia´s National Qualification Framework called the KKNI for agriculture, so it can match, integrate with education of every civil servant in the ministry with job training and work experience, to achieve recognition of work competence in accordance with structure of work in various agricultural sector, according to the senior official.

the basic rule of KKNI standards is Indonesian Presidential Regulation Number 8/2012, the quality and professionalism of human resources face ASEAN free market, Technology and Higher Education Minister Regulation Number 44/2015 about the national standard of higher education, the Education and Culture Minister Regulation Number 73/2013 of KKNI standard.

In 2015, the agriculture ministry issued Regulation of Agriculture Minister Number 53/2015 on the application of 25 KKNI agricultural standards, and in 2016 to 2017 compile 12 KKNI standards, or 37 KKNI standards as a priority scale.

Related to the importance of KKNI standard, the agriculture ministry must immediately adjust the competency standards of the agricultural sector with the identification of work competence according to KKNI standards.