Presiden Jokowi Buka Kejuraan Dunia Wushu Junior 2022 di Tangerang
President Jokowi Opens the 2022 Junior Wushu World Championship in Tangerang
Reporter : Kemal Agus Praghotsa
Editor : Cahyani Harzi
Translator : Novita Cahyadi

PUBLISHED: Senin, 05 Desember 2022 , 21:34:00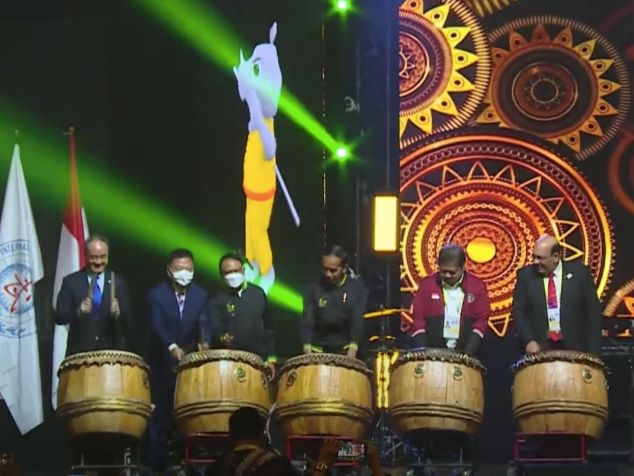 KEJUARAAN DUNIA: Presiden RI Jokowi didampingi Menteri Koordinator Bidang Perekonomian Airlangga Hartarto saat membuka kejuaraan dunia Wushu di ICE BSD, Tangerang. (Foto: Setkab RI)
Tangerang, Banten [B2B] - Presiden RI Joko Widodo [Jokowi] secara resmi membuka Kejuaraan Dunia Wushu Junior Ke-8 Tahun 2022, di Hall Nusantara ICE BSD City, Tangerang, Banten, pada Senin [5/12].
Dalam sambutannya, Jokowi menyatakan kegembiraannya atas penyelenggaraan kejuaraan olahraga berskala internasional yang diikuti oleh 60 negara ini.
"Saya mengucapkan selamat datang di Indonesia kepada seluruh delegasi wushu dari negara-negara sahabat, dari 60 negara yang mewakili 5 benua," ujar Jokowi.
Dikutip dari Biro Pers, Media dan Informasi Sekretariat Presiden, Jokowi mengajak seluruh atlet untuk berlaga dengan gembira, bertanding secara sportif, serta menunjukkan kemampuan terbaik untuk meraih medali yang diharapkan.
"Sebagaimana semangat unity in diversity, ajang kejuaraan ini bukan semata pertandingan, kejuaraan ini adalah jembatan persahabatan untuk mempererat tali persaudaraan antarbangsa," ujarnya.
Tak hanya berlaga, Jokowi juga mengharapkan para atlet wushu dapat memanfaatkan waktunya untuk mengenal Indonesia secara lebih dekat.
"Memang kehadiran Bapak, Ibu, dan Saudara-saudara ke Indonesia adalah untuk bertanding, tetapi saya sangat mengharapkan kehadiran Bapak, Ibu, dan Saudara-saudara sekalian di Indonesia saat ini agar juga dimanfaatkan untuk lebih dekat mengenal Indonesia," pungkasnya.
Dalam kesempatan tersebut, Jokowi mendapat piagam kehormatan tertinggi dalam olahraga Wushu yang diserahkan secara langsung oleh Ketua Umum Federasi Wushu Internasional Anthony Goh.
Indonesia menjadi tuan rumah Kejuaraan Dunia Wushu Junior untuk kedua kalinya setelah sebelumnya digelar di Bali. Kejuaraan ini merupakan pertandingan pertama pascapandemi dan diikuti oleh 870 atlet dan ofisial dari 62 negara.
Tangerang, Banten [B2B] - Indonesian President Joko Widodo [Jokowi] officially opened the 2022 8th Junior Wushu World Championship, at the Nusantara Hall ICE BSD City, Tangerang, Banten, on Monday [5/12].
In his remarks, Jokowi expressed his joy for holding this international scale sports championship which was participated in by 60 countries.
"I would like to welcome all wushu delegations from friendly countries to Indonesia, from 60 countries representing 5 continents," Jokowi said.
Quoted from the Press, Media and Information Bureau of the Presidential Secretariat, Jokowi invited all athletes to compete happily, compete in a sporting manner, and show their best abilities to win the expected medals.
"Like the spirit of unity in diversity, this championship is not just a competition, this championship is a bridge of friendship to strengthen brotherhood among nations," he said.