Kiper Prancis Kepergok Kamera Nyaris Telan Capung saat Hadapi Uruguay
Lloris almost Eats a Dragonfly after it is Shown Flying into His Mouth on Slo-mo Replay
Editor : Ismail Gani
Translator : Novita Cahyadi

PUBLISHED: Sabtu, 07 Juli 2018 , 22:34:00 WIB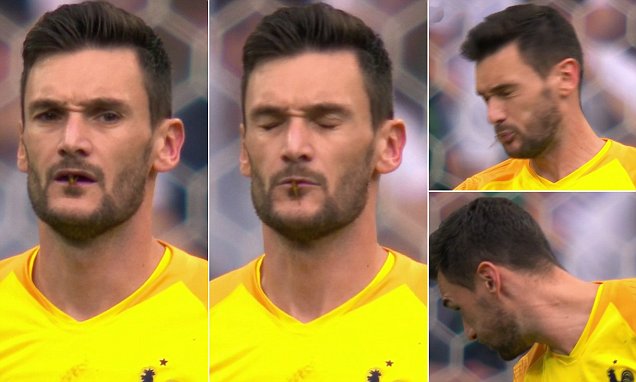 Para pesepakbola yang bertanding di Rusia harus berurusan dengan serangga di seluruh stadion lantaran musim panas yang terik mengakibatkan populasinya meningkat (Foto2: MailOnline)
HUGO LLORIS dibuat repot oleh capung yang mengganggu konsentrasinya mengawal gawang Prancis pada perempat final Piala Dunia menghadapi Uruguay.
Sang kiper saat itu sedang konsentrasi mengawasi gerakan pemain lawan mendekati kotak penalti ketika seekor capung terbang ke mulutnya. Lloris meringis jijik dan dengan cepat meludahkan sang serangga sebelum kembali berkonsentrasi.
Para pesepakbola yang bertanding di Rusia harus berurusan dengan serangga di seluruh stadion lantaran musim panas yang terik mengakibatkan populasinya meningkat.
Meskipun jumlah capung lebih sedikit ketimbang nyamuk, namun jumlahnya tergolong sangat banyak di Nizhny Novgorod, seperti dilansir MailOnline.
HUGO LLORIS narrowly avoided swallowing a massive dragonfly during France´s quarter-final clash with Uruguay.
The goalkeeper was surveying play ahead of him when the insect flew into his mouth. Lloris winced in disgust and quickly spat out the bug before regaining his composure.
Players have had to deal with insects throughout the tournament in Russia and the blazing hot summer has only increased their numbers.
Though dragonflies are more uncommon than midges and mosquitoes, there are still a unseasonably high number of them in Nizhny Novgorod.