Pemain Leicester Kibar Bendera Palestina Usai Tekuk Chelsea 1 - 0
Leicester City Duo Wave the Palestinian Flag as Celebrated FA Cup Final Victory
Editor : Kemal A Praghotsa
Translator : Novita Cahyadi

PUBLISHED: Minggu, 16 Mei 2021 , 23:48:00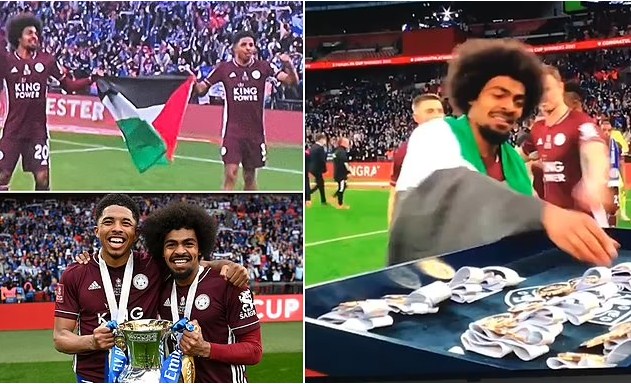 SELEBRASI KEMENANGAN: Selama selebrasi merayakan kemenangan Leicester City, Choudhury dan Fofana tampak sedang memegang bendera Palestina, yang menjadi sasaran fotografer di lapangan [Foto2: MailOnline]
DUO LEICESTER City, Hamza Choudhury dan Wesley Fofana mengibarkan bendera Palestina setelah tim mereka merebut Piala FA dengan kemenangan dramatis atas Chelsea.
Klub berjuluk The Foxes meraih Piala FA pertama mereka berkat tendangan jarak jauh yang brilian dari Youri Tielemans, karena instruksi VAR yang terlambat mengesampingkan apa yang tampaknya merupakan penyeimbang dari mantan pemain Leicester Ben Chilwell.
Selama selebrasi merayakan kemenangan Leicester City, Choudhury dan Fofana tampak sedang memegang bendera Palestina tinggi-tinggi, yang menjadi sasaran fotografer di lapangan.
Gelandang Inggris Choudhury kemudian mengibarkan bendera di pundaknya saat dia mengambil medali kemenangannya, sebelum rekan setimnya Kasper Schmeichel dan Wesley Fofana mengangkat trofi.
Itu merupakan aksi solidaritas mereka pada rakyat Palestina yang terjebak di tengah konflik bersenjata yang sedang berlangsung dengan Israel.
Israel dan Palestina telah terlibat dalam bentrokan mengerikan selama beberapa minggu terakhir, dengan kekerasan pecah antara polisi Israel dan pengunjuk rasa.
Konflik yang sedang berlangsung telah meningkat setelah Hamas mengarahkan rudal ke Yerusalem, yang direspons pasukan Israel dengan menghujani Jalur Gaza dengan serangan udara mereka sendiri.
Peningkatan kekerasan selama seminggu adalah yang terburuk terlihat antara Palestina dan Israel sejak 2014.
Kedua belah pihak didesak untuk meredakan ketegangan antar bangsa di seluruh dunia karena ribuan warga Palestina terpaksa mengungsi dari rumah mereka setelah seminggu konflik berkepanjangan.
Sedikitnya 126 orang tewas di Gaza termasuk 31 anak-anak dan 20 wanita. Sementara setidaknya delapan orang tewas di Israel termasuk seorang bocah lelaki berusia enam tahun dan seorang tentara.
Sejumlah bintang olahraga telah memposting pesan dukungan dengan Palestina melalui gelandang Arsenal asal Mesir melalui tweet pada Senin lalu: ´Hati dan jiwa saya dan dukungan saya untuk Anda Palestina,´ diikuti dengan gambar bendera Palestina dan emoji perdamaian.´
Menurut Jewish Chronicle, sponsor dan grup usaha The Gunners, Lavazza, telah menghubungi klub tersebut untuk menyatakan keprihatinan mereka tentang kaitan Arsenal dengan pesan Elneny, di tengah meningkatnya ketegangan di Timur Tengah.
Pernyataan sikap Elneny tersebut mendapat reaksi keras dari pendukung Arsenal asal Yahudi karena tweetnya juga menyertakan gambar dengan teks ´Palestine Lives Matter,´ yang menunjukkan kebencian pada Israel dengan gambar pro-Palestina seperti dilansir MailOnline.
Pernyataan Grup Lavazza mengatakan: "Kami akan segera menghubungi Arsenal untuk berkomentar bahwa kami prihatin tentang klub yang terkait dengan pesan semacam itu."
´Isi posting ini sama sekali tidak sejalan dengan nilai-nilai perusahaan kami. Lavazza Group berkomitmen penuh melawan rasisme dan anti-semitisme."
Arsenal menjawab Jewish Chronicle: "Seperti halnya karyawan Arsenal, para pemain kami berhak mengungkapkan pandangan politik mereka di platform mereka sendiri."
"Meski begitu, kami sedang berbicara dengan Mo tentang hal ini sehingga dia memahami implikasi yang lebih luas dari unggahannya di media sosial."
"Sebagai klub kami berkomitmen untuk menghadapi dan menghilangkan semua bentuk diskriminasi dan terus memperjuangkan kebutuhan akan kesetaraan dan keragaman di semua bidang kehidupan."
LEICESTER City duo Hamza Choudhury and Wesley Fofana held up a Palestinian flag after their side clinched the FA Cup with a dramatic victory over Chelsea.
The Foxes secured their first ever FA Cup thanks to a brilliant long-range strike from Youri Tielemans, as a late VAR call overruled what looked to be a late equaliser from former Leicester man Ben Chilwell.
During the post-match celebrations as players did their lap of honour, Choudhury and Fofana were pictured holding a Palestine flag aloft.
English midfielder Choudhury then draped the flag over his shoulders as he went to pick up his winner medal, before teammates Kasper Schmeichel and Wesley Fofana lifted the trophy.
It was an act of solidarity by the pair with Palestinian people who are caught in the middle of the ongoing conflict with Israel.
Israel and Palestine have been involved in horrific clashes over the last couple of weeks, with violence breaking out between Israeli police and protestors.
The ongoing conflict has been escalated after Hamas aimed missile towards Jerusalem, with Israeli forces responding by raining down on the Gaza Strip with air strikes of their own.
A week of escalating violence is the worst seen between Palestine and Israel since 2014.
Both sides have been urged to ease tensions by nation around the world as thousands of Palestinians have been forced to flee from their homes after a week of sustained conflict.
At least 126 people have been killed in Gaza including 31 children and 20 women. While at least eight have died in Israel including a six-year-old boy and a soldier.
A number of sports stars have posted messages of support with Palestine with Arsenal´s Eygptian midfielder tweeting on Monday: ´My heart and my soul and my support for you Palestine,´ followed by a picture of the Palestine flag and a peace emoji.
According to the Jewish Chronicle, the Gunners´ sponsor and coffee group Lavazza have since contacted the club to register their concern about them being linked with Elneny´s message, amid rising tensions in the Middle East.
Elneny´s post resulted in a backlash from Arsenal´s Jewish supporters because his tweet also included an image with the text ´Palestine Lives Matter,´ which shows an outline of Israel with pro-Palestine pictures within.
A Lavazza Group statement said: ´We´ll immediately reach out to Arsenal to remark we are concerned about the club associated with such a message.
´Content of this post is totally not aligned with our company values. Lavazza Group is fully committed against racism and anti-semitism.´
Arsenal told the Jewish Chronicle: ´As with any employees of Arsenal, our players are entitled to express their views on their own platforms.
´That said, we are speaking to Mo about this so he understands the wider implications of his post.
´As a club we are committed to confronting and eliminating all forms of discrimination and continue to champion the need for equality and diversity across all areas of life.´