Bananarama Bintang New Wave 80-an Dikritik sebagai `Banana-menopause`
Bananarama Battled Sexism and Big Hair Disasters
Editor : Ismail Gani
Translator : Novita Cahyadi

PUBLISHED: Senin, 08 Juli 2019 , 15:40:00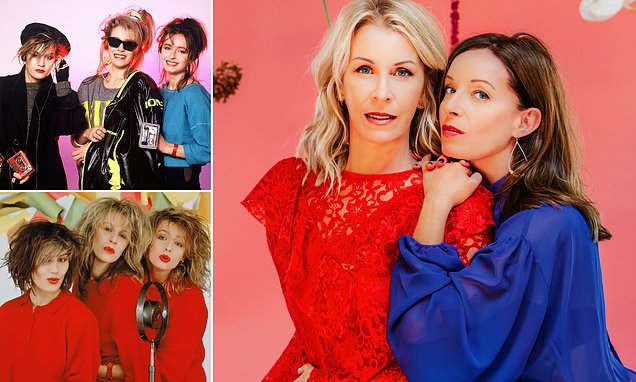 Foto2: MailOnline
TUMBUH BERSAMA sebagai gadis remaja di kota Bristol, Inggris, Keren Woodward, kini berusia 58, dan Sara Dallin (foto bersama, kanan), 57, telah saling mengenal sejak mereka berusia empat tahun, dan menjadi lebih dekat ketika mereka berusia 11 tahun dan ngetop bareng sebagai pengusung musik New Wave melalui Bananarama.
"Mari kita menjadi sahabat terbaik selamanya," mereka berjanji satu sama lain, ikatan persahabatan yang melekat hingga saat ini.
Persahabatan yang mendalam ini membuat keduanya dapat melalui masa kanak-kanak, bahaya kelakuan buruk remaja, popularits bintang musik, Bananarama bubar, memiliki kekasih, patah hati, menjadi ibu, comeback sebagai musisi, comeback lagi, mengatasi masa tua di bawah sorotan dan kemudian, penghinaan terakhir, dijuluki sebagai Banana-menopause sebagai plesetan dari Bananarama.
Sara mengaku menjelang menopause, Keren sudah menopause. Mereka ingin berbicara kepada pers untuk menjawab kritik tersebut. Foto: Bananarama (kiri atas) di London pada 1983 (kiri bawah) seperti dilansir MailOnline.
GROWING UP together in Bristol, Keren Woodward, now 58, and Sara Dallin (pictured together right), 57, have known each other since they were four years old, and became close when they were 11.
´Let´s be best friends forever,´ they promised each other, a sororal bond that has endured ever since.
This deep friendship has seen them through girlhood, the perils of teendom, pop fame, Bananarama splits, boyfriends, heartbreak, motherhood, comebacks, more comebacks, the ignominy of ageing under the spotlight and then, the final insult, the Banana-menopause.
Sara´s is ongoing, Keren is post. They are keen to talk. Pictured: Bananarama (top left) in London in 1983 (bottom left).