Toyota FV2, Mobil Konsep yang Mampu `Komunikasi` dengan Pengemudi
Toyota Teases FV2 Concept Vehicle that Reads Emotions and Bonds with Drivers
Editor : Ismail Gani
Translator : Novita Cahyadi

PUBLISHED: Senin, 23 November 2015 , 16:23:49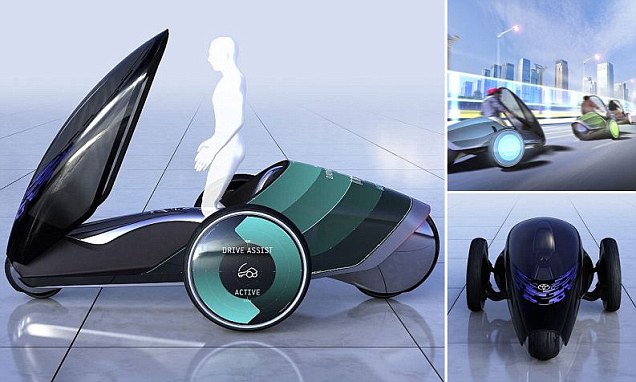 Foto2: MailOnline
INI MUNGKIN terdengar seperti sesuatu yang keluar dari sebuah novel fiksi ilmiah, namun mobil konsep Toyota berikutnya menjanjikan untuk mampu membaca emosi pengemudi.

Produsen otomotif dari Jepang mengungkapkan bahwa FV2 dirancang untuk 'memberi peluang hubungan fisik dan emosional yang lebih kuat dengan pengemudinya.'

Mobil model dengan satu kursi didukung teknologi canggih, Toyota mengklaim FV2 mampu menjalin hubungan saling percaya dan memahami, seperti halnya penunggang kuda dengan hewan tunggangannya.

Mobil ini akan menerapkan teknologi pengenalan suara
dan gambar untuk menentukan suasana hati pengemudi dan dapat memantau riwayat perjalanan untuk menentukan tujuan bepergian.

Sebuah layar augmented reality akan ditampilkan di bagian dalam kaca depan, yang tampil seperti flip up, dan jadi menyenangkan bagi orang-orang yang ragu-ragu ketika memilih warna mobil mereka berikutnya, warna bodi dan tampilan eksterior FV2 dapat diubah sesuka hati.

Toyota mengatakan juga menggunakan teknologi sistem transportasi pintar untuk terhubung dengan kendaraan lain di dekatnya dan infrastruktur jalan raya untuk menangkap informasi keselamatan, seperti memberikan peringatan dini bagi kendaraan ketika berada di blind spot (persimpangan).

Toyota mengatakan mobilnya dirancang untuk membangun semangat 'filosofi fun-to-drive'.

Toyota juga telah meluncurkan aplikasi untuk perangkat iOS dan Android yang menawarkan kemampuan untuk menyalip dan ngebut secara aman, seperti dilansir MailOnline.
IT MIGHT sound like something out of a science fiction novel, but Toyota's next concept car promises to read a driver's emotions.

The Japanese car maker revealed the FV2 is designed to 'forge stronger physical and emotional connections with the driver'.

The single-occupancy model has technology onboard, which Toyota claims allows the driver and FV2 to develop a relationship of trust and understanding, similar to that between a rider and a horse.

The vehicle uses voice and image recognition to determine the driver's mood and can check driving history to suggest destinations.

An augmented reality display will be shown on the inside of the windscreen, which appears to flip up, and excitingly for people who are indecisive when picking the colour of their next car, the body colour and exterior display of the FV2 can be changed at will.

oyota said it also uses intelligent transport system technology to connect with other vehicles nearby and highway infrastructure to capture safety information, such as giving advance warning of vehicles in blind spots or at junctions.

The company said the car has been designed to capture the spirit of its 'fun-to-drive philosophy'.

Toyota has launched an app for iOS and Android devices that offers a sneak peak of the whimsical model that lets users try driving the FV2 and participate in a 'realtime championship'.