Pengalaman Unik Warga AS Pertama yang Kuliah di Korea Utara
The First American to Study in North Korea Reveals what Life is Really Like under Kim
Editor : Ismail Gani
Translator : Novita Cahyadi

PUBLISHED: Senin, 04 Juni 2018 , 01:08:00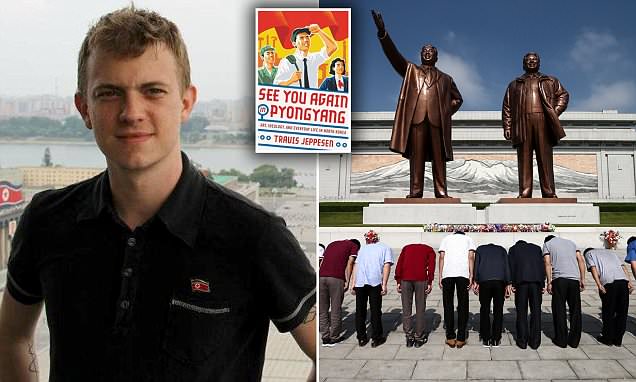 Dia menceritakan bagaimana dia menyaksikan penduduk setempat melongo saat melihat anjing di kebun binatang, bagaimana dia bangun setiap pagi pukul 5 pagi untuk Kim Il Sung (Foto2: MailOnline)
TRAVIS JEPPESEN, 36, adalah warga Amerika pertama yang kuliah di Korea Utara pada musim panas 2016 dan merinci bagaimana dia tinggal di sebuah hotel yang mewah namun kosong dan mengikuti perkuliahan di kampus dengan listrik terbatas dan saluran air yang buruk, seperti ditulis dalam bukunya berjudul See You Again in Pyongyang: A Journey Into Kim Jong Un´s North Korea.
Dia menceritakan bagaimana dia menyaksikan penduduk setempat melongo saat melihat anjing di kebun binatang, bagaimana dia bangun setiap pagi pukul 5 pagi untuk Kim Il Sung, dan terkejut melihat seorang wanita tua diseret polisi lantaran es krim.
Jeppesen mengatakan dia menderita masalah psikologis karena terus diawasi dan dipantau begitu pula dengan komputer dan teleponnya yang diduga disadap. Saat berada di depan umum, dia terus-menerus dikawal oleh dua pemandu wisata yang mengawasi setiap gerakannya.
´Secara psikologis, itu sangat sulit dan menegangkan. Itu memiliki semua efek samping yang aneh ini. Ada saat-saat ketika saya akhirnya sendirian dan tidak ada yang memperhatikan saya, namun itu terasa menyeramkan karena saya sangat terbiasa diawasi,´ katanya tentang kehidupan pribadinya yang dibatasi.
Setelah tamat kuliah dia mendapat sertifikat tanda kelulusan. Meskipun ingin kembali ke negara tertutup itu dia tidak dapat kembali ke Korea Utara karena AS telah memberlakukan larangan perjalanan mengingat hukuman penjara dan kematian siswa Amerika Otto Warmbier, yang dipenjara di Korea Utara setelah mencuri spanduk dari sebuah hotel pada 2016 seperti dilansir MailOnline.
TRAVIS JEPPESEN, 36, was the first American to study on North Korean soil in the summer of 2016 and details how he lived in a lavish but empty hotel while attending a university with limited electricity and shoddy plumbing in his tell all book See You Again in Pyongyang: A Journey Into Kim Jong Un´s North Korea.
He shares how he saw locals gawk at dogs in a zoo, how he was woken up every morning to a 5am ode to Kim II-sung, and was shocked to see an elderly ice cream lady dragged away by police.
Jeppesen says he suffered the psychological toll of being constantly watched and monitored as he suspected his computer and phone were bugged. While out in public, he was constantly escorted by two mandatory guides who watched his every move.
´Psychologically, it was very difficult and stressful. It had all these weird side effects. There were moments when I finally was alone and nobody was watching me, yet it felt creepy because I was so used to being watched,´ he said on his limited privacy.
The student was awarded with a certificate after the end of his term. Despite wanting to return to the reclusive country he was unable to as the US has imposed a travel ban in light of the imprisonment and death of American student Otto Warmbier, who was jailed in North Korea after stealing a banner from a hotel in 2016.