Harapan Baru, Kursi Roda Bisa Dikendalikan dengan Pikiran
Wheelchair that Can be Controlled with Your MIND
Editor : Ismail Gani
Translator : Novita Cahyadi

PUBLISHED: Kamis, 24 November 2022 , 12:12:00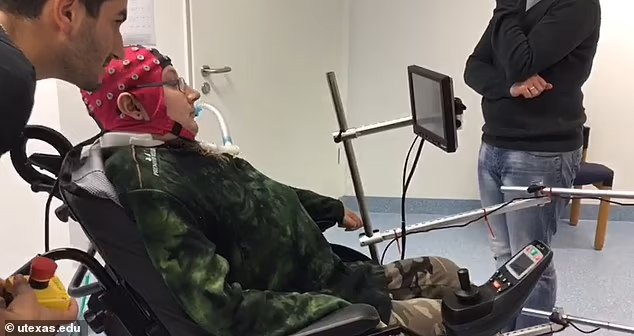 TEKNOLOGI: Kursi roda yang dikendalikan pikiran terbukti berhasil dalam membantu pasien lumpuh dengan dipasangi tutup berisi 31 elektroda yang mendeteksi sinyal otak untuk menavigasi ruangan yang berantakan. (Foto: MailOnline)
KURSI roda yang dikendalikan pikiran yang menerjemahkan sinyal otak ke dalam gerakan roda membawa harapan bagi lebih dari 5,4 juta orang Amerika penyandang disabilitas motorik.
Teknologi tersebut, yang dibuat oleh para peneliti di The University of Texas di Austin, mencakup kopiah dengan 31 elektroda yang dirancang untuk mendeteksi sinyal di wilayah otak yang mengatur gerakan dan laptop yang dipasang di kursi roda sehingga AI dapat menerjemahkan sinyal menjadi gerakan roda.
Dan yang harus dilakukan pasien hanyalah membayangkan mereka menggerakkan tangan dan kaki mereka.
Untuk bergerak ke kanan, pengguna membayangkan menggerakkan kedua tangan dan untuk bergerak ke kiri, mereka membayangkan menggerakkan kedua kaki, dilansir dari MailOnline.
"Konsep kursi roda bertenaga pikiran telah dipelajari selama bertahun-tahun, tetapi sebagian besar proyek telah menggunakan subjek non-penyandang cacat atau rangsangan yang mengarahkan perangkat untuk lebih atau kurang mengendalikan orang daripada sebaliknya," para peneliti berbagi dalam sebuah jumpa pers.
´Dalam kasus ini, tiga orang dengan tetraplegia, ketidakmampuan untuk menggerakkan lengan dan kaki mereka karena cedera tulang belakang, mengoperasikan kursi roda di lingkungan alami yang berantakan dengan berbagai tingkat keberhasilan.´
Penutup kepala yang dilengkapi elektroda menyediakan metode non-invasif untuk mengumpulkan sinyal otak dan mengirimkannya ke perangkat terdekat - dalam hal ini, laptop di belakang kursi roda.
Bagian pertama dari percobaan melibatkan pelatihan pasien tentang cara menggunakan kursi roda yang dikendalikan pikiran.
Peneliti menginstruksikan mereka untuk membayangkan seolah-olah mereka sedang menggerakkan tangan dan kaki mereka sendiri; ini kemudian diberi arah yang berbeda dalam sistem.
Kontributor kedua untuk keberhasilan penelitian ini dipinjam dari robotika.
Kursi roda dirancang dengan sensor yang menjelajahi lingkungan sekitar dan perangkat lunak kecerdasan robotik yang membantu kursi mengisi kekosongan perintah pengguna untuk memfasilitasi pergerakan kursi roda yang akurat dan aman.
A MIND-CONTROLLED wheelchair that translates brain signals into wheel movements brings hope to more than 5.4 million Americans with motor disabilities.
The technology, created by researchers at The University of Texas at Austin, includes a skullcap with 31 electrodes designed to detect signals in the brain region regulating movement and a laptop fixed on the wheelchair so the AI could translate the signals into wheel movements.
And all patients have to do is imagine they are moving their hands and feet.
To move right, the users imagined moving both arms and to move left, they imagined moving both legs.
´The concept of a thought-powered wheelchair has been studied for years, but most projects have used non-disabled subjects or stimuli that lead the device to more or less control the person rather than the other way around,´ the researchers shared in a press release.
´In this case, three individuals with tetraplegia, the inability to move their arms and legs due to spinal injuries, operated the wheelchair in a cluttered, natural environment to varying degrees of success.´
The electrode-fitted skullcap provides a non-invasive method for collecting brain signals and transmitting them to a nearby device - in this case, the laptop on the back of the wheelchair.
The first part of the experiment involved training patients on how to use the mind-controlled wheelchair.
Researchers instructed them to imagine as if they were moving their own hands and feet; these were then assigned different directions in the system.
The second contributor to the success of this study borrowed from robotics.
The wheelchair was designed with sensors that scoured the surrounding environment and robotic intelligence software that helped the chair fill in blanks in the users´ commands to facilitate the accurate and safe movement of the wheelchair.