Ratusan Pon Sampah Ditemukan Dalam Perut Paus Sperma di Kanada
More than 330 pounds of GARBAGE is Found in the Stomach of Whale
Editor : Ismail Gani
Translator : Novita Cahyadi

PUBLISHED: Kamis, 24 November 2022 , 12:01:00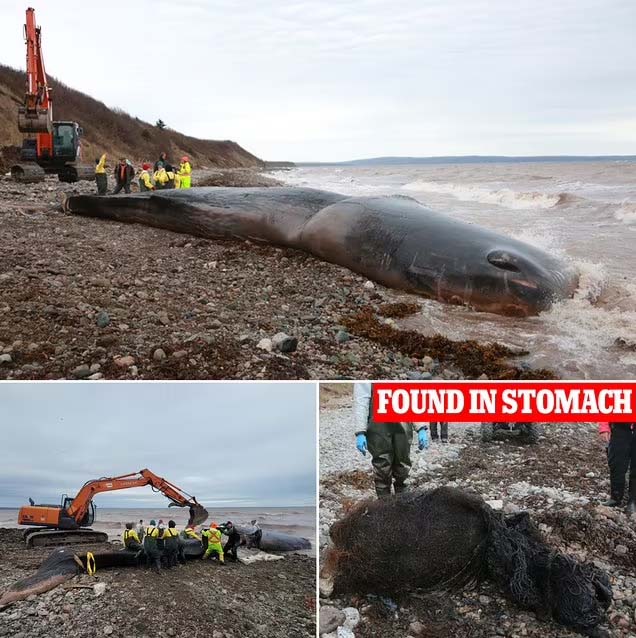 SAMPAH PLASTIK: Paus jantan sepanjang 45 kaki itu tampak kurus kering ketika mendarat pada 4 November lalu, dan tim bekerja untuk menyelamatkan paus, namun ia mati keesokan harinya. (Foto-Foto: MailOnline)
SEEKOR paus sperma mati secara ´lambat dan menyakitkan´ di pantai Nova Scotia awal bulan ini setelah menelan 330 pon sampah yang dipadatkan di perutnya.
Paus jantan sepanjang 45 kaki itu tampak kurus kering ketika mendarat pada 4 November lalu, dan tim bekerja untuk menyelamatkan paus, namun ia mati keesokan harinya.
Koperasi Kesehatan Satwa Liar Kanada melakukan otopsi segera setelah itu dan menemukan jaring ikan, tali, sarung tangan, dan berbagai barang yang terbuat dari plastik.
Marine Animal Response Society [MARS] baru-baru ini membagikan insiden tersebut, yang mengatakan bahwa kematian paus adalah ´pengingat yang gamblang´ tentang betapa seriusnya masalah sampah manusia yang mengotori lautan Bumi.
Rata-rata paus sperma dewasa memiliki berat antara 35 hingga 45 ton, tetapi jantan dewasa ini memiliki berat tidak lebih dari 30 ton karena sampah yang menghalangi kemampuannya untuk makan.
Tonya Wimmer dengan MARS mengatakan kepada CTV News: "Melihat paus sperma begitu dekat dengan pantai dan sangat kurus adalah beberapa tanda yang sangat memprihatinkan."
Paus itu ditemukan di pantai berbatu di Craigmore, dekat Judique di Cape Breton, seperti dilansir MailOnline.
´Kami menemukan sedikit peralatan, dan kemudian terus berjalan dan terus berjalan. Kami menyadari sepenuhnya apa yang kami lihat sangat mengerikan," kata Wimmer.
Paus sperma makan seperti penyedot debu - mereka membuka mulut dan membiarkan apa pun yang ada di sekitarnya mengalir ke dalam, yang membuat mereka lebih berisiko menelan sampah di air dan di dasar laut.
Wimmer mengatakan karena cara paus sperma berpesta, sangat umum menemukan plastik di perut mereka, tetapi gumpalan yang lebih padat pada jantan lebih banyak daripada yang pernah dia saksikan di masa lalu.
Sampah dalam jumlah besar ini menghalangi hewan tersebut untuk mengonsumsi makanan, menyebabkannya mati kelaparan
"Ini akan sangat mengerikan dan traumatis bagi hewan ini untuk mati secara perlahan," kata Wimmer.
A SPERM WHALE died a ´slow and painful´ death on the shores of Nova Scotia earlier this month after ingesting 330 pounds of trash compacted in its stomach.
The 45-foot-long male looked emaciated when it came ashore on November 4, and although teams worked to save the whale, it died the next day.
The Canadian Wildlife Health Cooperative conducted an autopsy shortly after and found fishing nets, ropes, gloves and various items made of plastic.
The Marine Animal Response Society (MARS) recently shared the incident, which said the whale´s death is a ´stark reminder´ about how serious the issue is of human trash littering Earth´s oceans.
The average adult sperm whale weighs between 35 to 45 tons, but this full-grown male weighed no more than 30 tons due to the trash hindering its ability to eat.
Tonya Wimmer with MARS told CTV News: ´Seeing the sperm whale so close to shore and so thin are some really concerning signs.´
The whale was found on a rocky shore in Craigmore, near Judique in Cape Breton.
´We found a bit of gear, and then it kept going and it kept going. We realized the full extent of what we saw was horrific,´ Wimmer said.
Sperm whales eat like vacuums - they open their mouths and let whatever is around flow inside, which makes them more at risk of ingesting trash in the water and on the seafloor.
Wimmer said because of how sperm whales feast, it is common to find plastic in their stomachs, but the clump compacted in the male is more than she has ever witnessed in the past.
This massive amount of trash blocked the animal from consuming food, causing it to die of starvation
´This would have been incredibly horrific and traumatic for this animal to die slowly,´ Wimmer said.