Argentina Keok, Otamendi Jahil Ngerjain Giroud dengan Air Timnas Prancis
Nicolas Otamendi Caught Olivier Giroud in the Face with a Squirt of Water
Editor : Ismail Gani
Translator : Novita Cahyadi

PUBLISHED: Minggu, 01 Juli 2018 , 19:15:00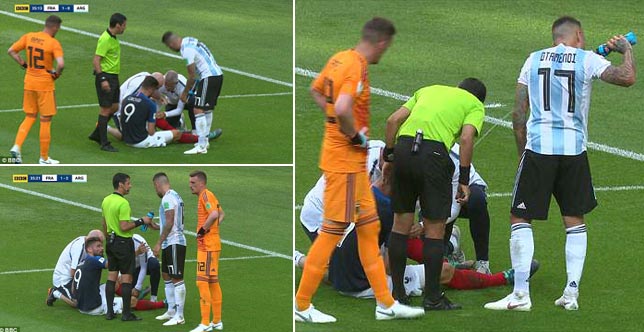 Pemain tengah Manchester City berlagak minum air mineral dari botol dan ternyata airnya menyembur ke wajah striker Chelsea, Oliver Giroud (Foto2: MailOnline)
PUTARAN 16 BESAR Piala Dunia 2018 di Rusia dimulai dengan laga awal yang sensasional pada Sabtu dengan kemenangan Prancis 4-3 atas Argentina.
Sementara Kylian Mbappe menjadi bintang lapangan, ternyata ada kejadian menarik yang mungkin luput dari perhatian Anda.
Di sini, ditampilkan beberapa momen insidental yang mungkin Anda lewatkan saat menonton pertandingan tersebut.
Ketika Olivier Giroud membutuhkan perawatan di menit ke-35, Nicolas Otamendi memanfaatkan waktu jeda tersebut untuk minum persediaan air milik timnas Prancis.
Entah sengaja atau tidak sengaja - sangat mengesankan jika memang tidak disengaja - pemain tengah Manchester City berlagak minum air mineral dari botol dan ternyata airnya menyembur ke wajah striker Chelsea, Oliver Giroud. Akibatnya, bisa ditebak setelah Giroud protes kepada Otamendi dan kemudian diperingatkan oleh wasit seperti dilansir MailOnline.
THE 2018 WORLD CUP round of 16 got off to a sensational start on Saturday with France´s 4-3 victory over Argentina.
While Kylian Mbappe was the star of the show, there were several other events which may not have quite as immediately caught the eye.
Here, Sportsmail takes a look at some of the incidental moments you may have missed while watching the action...
When Olivier Giroud needed treatment in the 35th minute, Nicolas Otamendi took advantage to get a drink, stealing the Frenchman´s water bottle.
Whether accidentally or deliberately - very impressively if the latter - the Manchester City centre back missed his mouth with a squirt of water, and instead managed to hit the Chelsea striker in the face. Needless to day, Giroud was thoroughly unimpressed.