Bocah jadi `Endorser` Merek Mahal Gucci, Versace dan Givenchy
The Toddler Who`s better Dressed than You! Girl, 2, becomes a Fashion Influencer
Editor : Ismail Gani
Translator : Novita Cahyadi

PUBLISHED: Selasa, 01 September 2020 , 21:58:00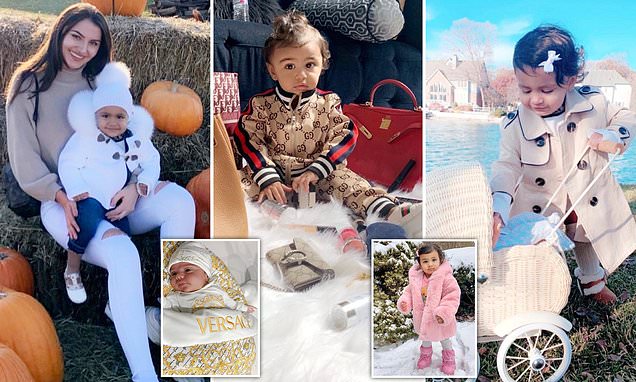 BALITA MILENIAL: Stela mengawalinya dengan membeli pakaian glamor untuk anaknya sebesar $20.000 ketika masih bayi (foto inset kiri, baru lahir) termasuk label seperti Balmain, Gucci, Versace, Fendi dan Givenchy [Foto2: MailOnline]
BALITA yang berpakaian lebih baik darimu! Usianya baru dua tahun namun telah menjadi fashion influencer dengan baju mahal senilai US$20.000. Merek ternama seperti Gucci, Versace dan Givenchy melekat di tubuhnya.
Anita Felix (foto tengah dan kanan, baru-baru ini), yang baru berusia dua tahun, telah mengumpulkan lebih dari 12.000 pengikut di Instagram, lantaran foto-foto karya mamanya, Stela (foto bersama, kiri) memamerkan barang-barang mewah terbarunya.
Akun tersebut dijalankan oleh 'mamanya' Stela, 27, dari Yorba Linda, California, mendapati fakta mengejutkan bagaimana putrinya suka pada merek-merek dunia saat bekerja sebagai 'personal shopper' sebelum melahirkan putrinya tersebut.
Stela mengawalinya dengan membeli pakaian glamor untuk anaknya sebesar $20.000 ketika masih bayi (foto inset kiri, baru lahir) termasuk label seperti Balmain, Gucci, Versace, Fendi dan Givenchy - dan meskipun mendapat komentar macam-macam, dia tidak berencana untuk membatasi pengeluarannya seperti dilansir MailOnline.
ANITA FELIX (pictured centre and right, recently), who is just two-years-old, has accumulated more than 12,000 followers on Instagram because of the daily snaps her mother Stela (pictured together, left) shares of her latest luxury buys.
The account is run by 'momager' Stela, 27, from Yorba Linda, California, who discovered her love for designer brands when working as a personal shopper before giving birth to her daughter.
Stela has forked out $20,000 on glamorous clothes for her youngster (pictured left inset, as a newborn) including labels such as Balmain, Gucci, Versace, Fendi and Givenchy - and despite receiving some backlash, she does not plan on curbing her spending.