Basis Queen John Deacon Jauhi Ingar Bingar Jagat Musik Rock
Ex-Queen Bassist John Deacon for 30 Years Living a Life of Blissful Suburban Retirement
Editor : Ismail Gani
Translator : Novita Cahyadi

PUBLISHED: Sabtu, 27 Oktober 2018 , 22:28:00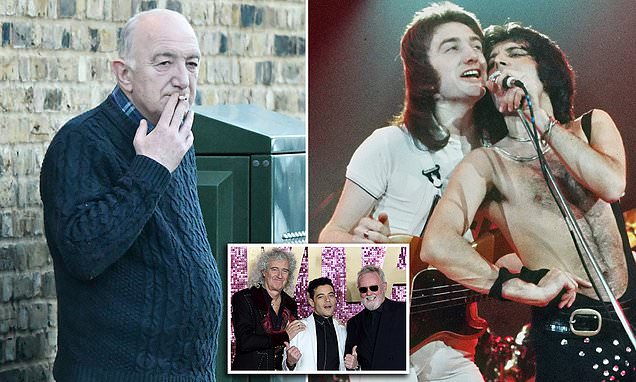 HIDUP MENYEPI: Basis Queen, John Deacon pekan lalu (kiri), dengan vokalis Freddie Mercury pada 1977 (kanan) Brian May dan Roger Taylor dengan Rami Malek pada pemutaran perdana Bohemian Rhapsody (Foto2: MailOnline)
TIDAK bakal ada yang menyangka kalau pria gaek berkepala setengah botak yang yang mengisap rokok di kawasan London Selatan pekan lalu adalah seorang drummer rock hebat pada masanya.
Dia adalah John Deacon, anggota Queen yang ´hilang´ (foto kiri, Joh Deacon di London pekan lalu, dan kanan, dengan Freddie Mercury pada 1977). Pria buncit yang dilaporkan memiliki harta hampir Rp2 triliun, dan tidak lagi berhubungan dengan anggota rock band Queen.
Pekan ini, hanya berjarak beberapa mil, kedua rekannya di Queen, Brian May dan Roger Taylor berjalan di atas karpet ungu pada pemutaran perdana film Bohemian Rhapsody yang diperankan aktor Hollywood, Rami Malek sebagai Freddie Mercury (foto inset).
Queen, tentunya, bubar setelah kematian Freddie Mercury pada 1991, namun sejak itu, Brian May dan Roger Taylor tetap aktif sebagai musisi, tur dan naik panggung, baik sebagai musisi solo dan sebagai Queen.
Mereka bahkan tetap menggelar konser rock yang sukses, We Will Rock You, dan tetap tur dengan vokalis Adam Lambert.
Kendati begitu John Deacon - yang menulis beberapa hits terbesar antara lain Another One Bites The Dust, Under Pressure dan You´re My Best Friend - telah menghilang dari jagat musik dunia.
Faktanya, setelah diamati, ternyata pria pendiam tapi cerdas, kini berusia 67 tahun, selalu menghindari apa pun yang berhubungan dengan penampilan publik.
Juru bicara Queen, Phil Symes, mengatakan kepada MailOnline pekan ini: ´Dia hanya ingin menjalani kehidupan pribadi.´
Gitaris Brian May menambahkan: "Itu pilihan dia. Dia tidak menghubungi kami. John memilih menjauhi kami."
Memang gaya hidupnya di London Selatan begitu tertutup dan tenang - dan memilih bersikap tidak ingin dikenal publik - manajemen Queen pun memilih tidak peduli atas pilihan sang basis.
Istri John Deacon pun kerap menjawab telepon masuk dengan dalih "dia tidak tinggal di sini lagi", atau mengaku "tidak tahu dimana dia berada."
Kenapa Deacon begitu tertutup?
Para tetangga mengaku sadar bahwa mereka hidup bertetangga dengan seorang bintang yang ´sosiopat´. sementara Brian May mengatakan bahwa Deacon tidak pernah pulih dari ketergantungan pada alkohol dan obat-obatan lebih dari 35 tahun lalu.
Hal yang luar biasa, Roger Taylor mengaku mereka belum pernah berbicara lebih dari satu dekade. "Saya bahkan belum pernah bicara dengan dia, meski untuk urusan sepele."
WEARING a sensible navy jumper, the balding man grinding out a cigarette butt on a South London street last week could hardly cut a more humdrum figure.
This is John Deacon, the 'lost' member of Queen (left, in London last week, and right, with Freddie Mercury in 1977). Worth a reported £105 million, he has nothing to do with the band any more.
This week, just a few miles away, his former friends Brian May (inset left) and Roger Taylor (inset right) strolled up the purple carpet at the premiere of the film Bohemian Rhapsody (Rami Malek, centre, who plays the role of Freddie Mercury).
Queen were, of course, shattered by Freddie Mercury´s death in 1991, but since then, May and Taylor have continued to record, tour and perform, both as solo artists and as Queen.
They have put together the successful stage musical We Will Rock You, and continue to tour with vocalist Adam Lambert standing in.
However Deacon — who wrote some of the band´s biggest hits including Another One Bites The Dust, Under Pressure and You´re My Best Friend — has disappeared from view.
The fact, I have discovered, is that this quiet, intelligent man, now 67, always ducks out of anything to do with public appearances.
The band´s PR man, Phil Symes, told me this week: ´He´s just living a private life.´
Guitarist May adds: ´It´s his choice. He doesn´t contact us. John was quite delicate all along.´
Indeed his lifestyle in South London is so reclusive and quiet — and his attitude to fame so hostile — that the band apparently don´t expect him to respond when they contact him.
His wife sometimes tells callers to their home that he ´doesn´t live here´, or that she ´doesn´t know where he is´.
Neighbours say that they are aware that he lives next door, but they barely see him from one year to the next. The only exception was the local pub, where he used to call in three times a week for a glass of white wine with his wife — but it has now become a supermarket.
So why is he so reclusive?
Drummer Taylor describes him as a ´sociopath´, while May suggests that Deacon has never recovered since a booze and drug-soaked period which he implies led to a breakdown more than 35 years ago.
Extraordinarily, Taylor says they haven´t spoken in more than a decade. ´I haven´t heard a squeak from John, not a single guttural grunt,´ he adds.