Konspirasi Teori Tuding Melania Trump `Palsu` Kembali Dampingi Presiden AS
#FakeMelania Conspiracy Theory as America`s First Lady of Using a Body Double
Editor : Ismail Gani
Translator : Novita Cahyadi

PUBLISHED: Senin, 11 Maret 2019 , 22:41:00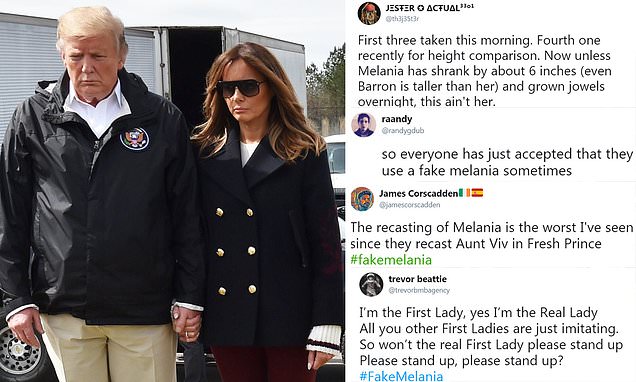 Mereka yang yakin dia menggunakan ´sosok pengganti´ di acara-acara publik mengacu pada tinggi badan, rambut, hidung dan sikap pada hari Jumat (Foto: MailOnline)
TEORI konspirasi mencuat lagi di Twitter tentang Ibu Negara AS Melania Trump menggunakan ´wanita pengganti´ alias body double setelah penampilan terbarunya dengan Presiden Trump di Alabama.
Trump dan istrinya Melania mengunjungi korban bencana di Alabama timur pada Jumat yang porak-poranda oleh tornado baru-baru ini yang menewaskan 23 orang.
Menjelang mereka tiba di Alabama, Twitter diramaikan dengan tagar #FakeMelania yang menghembuskan teori konspirasi tentang klaim mereka bahwa Melania Trump menggunakan body double.
Mereka yang yakin dia menggunakan tubuh ganda di acara-acara publik mengacu pada tinggi badan, rambut, hidung dan sikap pada hari Jumat.
Mereka mengklaim bahwa perbedaan itu membuktikan sebenarnya bukan Melania asli yang berada di Alabama bersama suaminya.
"Hadirnya Melania palsu kali ini adalah yang terburuk yang pernah tampil di depan umum sejak mereka menampilkan Aunt Viv in Fresh Prince #fakemelania,´ kata seorang pengguna Twitter.
"Saya mengklik #FakeMelania untuk memastikan bahwa Melania palsu yang tampil terlihat tidak seperti sosok yang ditiru," twit yang lain.
Klaim tentang Melania menggunakan body double di acara-acara publik pertama kali muncul pada Oktober 2017 ketika dia muncul di samping suaminya ketika berbicara kepada pers tentang bantuan korban bencana tornado Puerto Rico seperti dilansir MailOnline.
A CONSPIRACY theory that First Lady Melania Trump uses a body double has resurfaced after her latest appearance with President Trump in Alabama.
Trump and his wife Melania visited communities in eastern Alabama on Friday that were devastated by recent tornadoes that left 23 people dead.
Almost as soon as they arrived in Alabama, Twitter was alight with the hashtag #FakeMelania as conspiracy theorists fed the baseless claims that Melania had a stand in.
Those convinced she uses a body double at public events drew on her height, hair, nose and demeanor on Friday.
They claimed that the differences proved it wasn´t actually Melania in Alabama with her husband.
´The recasting of Melania is the worst I´ve seen since they recast Aunt Viv in Fresh Prince #fakemelania,´ one Twitter user wrote.
´I clicked on #FakeMelania against my better judgement and I have to say that it DOES NOT look like Melania,´ another tweeted.
The claims about Melania using a body double at public events first arose in October 2017 when she appeared beside her husband as he addressed the media about hurricane relief for Puerto Rico.