Pemindaian 3D Ungkap Kondisi Detail Kapal Titanic
First Ever Full-Sized scans of the shipwreck in 1912
Editor : Cahyani Harzi
Translator : Novita Cahyadi

PUBLISHED: Senin, 29 Mei 2023 , 09:36:00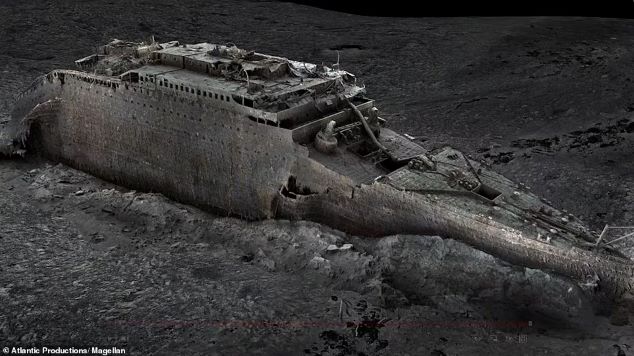 PEMINDAIAN 3D: Gambar-gambar yang diterbitkan oleh BBC mengungkapkan haluan kapal, yang sebagian besar terkubur lumpur akibat kekuatan tumbukan saat menghantam dasar laut pada 15 April 1912 dini hari. (Foto: MailOnline)
LEBIH dari satu abad setelah tenggelam, pemindaian kapal Titanic berukuran penuh pertama menunjukkan bangkai kapal bersejarah dengan detail yang mencengangkan.
Para ahli telah mengambil ribuan gambar digital untuk membuat rekonstruksi 3D yang luar biasa dari bangkai kapal tersebut, yang sekarang terletak 350 mil laut di lepas pantai Newfoundland, Kanada.
BBC melansir gambar-gambar yang mengungkap puing-puing lebih detail daripada sebelumnya, termasuk stalaktit karat di haluan kapal, nomor seri pada baling-baling, dan lubang di mana tangga besar pernah berdiri.
Mereka menampilkan Titanic seolah-olah diangkat dari air, meskipun hal ini kemungkinan besar tidak akan pernah terjadi karena bangkai kapal sangat rapuh sehingga akan hancur di bawah pergerakan apa pun.
Para ahli berharap studi tentang pemindaian dapat mengungkapkan lebih banyak tentang misteri seputar apa yang terjadi pada malam yang menentukan di bulan April 1912, seperti mekanisme yang tepat tentang bagaimana hal itu menghantam dasar laut.
Kapal laut mewah – dimiliki dan dioperasikan oleh perusahaan Inggris White Star Line – secara tragis tenggelam pada dini hari tanggal 15 April 1912 setelah bertabrakan dengan gunung es di Samudra Atlantik, menewaskan sekitar 1.517 dari 2.224 orang di dalamnya.
Jenazahnya sekarang tergeletak di dasar laut sekitar 350 mil laut lepas pantai Newfoundland, Kanada, meskipun bangkai kapal yang rapuh itu memburuk begitu cepat di bawah air sehingga bisa hilang sama sekali dalam 40 tahun ke depan.
"Masih ada pertanyaan, pertanyaan mendasar, yang perlu dijawab tentang kapal itu," kata analis Titanic Parks Stephenson kepada BBC.
´[Modelnya adalah] salah satu langkah besar pertama untuk mengarahkan kisah Titanic ke arah penelitian berbasis bukti – dan bukan spekulasi.´
Mr Stephenson mengatakan dia ´terpesona´ ketika dia pertama kali melihat scan, yang diambil oleh perusahaan pemetaan laut dalam Magellan Ltd selama ekspedisi musim panas lalu dan yang akan menjadi subjek film dokumenter oleh Atlantic Productions.
"Ini memungkinkan Anda untuk melihat bangkai kapal karena Anda tidak pernah dapat melihatnya dari kapal selam, dan Anda dapat melihat bangkai kapal secara keseluruhan, Anda dapat melihatnya dalam konteks dan perspektif," kata Stephenson.
"Dan yang ditunjukkannya padamu sekarang adalah keadaan sebenarnya dari bangkai kapal itu."
Titanic pecah menjadi dua tepat sebelum terjun terakhir pada dini hari tanggal 15 April 1912, dan sekarang dua bagian kapal – haluan dan buritan – terpisah sejauh 2.600 kaki.
Kedua bagian dikelilingi oleh bidang puing-puing yang terdiri dari potongan-potongan logam, perabot, botol sampanye yang belum dibuka, dan bahkan sepatu penumpang, seperti dilansir MailOnline.
Magellan Ltd mengirim kapal selam untuk mensurvei semua bagian bangkai kapal, yang terletak sekitar 13.000 kaki di bawah permukaan air.
Kapal selam menghabiskan lebih dari 200 jam mengambil 700.000 gambar dari setiap sudut kapal untuk membuat rekonstruksi 3D.
MORE than a century after it sank, the first ever full-sized scans of the Titanic show the historic shipwreck in astonishing detail.
Experts have taken thousands of digital images to create an incredible 3D reconstruction of the wreck, which now lies 350 nautical miles off the coast of Newfoundland, Canada.
The images, published by the BBC, reveal the wreckage in greater detail than ever before, including stalactites of rust on the ship´s bow, the serial number on a propeller, and a hole over where the grand staircase once stood.
They present Titanic almost as if it´s been retrieved from the water, although this will likely never happen as the wreck is so fragile that it would disintegrate under any movement.
Experts hope studies of the scans could reveal more about the mysteries surrounding what happened on the fateful night in April 1912, such as the exact mechanics of how it struck the seafloor.
The luxury ocean liner – owned and operated by British company White Star Line – tragically sank in the early hours of April 15, 1912 after a collision with an iceberg in the Atlantic Ocean, killing an estimated 1,517 of the 2,224 people on board.
The remains now lie on the seafloor about 350 nautical miles off the coast of Newfoundland, Canada, although the delicate wreck is deteriorating so rapidly underwater that it could disappear completely within the next 40 years.
´There are still questions, basic questions, that need to be answered about the ship,´ Titanic analyst Parks Stephenson told the BBC.
´[The model is] one of the first major steps to driving the Titanic story towards evidence-based research – and not speculation.´
Mr Stephenson said he was ´blown away´ when he first saw the scans, which were taken by deep-sea mapping company Magellan Ltd during an expedition last summer and which will be the subject of a documentary by Atlantic Productions.
´It allows you to see the wreck as you can never see it from a submersible, and you can see the wreck in its entirety, you can see it in context and perspective,´ Mr Stephenson said.