BKPM Belum Maksimal Dukung Promosi Pertanian sebagai Investasi Menguntungkan
Indonesian Govt must Encourage Investment in the Agricultural Sector
Reporter : Gusmiati Waris
Editor : Cahyani Harzi
Translator : Dhelia Gani

PUBLISHED: Kamis, 18 Oktober 2018 , 00:25:00 WIB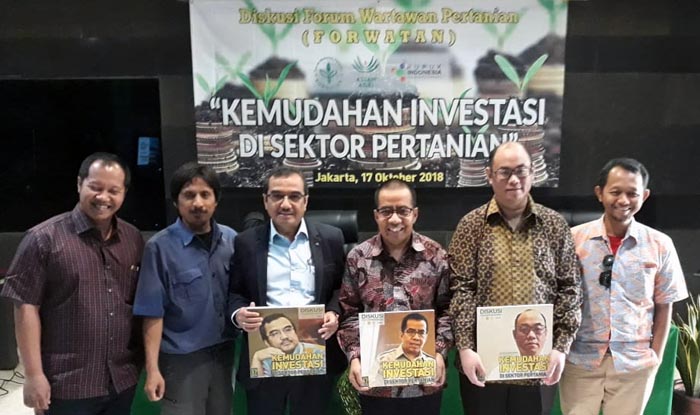 DISKUSI FORWATAN: Ketiga pembicara diskusi Direktur Asian Agri, M Fadhil Hasan; Kepala Pusat Varietas Tanaman dan Perizinan Kementan, Prof Erizal Jamal; dan akademisi Universitas Prasetya Mulya, Dr Rio Christian (Foto: istimewa)
Jakarta (B2B) - Sektor pertanian masih dipandang ´sebelah mata´ oleh Badan Koordinasi Penanaman Modal (BKPM) karena belum mendukung maksimal promosi pertanian sebagai investasi yang menguntungkan, meskipun didukung sumber daya lahan dan SDM yang berlimpah, padahal sistem perizinan online terintegrasi, online single submission (OSS) yang diluncurkan Kementerian Pertanian RI akan mendukung investor asing dan nasional untuk investasi di sektor pangan.
Hal itu dikemukakan Direktur Asian Agri, M Fadhil Hasan; Kepala Pusat Varietas Tanaman dan Perizinan Kementan, Prof Erizal Jamal; dan akademisi Universitas Prasetya Mulya, Dr Rio Christian pada diskusi Forum Wartawan Pertanian (Forwatan) bertajuk ´Kemudahan Investasi di Sektor Pertanian´ di Jakarta, Rabu (17/10).
Fadhil Hasan mengakui OSS mendukung easy doing business di sektor pertanian, maka fokus kebijakan investasi sektor pertanian harus dimulai dari BKPM untuk meningkatkan investasi asing di sektor pertanian.
"Namun BKPM belum menjadikan sektor pertanian sebagai potensi investasi yang menjanjikan, padahal pertanian didukung oleh sumber daya lahan dan SDM yang berlimpah," kata Fadhil.
Rio Christiawan mengusulkan memperluas OSS tidak hanya izin usaha melainkan sampai kepada izin teknis. Pasalnya, proses perizinan teknis belum dapat dijangkau OSS padahal nyawa dari investasi sumber daya alam berada di izin teknis seperti analisa dampak lingkungan (Amdal), izin lingkungan, dan hak guna usaha (HGU).
"Investor perlu waktu lebih cepat untuk pengurusan perizinan hingga operasional karena akan berpengaruh pada cash flow sehat dan menghindari dampak sosial," kata Rio.
Perbaikan lain adalah memperkuat koordinasi antara satuan kerja perangkat daerah (SKPD) untuk mendukung debirokrasi perizinan.
Prof Erizal Jamal menambahkan Kementan mengembangkan OSS yang terhubung dengan kementerian, Badan Koordinasi Penanaman Modal (BKPM), dan pemerintah daerah, dan sejak 2015 hingga 2017 telah dilakukan pendampingan terhadap 31 investor komoditas pertanian.
"Sistem OSS memperpendek waktu layanan perizinan, dengan transparan dan akuntabel sehingga proses lebih cepat dan ada kepastian bagi pelaku usaha serta dapat dipantau," katanya.
Menurutnya, OSS sangat mendukung pemantauan perizinan yang masuk, termasuk mengawal dan menghemat waktu proses perizinan, "hal itu pula yang menjadi indikator kerja kami."
Jakarta (B2B) - The Indonesian Investment Coordinating Board or the BKPM has not made the agricultural sector as the profitable investment, although supported by abundant land resources and human resources, despite an integrated online licensing system, online single submission or OSS launched by the agriculture ministry will support foreign and national investors for investment in the food sector.
It was stated by Director of Asian Agri, M Fadhil Hasan; Director of Center for Plant Variety and Ministry of Agriculture Licensing, Prof Erizal Jamal; and academics of Prasetya Mulya University, Dr Rio Christian here on Wednesday (October 17).
Mr Hasan admitted that OSS supports easy doing business in the agricultural sector, hence the focus of agricultural sector investment policy must begin by the BKPM to increase foreign investment in the agricultural sector.
"However, BKPM has not made the agricultural sector a profitable investment, even though agriculture is supported by land and human resources," Mr Hasan said.
Mr Christiawan proposed the expansion of OSS to technical permits. The technical licensing process cannot be reached by OSS, the success of natural resource investment in technical permits such as environmental impact analysis or Amdal, environmental permits, and land use rights or the HGU.
"Investors need faster time to manage permits until operational activities, because it will affect cash flow and avoid social impacts," Mr Christiawan said.
Another improvement is to strengthen coordination between regional work units or SKPD to support the debureaucracy of permits.
Mr Jamal said that the ministry developed OSS that was connected with ministries, BKPM, and local governments, and from 2015 to 2017 had assisted 31 investors of agricultural commodities.
"The OSS system shortens licensing, transparent and accountable service times so that the process is faster and there is certainty for businesses and can be monitored," he said.
According to him, OSS strongly supports the monitoring of permits, and shortens the licensing process, "it is also the indicator of our work."