Evaluasi 2022, Produktivitas Demplot Padi Lokasi CSA Naik 0,62 Ton/Hektar
Indonesia Irrigation Development the Target of Indonesia`s Grant Program
Editor : M. Achsan Atjo
Translator : Dhelia Gani

PUBLISHED: Jum'at, 26 Mei 2023 , 00:00:00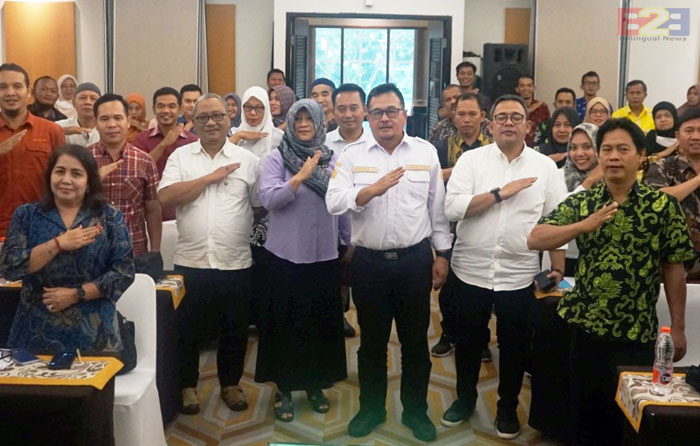 PROGRAM SIMURP: Kepala Pusluhtan BPPSDMP Kementan, Bustanul Arifin Caya [ke-3 kanan] didampingi Koordinator Kelompok Program dan Kerjasama Pusluhtan, Zuroqi Mubarok [ke-2 kanan] dan Manajer SIMURP, Sri Mulyani [ke-4 kiri].
Tangerang, Banten [B2B] - Produktivitas padi rata-rata meningkat 0,62 ton/ha di lokasi penyuluhan melalui Demonstration Plot [Demplot] pada lokasi Climate Smart Agriculture [CSA] dari Program Strategic Irrigation Modernization and Urgent Rehabilitation Project [SIMURP].

Dari hasil evaluasi tahun 2022, menunjukkan peningkatan rata-rata 0,62 ton/ha, dari 6,07 ton/ha di lokasi non CSA menjadi 6,69 ton/ha di lokasi CSA. Hal itu diperkuat data produktivitas dari Badan Pusat Statistik [BPS] melalui perhitungan Kerangka Sampling Area [KSA].

Peningkatan produktivitas padi pada lokasi Demplot CSA mengemuka pada Rapat Koordinasi [Rakor] Percepatan Kegiatan CSA SIMURP Komponen A tahun 2023 di BSD City selama tiga hari, 23 - 25 Mei 2023.

Rakor dibuka oleh Kepala Pusat Penyuluhan Pertanian BPPSDMP Kementan [Pusluhtan] Bustanul Arifin Caya, yang dihadiri 92 peserta di antaranya sejumlah pimpinan dari dinas terkait di tingkat provinsi maupun kabupaten.

Capaian CSA dari SIMURP tersebut sejalan arahan Menteri Pertanian RI Syahrul Yasin Limpo mendorong peningkatan produktivas beras nasional sebagai pangan pokok rakyat Indonesia.

"Peningkatan produktivitas pertanian khususnya padi, harus menjadi tantangan kita bersama karena beras sangat penting bagi kehidupan bangsa," katanya.

Mentan Syahrul meminta jajarannya di Kementan, untuk melakukan berbagai upaya seperti yang dilakukan SIMURP agar produksi padi hulu hingga hilir lebih efisien.

"Irigasi makin bagus. Varietas padi makin bagus dan makin banyak. Kalau begitu di tahap mana yang perlu kita perbaiki lagi. Kantor ini otak dari pertanian. Saya harap ini dipertahankan hasil-hasil yang luar biasa yang sudah dihasilkan dapat dan disampaikan juga ke masyarakat," katanya lagi.

Sementara Kepala Badan Penyuluhan dan Pengembangan SDM Pertanian Kementan [BPPSDMP] Dedi Nursyamsi mendorong peningkatan kapasitas para penyuluh pertanian untuk dapat menggenjot produktivitas padi secara nasional.

"Para penyuluh saat ini dituntut harus mampu adaptasi dengan penggunaan teknologi digital dalam proses budidaya pertanian," katanya.

Dedi Nursyamsi menambahkan meningkatkan produktivitas produktivitas padi nasional seharusnya tidak sesulit dulu. Pasalnya, teknologi pertanian terus berkembang, varietas-varietas padi unggul juga tersedia.

Kepala Pusluhtan, Bustanul Arifin Caya Percepatan pada Rakor Kegiatan CSA SIMURP Komponen A tahun 2023 di BSD City, mendorong pemerintah daerah mendukung para penyuluh mendampingi petani di lokasi CSA.

"Kementan dengan terbitnya DIPA Percepatan akan mendukung penerapan teknologi CSA melalui Demplot bagi 2.808 Poktan [kelompok tani]," katanya.

Bustanul menambahkan, Kementan juga mendukung penguatan kapasitas petani melalui Bimbingan Teknis [Bimtek] di 2.808 Poktan. Upaya tersebut diperkuat oleh teknologi CSA melalui Scalling Up di 48 lokasi @50 hektar.

Sebagaimana diketahui, lokasi kegiatan Program SIMURP tersebar pada 24 kabupaten di 10 provinsi yang merupakan daerah irigasi maupun daerah rawa di antaranya Provinsi Sumatera Utara di Kabupaten Deli Serdang dan Serdang Bedagai; Kabupaten Banyuasin dan Musi Banyuasin di Sumatera Selatan.

Pulau Jawa meliputi Kabupaten Cirebon, Indramayu, Karawang, Subang di Jawa Barat; tujuh kabupaten di Jawa Tengah yakni Banjarnegara, Purbalingga, Purworejo, Grobogan, Demak, Kebumen, Brebes; dan Kabupaten Jember di Jawa Timur.

Sementara di Kalimantan hanya Kabupaten Katingan di Kalimantan Tengah; Kabupaten Takalar, Bone, Pangkep, Pinrang; Konawe di Sulawesi Selatan; Kabupaten Konawe di Sulawesi Tenggara; Kabupaten Lombok Tengah di Nusa Tenggara Barat [NTB] dan Kabupaten Nagekeo di Nusa Tenggara Timur [NTT]. [timhumassimurp]
Tangerang of Banten [B2B] - The objective of the Strategic Irrigation Modernization and Urgent Rehabilitation Project [SIMURP] with Indonesia Agriculture Ministry is to increase production and productivity, increasing farmers´ knowledge and skills in implementing climate smart agriculture, reducing the risk of crop failure, reduce the effect of greenhouse gases, and increase the income of farmers in irrigated areas and swamp areas.

The target is to increase cropping intensity through irrigation rehabilitation, revitalization and modernization activities, the realization of a sustainable irrigation system through the revitalization of irrigation management, increasing institutional strengthening, as well as increasing the capacity and competence of human resources in irrigation management and increasing production and productivity.

Increasing farmers´ knowledge and skills in implementing climate smart agriculture, reducing the risk of crop failure, reducing the greenhouse gas effect and increasing farmers´ income in irrigated areas and swamp areas.

SIMURP locations in 13 irrigation areas and two swamp areas namely Banyuasin and Katingan Regencies and 17 districts in eight provinces.

The main objective is to increase motivation for agricultural extension workers, agricultural extension centers, farmer groups, women farmer groups and farmer economic groups in agribusiness-oriented farming.