Panen Ketiga, Lahan Cetak Sawah 2016 di Tengah Kebun Sawit Sanggau Kalbar
Indonesian Govt Supports the Region Government to Develop New Paddy Fields
Editor : M. Achsan Atjo
Translator : Dhelia Gani

PUBLISHED: Kamis, 01 Maret 2018 , 01:20:00 WIB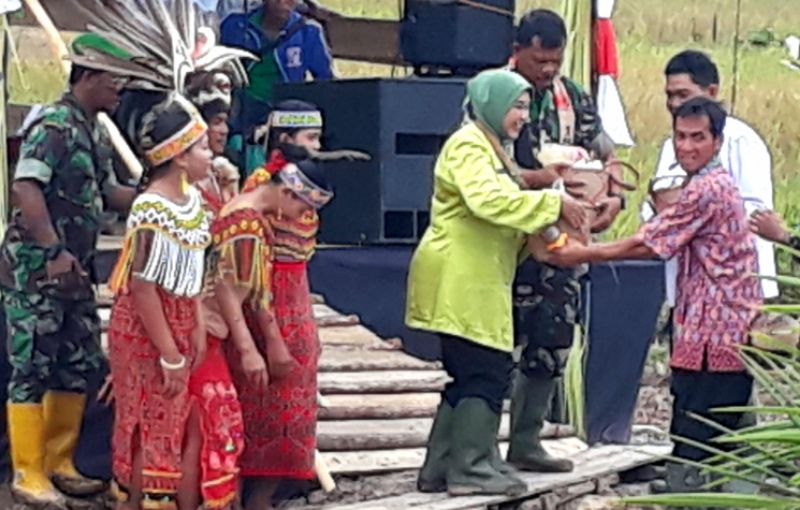 Ketua Poktan Ngigak Jalai Senang, Solehan (kanan) menyerahkan beras hasil panen kepada Pangdam XII/TP Mayjen TNI Achmad Supriyadi dan Penyuluh Pertanian Utama, Siti Nurjanah (hijab hijau) disaksikan Kadistan Sanggau, John Henri( Foto: B2B/Mac)
Sanggau, Kalbar (B2B) - Program cetak sawah di Provinsi Kalimantan Barat khususnya di Kabupaten Sanggau tergolong berhasil seperti di Dusun Tapang Sebeluh, Desa Malenggang, Kecamatan Sekayam yang telah tiga kali panen setelah dikembangkan oleh Kementerian Pertanian RI dengan TNI AD dan pemerintah daerah setempat sejak 2016, dengan produktivitas 4 ton per hektar dari lahan seluas 45,2 hektar.

Kisah sukses tersebut mendorong Pangdam XII Tanjung Pura, Mayjen TNI Achmad Supriyadi didampingi Danrem 121/ABW, Brigjen TNI Bambang Ismawan menyambangi lokasi panen yang berjarak 635 km dari Pontianak, ibu kota Kalbar. Hadir pula Penyuluh Pertanian Utama, Siti Nurjanah, untuk mewakili Kepala Badan Penyuluhan dan Pengembangan SDM Pertanian (BPPSDMP) Kementan, Momon Rusmono.

Pejabat Sementara (Pjs) Bupati Sanggau, Moses Taba mengatakan panen padi tersebut merupakan yang ketiga kali dilaksanakan setelah dikembangkan pada 2016. Begitu pula dengan 6.805 hektar lahan cetak sawah di Sanggau sejak 2015 berawal dari alokasi 1.000 hektar, kemudian meningkat menjadi 4.800 hektar pada 2016 dan 1.050 hektar pada 2017 atau total 6.850 hektar.

"Program cetak sawah akan terus berlanjut hingga 2018 dengan sasaran lahan dan lahan terbengkalai, namun alokasi luasnya belum ditentukan karena masih dalam kajian antara pemerintah pusat dan daerah maupun pihak-pihak terkait, " kata Moses Taba yang hadir didampingi Kepala Dinas Pertanian Sanggau, John Henri.

Mayjen TNI Achmad Supriyadi menyatakan terima kasih kepada para petani setempat yang tergabung dalam kelompok tani (Poktan) Ngigak Jalai Senang yang sudah memanfaatkan secara baik lahan cetak sawah untuk ditanami padi, sehingga dapat menopang kebutuhan pangan pokok penduduk setempat tanpa harus membeli dari pasar terdekat di Balai Karangan yang berjarak 52 km dari Dusun Tapang Sebeluh.

"Ketahanan pangan adalah kunci menuju ketahanan nasional. Saya harus menempuh perjalanan selama tiga jam dari Sanggau karena jalan ke sini masih dalam perbaikan, sehingga hasil produksi padi di sini dapat dimanfaatkan untuk kebutuhan pangan, dan kelebihan produksi bisa dijual untuk memenuhi kebutuhan rumah tangga lainnya," kata Pangdam XII Tanjung Pura.

Sementara Siti Nurjanah yang mewakili kementerian, mengingatkan para penyuluh pertanian dapat berkoordinasi secara baik dengan bintara pembina desa (Babinsa) untuk mendukung para petani dan masyarakat setempat meningkatkan produksi pangan.

"Jangan tinggalkan petani bekerja sendirian tanpa didampingi penyuluh dan Babinsa, dorong para petani untuk bergabung di kelompok tani sehingga kegiatan pendampingan dan pengawalan untuk mengembangkan kelembagaan ekonomi petani," kata Siti Nurjanah yang hadir mewakili Momon Rusmono selaku Penanggung Jawab Upsus Pajale Kalbar.

John Henri memastikan kepada Poktan Ngigak Jalai Senang untuk mendukung pengadaan sarana produksi (Saprodi), jalan usaha tani, dan irigasi secara bertahap untuk mendukung pemanfaatan lahan cetak sawah di Desa Malenggang.
Sanggau of West Borneo (B2B) - New paddy field development program in West Borneo province, especially in Sanggau district is considered successful such as in Tapang Sebeluh hamlet of Malenggang village in Sekayam subdistrict hich has three times harvest, after being developed by the Indonesian Agriculture Ministry with the Army and local government since 2016, with productivity of 4 tons per hectare.

The success story encouraged the the West Borneo´s Tanjung Pura Military Commander Maj. Gen. Achmad Supriyadi accompanied by his vice commander in West Borneo province, Brigadier General Bambang Ismawan came to the rice harvest location is 635 km from Pontianak, the provincial capital. Also present national senior agricultural extension worker, Siti Nurjanah represent the Directorate General of Agricultural Human Resources, Momon Rusmono.

Acting Sanggau Regent, Taba Moses said rice harvest was the third time after developed in 2016. As part of 6,805 hectares of new paddy fields in Sanggau since 2015 with an allocation of 1,000 hectares, then increased to 4,800 hectares in 2016 and 1,050 hectares in 2017 or a total of 6,850 hectares.

"The new paddy field development program will continue until 2018 with the target of abandoned land use, but the allocation of the area has not been determined because it is still under study between the central and regional governments and related parties, "said Moses Taba, who was accompanied by the head of Sanggau agriculture office, John Henri.

Maj. Gen. Achmad Supriyadi expressed his gratitude to the local farmers who are members of the Ngigak Jalai Senang farmer group who have made good use of paddy fields for rice cultivation, so it can meet the basic food needs of the local population without having to buy from the nearest market in Balangan Karangan which is 52 km from Tapang Sebeluh hamlet.

"Food security is the key to national resilience.I have to travel for three hours from Sanggau because the road here is still under repair, so that the rice production here can be used for food, and the excess production can be sold to meet other household needs," Maj. Gen. Supriyadi said.

Meanwhile, Siti Nurjanah representing the ministry, reminded agricultural extension officers to coordinate well with NCOs to support farmers and local communities to increase food production.

"Do not leave the farmers working alone, invite the farmers to join the farmer groups so that the activities of guidance and escort to develop the economic institutions of farmers," she said.

John Henri confirmed to Ngigak Jalai Senang farmer group to support the procurement of production facilities, farm roads, and irrigation to support utilization of new paddy fields in Malenggang village.