Optimalisasi Alsintan, Mentan Instruksikan Pantau dan Evaluasi Pemanfaatannya di 13 Provinsi
The Optimization of Agricultural Machinery is the Target of Indonesian Govt
Editor : M. Achsan Atjo
Translator : Dhelia Gani

PUBLISHED: Rabu, 21 Februari 2018 , 02:40:00 WIB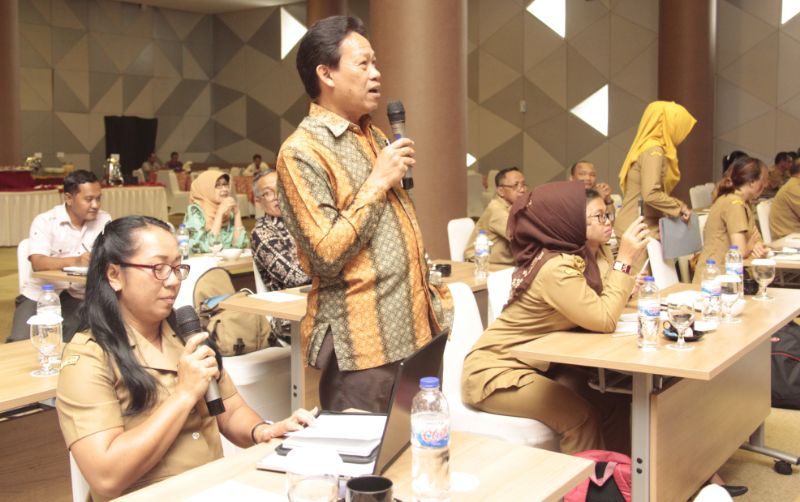 Kepala Badan Penyuluhan dan SDM Pertanian (BPPSDMP) Momon Rusmono menyampaikan arahannya pada Rapim LTT Provinsi Kalbar di Pontianak (Foto: Humas SDM Kementan/Eka Saputra)
Pontianak, Kalimantan Barat (B2B) - Pemerintah RI akan melakukan monitoring dan evaluasi pemanfaatan alat mesin pertanian (Alsintan) khususnya 113.515 unit traktor roda dua dan 6.280 roda empat, dan 17.684 mesin panen (combine harvester) di 13 provinsi, yang dihibahkan Kementerian Pertanian kepada para petani pada 2016 dan 2017.
Mentan Andi Amran Sulaiman menginstruksikan Dirjen Prasarana dan Sarana Pertanian (PSP) Dadih Pending Permana dan Kepala Badan Penyuluhan dan SDM Pertanian (BPPSDMP) Momon Rusmono untuk melakukan optimalisasi Alsintan mendukung peningkatan produksi pertanian strategis.
"Dirjen PSP yang punya Alsintan dan saya sebagai kepala BPPSDMP ditugasi oleh Mentan untuk optimalisasi Alsintan yang sudah dihibahkan kepada petani melalui Poktan, Gapoktan, brigade Alsintan kabupaten dan provinsi maupun di Kodim dan Korem, juga unit usaha jasa pelayanan Alsintan atau UPJA," kata Momon Rusmono di Pontianak, Selasa (20/2) pada rapat pimpinan (Rapim) tentang luas tambah tanam Provinsi Kalimantan Barat.
Data Kementan menyebutkan, pada 2016 disalurkan traktor roda dua (TR2) sebanyak 262.090 dan kebutuhan 451.578 unit, traktor roda empat (TR4) 3.288 unit (kebutuhan 9.412). Kemudian 2017 dihibahkan 263.400 unit TR2 (kebutuhan 449.590), 3.295 unit TR4 (kebutuhan 9.366).
Sementara mesin combine harvester pada 2016 telah dihibahkan 797 unit combine harvester kecil disingkat CHS, 2.392 unit ukuran sedang (CHM) dari kebutuhan 15.059 unit dan 1.594 unit ukuran besar (CHB). Berlanjut pada 2017 sebanyak 801 unit CHS, 2.403 unit CHM dan 1.594 unit CHB.
"Kami ditugasi memimpin monitoring dan evaluasi, 13 provinsi menjadi tanggung jawab saya termasuk Kalbar. Diminta mengecek satu-persatu Alsintan, apakah masih ada? Kalau ada, masih layak atau tidak? Setiap Alsintan diidentifikasi pemanfaatannya, misal untuk TR2 dalam sehari dapat bekerja berapa luas? Setengah hektar atau lebih, begitu pula hari kerjanya dalam setahun. Mentan minta tiap Alsintan dapat dioptimalkan untuk 300 hari kerja," kata Momon Rusmono.
Tampak hadir Kepala Dinas Pertanian Pemprov Kalbar Heronimus Hero dan para kepala dinas pertanian kabupaten/kota se-Kalbar, Wakil Aster Kasdam Kasdam XII/Tanjung Pura Letkol Inf Made M, dan Kepala Pusat Pelatihan Manajemen dan Kepemimpinan Pertanian - PPMKP Ciawi, Herry Suliyanto.
UPT BPPSDMP
Selain Kalbar, 12 provinsi lain yang menjadi tanggung jawabnya adalah Aceh, Sumatera Utara, Sumatera Barat, Sumatera Selatan, Banten, Jawa Barat, Jawa Tengah, Jawa Timur, Nusa Tenggara Barat (NTB), Kalimantan Selatan, Sulawesi Selatan, dan Lampung.
Momon Rusmono sudah menetapkan penanggung jawab yang melibatkan direktur di Ditjen PSP seperti direktur Alsintan untuk Sumatera Selatan didukung Kepala Balai Besar (BB) Pasca Panen, dan Danrem 032/Wirabraja. Kepala unit pelaksana teknis (UPT) di Badan SDM Kementan juga dilibatkan seperti Kepala Balai Besar Pelatihan Pertanian - BBPP Lembang untuk Jawa Barat dengan Kepala Pusat Penyuluhan (Kapusluh) dan Kepala Pusat Pelatihan Manajemen dan Kepemimpinan Pertanian - PPMKP Ciawi didukung oleh empat komandan Korem dari 062/Taruma Negara, 063/Sunan Gunung Jati, 061/Surya Kencana, dan 051/Wijaya Karta.
Sementara Kalbar akan dipimpin oleh Sekretaris BPPSDMP Kementan didukung oleh Danrem 121/Alambhana Wanawai, "dan hari ini saya akan ke Kabupaten Kubu Raya sebagai sampel awal dari monitoring dan evaluasi Alsintan."
Momon menambahkan, setelah dari Pontianak, akan langsung ke Jawa Tengah pada Kamis (22/2) dilanjutkan keliling 12 provinsi lainnya untuk memimpin dan mengendalikan program optimalisasi Alsintan melalui koordinasi dengan pejabat Kementan yang ditunjuk, kepala dinas pertanian provinsi/kabupaten/kota, dan TNI AD.
"Saya tidak boleh pulang ke Jakarta oleh menteri, karena harus keliling 13 provinsi dulu, maka tim Kalbar juga saya larang pulang satu minggu sebelum tuntas di sini. Harus beresin dulu identifikasi Alsintan dan datanya," kata Momon.
Pontianak of West Borneo (B2B) - The Indonesian government will monitor and evaluate the utilization of agricultural machinery, in particular 113,515 units of two-wheeled tractors and 6,280 four-wheelers, and 17,684 combine harvests in 13 provinces, granted by the agriculture ministry to farmers in 2016 and 2017.
Agriculture Minister Andi Amran Sulaiman instructed Director General of Infrastructure and Agricultural Facility or the PSP, Dadih Pending Permana and Director General of Agency for Agricultural Extension and Human Resources Development or BPPSDMP Momon Rusmono to optimize agricultural machinery in support of increasing strategic agricultural production.
"Mr Dadih and me are assigned by agriculture minister for optimization of farm machinery which has been granted to farmers through farmer groups, combined farmer groups, grantee groups in provinces to districts and cities, army and agricultural machinery services or UPJA," said Mr Rusmono in Pontianak, Tuesday (February 20).
According to the ministry data, in 2016 distributed 262,090 units of two-wheeled tractor engine needs 451,578 units, 3,288 units of four-wheeled tractors (needs 9,412). Then 2017 granted 263,400 units of two-wheeled tractor (needs 449,590), 3,295 units of four-wheeled tractor (needs 9,366).
While combine harvester in 2016 provided 797 units of small type, 2,392 units of medium type of needs 15,059 units and 1,594 units of large type. Continues in 2017 as many as 801 units of small type, 2,403 medium type, and 1,594 units of large type.
"We are assigned to lead monitoring and evaluation, 13 provinces are my responsibility, including West Borneo province. Check one by one, still there? Can be used? Each unit identified its utilization, for example a two-wheeled tractor on the effectiveness of usage per hectare. in a day can work how much land? Half a hectare or more, as well as his workday of the year. The minister asked for each unit to be optimized for 300 working days," Mr Rusmono said.
Technical Implementation Unit
In addition to West Borneo, the other 12 provinces under Mr. Rusmono´s responsibility are Aceh, North Sumatra, West Sumatra, South Sumatra, Banten, West Java, Central Java, East Java, West Nusa Tenggara, South Kalimantan, South Sulawesi and Lampung.
Rusmono has set up a responsible person who involves directors in Directorate General of PSP such as Alsintan director for South Sumatra province supported by Head of Center for Post Harvest, and Commander of Danrem 032/Wirabraja. Head of technical implementation unit or UPT in BPPSDMP is also involved such as Director of Training Center of Agriculture - BBPP Lembang for West Java province with the Director of Agricultural Extension Center and Director of the Center for Agricultural Management and Leadership Training - PPMKP Ciawi is supported by four commanders of the military resort command.
While the province of West Borneo provinsi by the Secretary of BPPSDMP with the army, "and today I am going to Kubu Raya district as an initial sample of monitoring and evaluation. "and today I want to go to Kubu Raya district as an initial sample of monitoring and evaluation."
Mr Rusmono said that after coming from Pontianak, he would go directly to Central Java on Thursday (22/2) to monitor the other 12 provinces, to lead and control the program through coordination with appointed ministry officials, and head of the provincial/districts/city agricultural service, and the army.