Program Taruna Makmur, 4 Mahasiswa Polbangtan Medan Raih Predikat Terbaik
Millennial Farmers Development are the Target of Indonesia`s Polbangtan Medan
Editor : Kemal A Praghotsa
Translator : Dhelia Gani

PUBLISHED: Minggu, 19 November 2023 , 00:25:00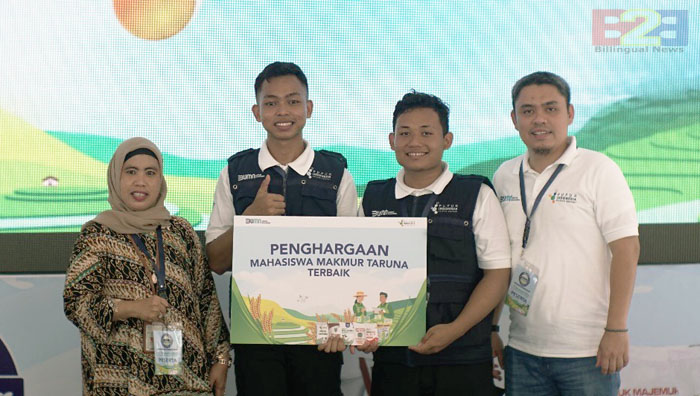 POLBANGTAN MEDAN: Direktur Polbangtan Medan, Yuliana Kansrini diwakili Wakil Direktur Nurliana Harahap [kiri] bersama mahasiswa Polbangtan Medan peraih penghargaan Taruna Terbaik pada Jambore Makmur di kawasan Pupuk Kujang, Cikampek, Karawang, Jabar.
Karawang, Jabar [B2B] - Menteri BUMN RI Erick Thohir meluncurkan Program Makmur pada 28 Agustus 2021, guna mendukung petani dan budidaya, pengelolaan budidaya tanaman berkelanjutan, informasi dan pendampingan petani, digital farming, akses permodalan dan perlindungan risiko pertanian serta offtaker atau jaminan pasar bagi petani.

Dalam upaya memperkuat Program Makmur, PT Pupuk Indonesia Persero menggelar Jambore Makmur di kawasan Pupuk Kujang, Cikampek, Kabupaten Karawang, Provinsi Jawa Barat, melibatkan ribuan petani dan stakeholder. Kegiatan utamanya, peluncuran Program Taruna Makmur di tempat yang sama pada Sabtu [11/11].

Direktur Utama PT Pupuk Indonesia Rahmad Pribadi mengatakan, Taruna Makmur adalah program mahasiswa yang akan memberikan pendampingan di lapangan dalam Program Makmur. Mereka berasal dari Politeknik Pembangunan Pertanian [Polbangtan] lingkup Kementerian Pertanian RI yakni Polbangtan Bogor, Yogyakarta, Malang, Medan, dan Gowa.

"Taruna Makmur yang saat ini dilantik sebanyak 76 mahasiswa dan jumlahnya akan terus ditingkatkan hingga mencapai 500 taruna yang tersebar di berbagai wilayah di Indonesia," kata Rahmad Pribadi.

Upaya tersebut sejalan arahan Menteri Pertanian RI Andi Amran Sulaiman bahwa meyakini bahwa pertanian bukan hanya sebuah bisnis yang menjanjikan namun juga sebagai fondasi utama keberlanjutan ekonomi.

Mentan mengajak generasi muda untuk mengubah paradigma pertanian sebagai sektor yang menjanjikan.

"Generasi muda juga harus bisa mengikuti perkembangan zaman. Harus berani menjadi petani modern maupun mendirikan start up pertanian," kata Mentan Amran.

Kepala Badan Penyuluhan dan Pengembangan SDM Pertanian Kementan [BPPSDMP] Dedi Nursyamsi yang hadir
dan mengapresiasi Jambore Makmur di Cikampek seraya mendorong pada mahasiswa Polbangtan yang telah dilantik sebagai Taruna Makmur agar terus berkontribusi dalam pembangunan dan kemajuan petanian di Indonesia.

"Kegiatan Program Taruna Makmur dapat menjadi wadah pengembangan SDM pertanian," katanya.

Dedi Nursyamsi mengharapkan mahasiswa Polbangtan Medan dapat menambah pengetahuan dan wawasan di bidang pembibitan kelapa sawit, sehingga dapat menunjang pembangunan pertanian yang maju, mandiri dan modern.

Direktur Utama PT Pupuk Indonesia Rahmad Pribadi menegaskan, sesuai arahan Menteri BUMN, Erick Thohir untuk terus menggelorakan Program Makmur, melalui kegiatan Jambore Makmur, PT Pupuk Indonesia berupaya memperkuat kolaborasi di antara para stakeholders, mitra, dan para petani peserta Program Makmur.

"Nantinya, para Taruna Makmur akan memberikan pendampingan budidaya dan layanan agronomis bagi petani yang bergabung pada Program Makmur," ungkap Rahmad.

Dari puluhan peserta Taruna Makmur, 11 di antaranya dari Polbangtan Medan, delapan mahasiswa dari Jurusan Perkebunan yakni Albert, Celvin, Dwi, Dicky, Adam, Imam, Ramli dan Kutoro yang melakukan magang di PT Pupuk Sriwidjaja Palembang. Tiga dari Jurusan Pertanian yakni Indri, Rendi dan Rianggi mengikuti magang di PT Pupuk Iskandar Muda.

Pada Jambore Makmur, PT Pupuk Indonesia Persero memberikan Penghargaan pada taruna yang memberikan kontribusi terbaiknya selama kegiatan magang. Empat mahasiswa Polbangtan Medan meraih penghargaan sebagai Taruna Terbaik.

Keempat mahasiswa tersebut adalah Celvin Irwansyah dan M Adam Firdaus peserta magang pada anak perusahaan PT Pupuk Sriwidjaja Palembang; Rendi Hardiyansah dan Indriani pada anak perusahaan PT Pupuk Iskandar Muda dan masing-masing berhak mendapatkan reward berupa laptop. [ira/timhumas polbangtanmedan]
Karawang of West Java [B2B] - The role of agricultural vocational education in Indonesia such as the the Agricultural Development Polytechnic or the Polbangtan, to support Indonesian Agriculture Ministry seeks to maximize its efforts to produce millennial entrepreneur.

Youth Enterpreneurship And Employment Support Services Programme or the YESS, to support Indonesian Agriculture Ministry seeks to maximize its efforts for the millennial entrepreneur.

Indonesian Agriculture Ministry, Andi Amran Sulaiman stated that the government´s commitment to developing agriculture, especially in the development of advanced, independent and modern agricultural human resources.

The goal is to increase the income of farming families and ensure national food security. Farmer regeneration is a commitment that we must immediately realize.

He reminded about the important role of vocational education, to produce millennial farmers who have an entrepreneurial spirit.

Through vocational education, we connect campuses with industry so that Polbangtan graduates meet their needs and are ready for new things.