PEPI Serpong, Sekjen Kementan Pimpin Rakor Pendirian Kampus Enjiniring Pertanian
Indonesian Govt will Establish an Agricultural Engineering Polytechnic in Banten
Editor : M. Achsan Atjo
Translator : Dhelia Gani

PUBLISHED: Selasa, 08 Januari 2019 , 00:40:00 WIB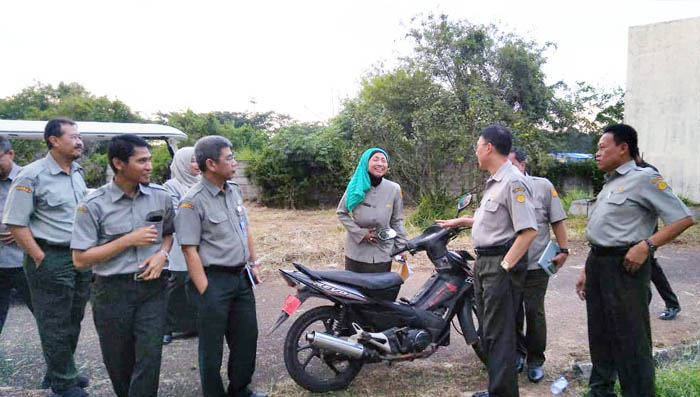 VISITASI PEPI: Sekjen Syukur Iwantoro (ke-2 kanan) berbincang dengan Kapusdiktan Idha WA (ke-3 kanan) dan Kepala BPPSDM Momon Rusmono (kanan) dan Inspektur I ItJenTan Susanto (kiri) Foto: Humas BPPSDMP/Pito
Serpong, Banten (B2B) - Kementerian Pertanian RI segera mewujudkan pengembangan kampus, asrama, laboratorium, dan sarana pendukung Politeknik Enjiniring Pertanian Indonesia (PEPI) di kawasan Serpong, Kabupaten Tangerang, Provinsi Banten melalui sinergi Badan Penyuluhan dan Pengembangan SDM Pertanian (BPPSDMP) dan Balai Besar Pengembangan Mekanisasi Pertanian (BB Mektan), yang akan dibangun mulai 2019 dengan tiga program studi yakni teknologi mekanisasi pertanian, tata air pertanian, dan teknologi hasil pertanian.
"Kebutuhan SDM pertanian Indonesia yang menguasai produksi Alsintan, modernisasi pertanian di pedesaan, dan pemberdayaan masyarakat petani kian mendesak untuk menjawab tantangan pertanian masa depan di era industrialisasi 4.0," kata Sekjen Kementan Syukur Iwantoro pada visitasi di Serpong, Senin (7/1) didampingi Kepala BPPSDMP Kementan, Momon Rusmono.
Dia menambahkan, sesuai arahan Menteri Pertanian RI Andi Amran Sulaiman bahwa PEPI didirikan di Serpong untuk mendukung Kawasan Ekonomi Khusus (KEK) Pendidikan Sains dan Enjiniring. Sinergi PEPI dengan BB Mektan akan mengembangkan kegiatan penelitian, perekayasaan, dan pengembangan enjiniring pertanian mulai dari hulu sampai hilir secara efisien, berkelanjutan, dan ramah lingkungan.
"Kebutuhan SDM pertanian dengan keahlian keteknikan pertanian untuk produksi dan alat mesin pertanian, pengelolaan irigasi pertanian, peningkatan nilai tambah produk hasil pertanian, modernisasi pertanian di pedesaan, dan pemberdayaan masyarakat petani," kata Syukur I.
Momon Rusmono menambahkan, PEPI dikembangkan oleh Kementan untuk mendukung komitmen Pemprov Banten dalam mewujudkan peningkatan kualitas SDM pertanian sejalan dengan Manterplan Kawasan Pertanian Provinsi Banten Tahun 2017-2022.
Momon R menyebut data Badan Pusat Statistik (BPS) tentang jumlah penduduk Banten usia 15 - 19 tahun yang bekerja di bidang pertanian pada 2014 mencapai 12.701 orang atau 2,1% dari jumlah penduduk provinsi. Sementara jumlah penduduk usia produktif, usia 20 - 39 tahun mencapai 198.010 orang atau 32,7%.
"Lulusan PEPI diharapkan mampu menjadi solusi dalam mengisi kekosongan tenaga kerja di bidang Alsintan dan akan berdampak secara langsung terhadap peningkatan hasil produksi pertanian," katanya.
Tampak hadir Inspektur I Inspektorat Jenderal Kementan, Susanto; dan Kepala Pusat Pendidikan Pertanian (Pusdiktan) Indha Widi Arsanti.
Serpong of Banten (B2B) - Indonesian Agriculture Ministry will will build campuses, dormitories, laboratories and facilities to support the Indonesian Agricultural Engineering Polytechnic or the PEPI in the Serpong area, Tangerang regency of Banten province. PEPI construction begins this year with three study programs: agricultural mechanization technology, agricultural water management and agricultural technology.
"Indonesia´s agricultural human resources need to control agricultural machinery production, modernization of rural agriculture, and empowerment of farming communities to answer agricultural challenges in the era of industrialization 4.0," said the Secretary General of Agriculture Ministry, Syukur Iwantoro here on Monday (December 7) who was accompanied by Director General of Extention and Agricultural Human Resource Development or BPPSDMP, Momon Rusmono.
He added, according to direction of Indonesian Agriculture Minister Andi Amran Sulaiman that PEPI was established in Serpong to support the Special Economic Zone or KEK. The PEPI will developing research, engineering and agricultural engineering development activities from upstream to downstream in an efficient, sustainable and environmentally friendly manner.
"Agricultural HR needs with agricultural engineering expertise for agricultural machinery production, agricultural irrigation management, added value of agricultural products, modernization of rural agriculture, and empowerment of farming communities," Mr Iwantoro said.
Mr Rusmono added that the PEPI aims to support the Banten Provincial Government´s commitment in realizing improved quality of agricultural human resources in line with the Banten Province Agricultural Area Masterplan 2017 - 2022.
Mr Rusmono cited data of the Central Statistics Agencyor BPS about the number of Banten population 15-19 years working in the agricultural sector in 2014 reached 12,701 or 2.1% of total population of the province, while the population of productive age, 20 - 39 reached 198,010 or 32.7%.
"PEPI graduates are expected to be the solution to the lack of competent HR in agricultural machinery to support increased agricultural production," he said.