Pahlawan Sergap, Apresiasi BKP Kementan pada Komitmen Penyuluh Swadaya Kalbar
Indonesian Govt Support West Borneo Farmer Sell Rice to the Bulog
Editor : M. Achsan Atjo
Translator : Dhelia Gani

PUBLISHED: Minggu, 18 Maret 2018 , 04:17:00 WIB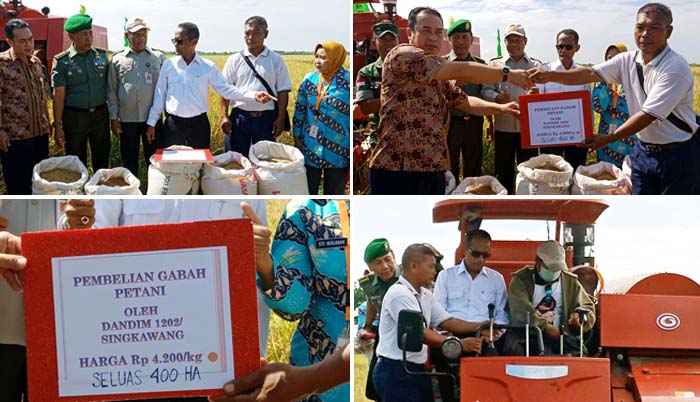 TARGET KALBAR: Target Sergap semester pertama, Januari hingga Juni 2018 untuk Kalbar 76.023 ton dari target nasional 2,2 juta ton, sementara target Sergap harian Kalbar 619 ton (Foto2: BPPSDMP Kementan/S Pradini)
Sambas, Kalbar (B2B) - Tawaran harga lebih tinggi dari tengkulak tak menggoyahkan tekad Sukiman, penyuluh swadaya di Kecamatan Semparuk, Kabupaten Sambas, untuk menjual hasil panen padi berupa gabah kering panen (GKP) seharga Rp4.200 per kg kepada Bulog Subdivre Singkawang, dan Ketua I Pelaksana Tim Serap Gabah Petani (Sergap) Kementerian Pertanian RI Agung Hendriadi menjuluki Sukiman sebagai ´Pahlawan Sergap´ di Provinsi Kalimantan Barat.
"Pak Sukiman ini layak disebut pahlawan sergap, karena rela melepas hasil panennya dengan harga Rp4.200 per kg kepada Bulog. Komitmen yang seharusnya ditiru oleh petani lain agar Indonesia tidak perlu impor beras karena mampu swasembada beras," kata Agung Hendriadi Desa Semparuk didampingi Penyuluh Pertanian Utama Kementan, Siti Nurjanah mewakili Kepala Badan Penyuluhan dan Pengembangan SDM Pertanian (BPPSDMP) Momon Rusmono selaku Penanggung Jawab Sergap Provinsi Kalbar, Jumat (15/3).
Sukiman yang juga Ketua Poktan Dari Nandung I di Desa Semparuk menyatakan komitmen anggota kelompok tani (Poktan) untuk menjual GKP kepada Bulog, dan harga yang disepakati dalam pembelian gabah dinilai cukup menguntungkan petani yang memanfaatkan benih padi varietas Cilosari, dengan luasan panen saat itu adalah 400 hektar dengan provitas maksimal tujuh ton per hektar.
Agung Hendriadi mengatakan target serap gabah semester pertama, Januari hingga Juni 2018 untuk Kalbar mencapai 76.023 ton dari target nasional 2,2 juta ton, sementara target serapan harian gabah untuk Kalbar mencapai 619 ton.
"Saya optimistis target Sergap di Kalbar dapat dicapai pada panen raya ini, dan kegiatan serap gabah ini sangat penting untuk mengisi cadangan beras kita," kata Agung juga menjabat Kepala Badan Ketahanan Pangan (BKP) Kementan.
Dia meminta Kepala Bulog Subdivre Singkawang, Suadi SE untuk mengoptimalkan serapan gabah di wilayah kerjanya yang meliputi tiga kabupaten: Singkawang, Sambas dan Bengkayang untuk mendukung cadangan beras Bulog.
"Kami siap mendukung petani di wilayah kerja Bulog Subdivre Singkawang menghadapi panen raya untuk memenuhi gudang Bulog," kata Suadi SE.
Siti Nurjanah mengingatkan para penyuluh pertanian di Kabupaten Sambas dan Provinsi Kalbar berkoordinasi secara baik dengan bintara pembina desa (Babinsa) untuk mendukung para petani dan masyarakat setempat meningkatkan produksi pangan.
"Jangan tinggalkan petani bekerja sendirian tanpa didampingi penyuluh dan Babinsa, dorong para petani untuk bergabung di kelompok tani sehingga kegiatan pendampingan dan pengawalan untuk mengembangkan kelembagaan ekonomi petani," kata Siti Nurjanah.
Tampak hadir Sterad Kolonel Kav Safrudin Iskandar, Kepala Balai Pengkajian dan Penerapan Teknologi - BPTP Kalbar, Akhmad Musyafak, perwakilan dari Pemprov Kalbar dan Pemkab Sambas, pejabat dinas pertanian Sambas, dan tim Upsus BPPSDMP Kementan, Septalina P.
Sambas of West Borneo (B2B) - The high price bids from middlemen not shake Sukiman´s determination, rice farmers in Semparuk subdistrict of Sambas district, to sell rice yield 4,200 rupiah per kg to Indonesia´s logistics agency Singkawang branch, and the Director General of Food Security Agency, Agung Hendriadi called Sukiman as the ´food hero´ of West Borneo province.
"Mr Sukiman deserves to be called as the food hero, because sincerely sell rice yield 4.200 rupiah per kg to Bulog. Commitment that should be imitated by other farmers so that Indonesia does not need to import rice because it is capable of self-sufficiency in rice," said Mr Hendriadi in Semparuk village of Semparuk subdistrict accompanied by the national senior agricultural extension, Siti Nurjanah represent Director General of Agricultural Human Resource Development or BPPSDMP, Momon Rusmono as the person in charge of West Borneo increased agricultural production.
Sukiman who was also chairman of Dari Nandung I farmer group in Semparuk village, Sukiman affirmed the commitment of farmer group members sell the rice yield harvest to Bulog, and the agreed price is enough to benefit the farmers.
Mr Hendriadi said the target of purchasing rice yield for the first semester, January to June 2018 in West Borneo province reached 76,023 tons of national target 2.2 million tons, while the target of daily purchases reach 619 tons.
"I am optimistic the government´s target in West Borneo province can be achieved in this rice yield, and activities of purchasing grain farmers are very important to meet the government´s rice reserves," said Mr Hendriadi.
He asked the Head of Bulog Singkawang, Suadi to optimize grain purchases of farmers in Singkawang, Sambas and Bengkayang districts support Bulog´s rice reserves.
"We are ready to support farmers in Sambas and surrounding areas facing the peak of rice yield," said Suadi who goes by one name, like many Indonesians.
Meanwhile, Siti Nurjanah representing the ministry, reminded agricultural extension officers to coordinate well with NCOs to support farmers and local communities to increase food production.
"Do not leave the farmers working alone, invite the farmers to join the farmer groups so that the activities of guidance and escort to develop the economic institutions of farmers," she said.
It was attended by Army´s territorial assistant of West Borneo, Colonel Cav Safrudin Iskandar, Director of the West Borneo´s Assessment Institute for Agricultural Technology or BPTP Kalbar, Akhmad Musyafak; official representatives of the provincial and district government, and Upsus Pajale team of BPPSDMP, Septalina P.