Penghargaan Pertanian, Momon Rusmono Usul UPJA dan Posluhdes Terbaik
The Indonesian Government Gives Awards to the Best Farmers
Reporter : Gusmiati Waris
Editor : Cahyani Harzi
Translator : Dhelia Gani

PUBLISHED: Kamis, 16 Agustus 2018 , 04:46:00 WIB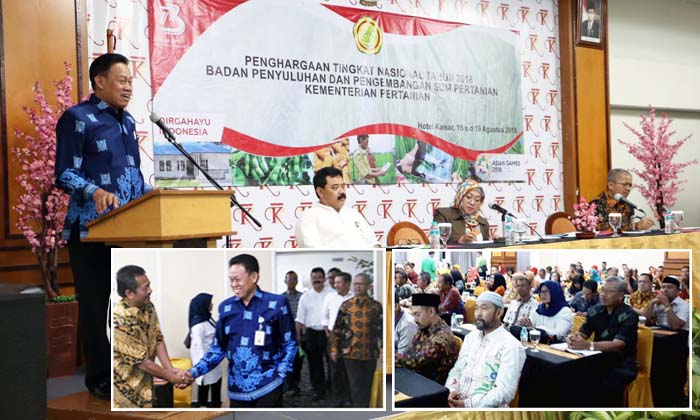 Kepala BPPSDMP Kementan, Momon Rusmono (batik biru) memberikan arahan kepada para teladan peraih penghargaan terbaik di sektor pertanian (Foto2: Humas Pusluhtan Kementan)
Jakarta (B2B) - Pos Penyuluhan Desa (Posluhdes) yang menjadi wadah bagi penyuluh pertanian swadaya bekerja, dan Unit Pelayanan Jasa Alsintan (UPJA) yang mendukung mekanisasi pertanian selayaknya mendapat penghargaan sebagai Posluhdes dan UPJA terbaik di seluruh Indonesia sebagai teladan nasional yang diakui eksistensinya oleh Pemerintah RI yang diundang ke Jakarta untuk mengikuti rangkaian peringatan HUT Kemerdekaan RI bersama kepala negara dan wakil rakyat.
Hal itu dikemukakan Kepala Badan Penyuluhan dan Pengembangan SDM Pertanian (BPPSDMP) Kementerian Pertanian, Momon Rusmono pada silaturahim dan pembekalan bagi para peraih penghargaan terbaik tingkat nasional di Jakarta, Rabu malam (15/8).
Sebagaimana diketahui, Pemerintah RI setiap tahun memberikan penghargaan kepada kelompok tani (Poktan), gabungan kelompok tani (Gapoktan) teladan, kelembagaan ekonomi petani (KEP) teladan, penyuluh pertanian teladan, balai penyuluhan pertanian (BPP) teladan, P4S teladan, dan dosen Sekolah Tinggi Penyuluhan Pertanian (STPP) pemenang lomba karya ilmiah, kesemua kategori merupakan hasil seleksi ketat dari direktorat terkait di BPPSDMP Kementan.
"Saya berharap akan ada Posluhdes dan UPJA berprestasi, yang akan ditarik ke tingkat nasional sebagai teladan. Tanpa banyak bicara, dengan adanya sosok dan lembaga yang berhasil pasti akan diikuti oleh petani lain, jadi prinsip penyuluhan pertanian seperti itu," kata Momon Rusmono yang juga menjabat Ketua Optimalisasi Alsintan - Opsin Nasional.
Dia mengusulkan kepada panitia seleksi di BPPSDMP Kementan tidak ´ujug-ujug´ mengajukan usul para ´kandidat teladan´ tingkat nasional, namun sebaiknya usulan datang dari desa ke kecamatan kemudian ke kabupaten dan provinsi sebelum ke tingkat nasional.
"Selama saya menjabat kepala badan, tidak akan berhenti menumbuhkan keteladanan. Saya harapkan pemilihan sosok teladan diadakan di tiap kabupaten, bahkan syukur-syukur sampai tingkat kecamatan pun ada sosok teladan, kalau makin banyak artinya sosok yang diteladani akan makin banyak," kata Momon Rusmono.
Pemerintah RI memberikan kesempatan kepada para teladan pertanian dan teladan dari sektor lain untuk menghadiri rapat paripurna DPR dan pidato kenegaraan Presiden Joko Widodo di Gedung DPR Senayan, pagi ini (16/8) dan malamnya mengikuti renungan suci di Taman Makam Pahlawan - TMP Kalibata.
Puncak kegiatan mereka adalah menghadiri peringatan HUT Kemerdekaan RI di Istana Merdeka pada Jumat pagi (17/8) dilanjutkan penyerahan penghargaan dari Menteri Pertanian RI Andi Amran Sulaiman. Kegiatan diakhiri silaturahim dengan Presiden Joko Widodo dan Wakil Presiden Jusuf Kalla di Istana Negara pada Sabtu (18/8).
Tampak hadir pejabat eselon dua Kementan antara lain Kepala Pusat Penyuluhan Pertanian (Pusluhtan) Siti Munifah, Kepala Pusat Pendidikan Pertanian (Pusdiktan) Gunawan Yulianto, dan Kepala Pusat Pelatihan Pertanian (Pusdiktan) Widi Hardjono.
Jakarta (B2B) - The village agricultural extensionist center or the Posluhdes as an independent agricultural extension office, and agricultural machinery rental centers in subdistrict called the UPJA support agricultural mechanization is worthy of respect as the best across the country, whose existence is recognized by the Indonesian government.
It was stated by the Director General of Agency for Agricultural Extension and Human Resources Development (BPPSDMP) Momon Rusmono in his speech here on Tuesday (August 15) to the best figures of Indonesian agricultural sector.
As is known, the Indonesian government annually awards the best farmers, the best agricultural economic institutions, the best agricultural extensionist, the best agricultural extensionist center, and the best agricultural lecturer after undergoing rigorous selection by the related directorates in the ministry.
"I hope there will be the best Posluhdes and UPJA at the national level. Without having a lot of talk, the best successful figure and institution will surely be followed by other farmers," Mr Rusmono said.
He proposed to the selection committee He suggested that the selection committee at BPPSDMP not only propose the ´best candidates´ at the national level, but it should come from the village to the subdistrict, then to the district and province before going to the national level.
"As the director general, I will continue to look for the best figure in the agricultural sector. I hope the selection of the best figure is held in each district, even better at the sub-district level the best figure is selected," Mr Rusmono said.
Indonesian Agriculture Ministry invites the best agricultural figures across the country to attend the DPR plenary meeting and President Joko Widodo´s state speech at the parliament this morning (16 August) continued the pilgrimage to the graves of national heroes in Jakarta.
The highlight of their activities was to attend the commemoration of Indonesian Independence at Merdeka Palace on Friday morning (17 August). Their last activity is dialogue with President Joko Widodo and Vice President Jusuf Kalla at the State Palace on Saturday (8/18).
Also attended Director of Agricultural Extentionist Center, Siti Munifah; Director of Agricultural Education Center, Widi Hardjono; and the Director of Agricultural Training Center, Widi Hardjono.