Bentuk UPJA Kecamatan, PJ OPA Yogyakarta Dorong Optimalisasi Alsintan
Indonesian Ministry Support the Farmers Optimized Agricultural Machinery
Editor : M. Achsan Atjo
Translator : Dhelia Gani

PUBLISHED: Senin, 11 Juni 2018 , 05:47:00 WIB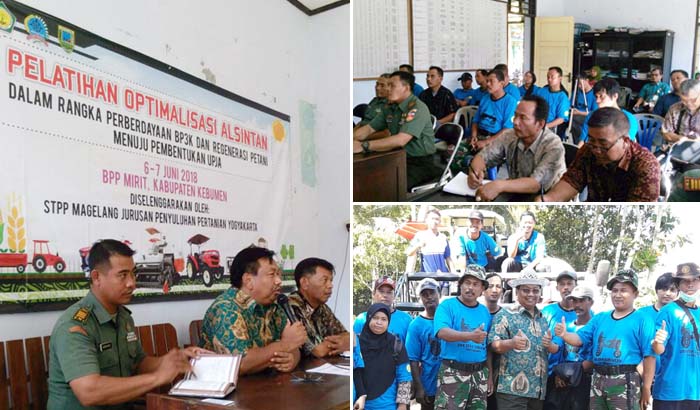 PJ OPA Yogyakarta, Ali Rachman memberi arahan pada pembentukan UPJA tingkat kecamatan di Kabupaten Kebumen, peserta pelatihan dan bersama para pengurus UPJA.
Kebumen, Jateng (B2B) - Penanggung Jawab Optimalisasi Pemanfaatan Alsintan - PJ OPA Yogyakarta, Ali Rachman mengingatkan para petani penerima bantuan alat mesin pertanian (Alsintan) untuk memanfaatkan secara maksimal dan merawat Alsintan sebagai milik publik, dengan membentuk usaha pelayanan jasa Alsintan (UPJA). Manfaat utama UPJA adalah meningkatkan kinerja pemanfaatan Alsintan untuk mendukung peningkatan produksi pangan strategis khususnya padi, jagung, dan kedelai atau Pajale.
"Menteri Pertanian Andi Amran Sulaiman kerap mengingatkan bahwa pengelola UPJA harus mendukung mobilisasi Alsintan semaksimal mungkin. Caranya, apabila pekerjaan di sawah telah rampung maka Alsintan dipindahkan ke petani atau kelompok tani lainnya, dengan cara meminjamkan atau menyewakan, " kata Ali Rachman pada pembentukan UPJA tingkat kecamatan di BPP Mirit, Kabupaten Kebumen, belum lama ini.
Dia pun mengilustrasikan tentang biaya pendapatan dari jasa penyewaan Alsintan cukup menarik, sekitar Rp3 juta hingga Rp4 juta per hari, maka dalam satu bulan pengelola UPJA dapat mencapai Rp90 juta, dan sebagian pendapatan disisihkan untuk perawatan dan perbaikan Alsintan.
Ali menambahkan, Alsintan yang diterima petani dibeli dari uang rakyat oleh Kementerian Pertanian RI, dan Presiden Joko Widodo menginstruksikan memanfaatkan anggaran di kementerian untuk mendukung petani sebagai penyedia utama pangan di negeri ini, karena tanpa kerja keras petani maka bangsa Indonesia akan kelaparan sehingga mengganggu stabilitas dan keamanan negara.
Banyak manfaat diperoleh dari pemanfaatan alat dan mesin pertanian (Alsintan) seperti menekan biaya produksi hingga 40%, meningkatkan indeks pertanaman (IP), mempersingkat proses produksi, menarik minat generasi muda mencari nafkah sebagai petani, dan meningkatkan pendapatan petani.
"Pemanfaatan Alsintan dapat menekan biaya produksi hingga 40 persen, dari biaya panen secara manual Rp2 juta per hektar maka dengan teknologi Alsintan dapat ditekan menjadi hanya Rp1 juta per hektar," kata Ali Rachman yang juga menjabat Ketua STPP Magelang jurusan penyuluhan pertanian - Jurluhtan Yogyakarta.
Ali Rachman menambahkan optimalisasi Alsintan mendorong peningkatan indeks pertanaman (IP) karena dari proses olah tanah, penanaman hingga panen waktunya lebih singkat atau dari hitungan hari menjadi jam. "Bisa tanam tiga kali dalam satu tahun. Artinya, peningkatan pendapatan petani bisa tiga kali lipat."
Kebumen of Central Java (B2B) - Person in Charge of Alsintan for Yogyakarta province or the PJ OPA Ali Rachman reminds the farmers who receive agricultural machinery assistance program or Alsintan purchased with people´s money because good care will make longer use to support improved strategic food production and utilization Alsintan mobilization.
"The ministerial instruction, UPJA manager is expected to support the mobilization of Alsintan as much as possible. Utilization of the Alsintan must be optimal. No one is stuck. While it is processing the soil ... tractor two and four wheels that work, the rice transplanter automatic break," said Mr Rachman here recently.
While the cost of revenue Alsintan rental services is quite high around 3 million to 4 million rupiah per day or one month to reach 90 million dollars.
He said the Alsintan received farmers who was purchased of public money by the Indonesian Agriculture Ministry, and President Joko Widodo instructed the utilization of state budget at the ministry to support farmers as the main food provider in the country.
Many benefits of agricultural machinery to reduce production costs by 40%, increase crop index, shorten production process, attract young people to earn a living as farmers, and increase Indonesian farmer income.
"Utilization of Alsintan can reduce production costs by 40 percent, the cost of manual harvest of 2 million rupiah to 1 million rupiah per hectare," said Mr Rachman who was serve as the Rector of Magelang´s Agriculture Extention College or STPP Magelang.
According to him, harvest losses on average 10 percent can be suppressed so it is not wasted, "the average national losses amounted to 28 trillion rupiah."
Mr Rachman said the index of crops will increase because of the process of soil, planting until the harvest time is shorter or per day to hourly. "It can be planted three times a year, which means that the increase in farmers´ income can increase three times."