Antisipasi RI 4.0, BPPSDMP Kementan Mutasi 60 Pejabat, Lantik 13 Fungsional
Indonesian Agriculture Ministry is Ready to Face the Education Globalization
Editor : M. Achsan Atjo
Translator : Dhelia Gani

PUBLISHED: Selasa, 13 November 2018 , 10:24:00 WIB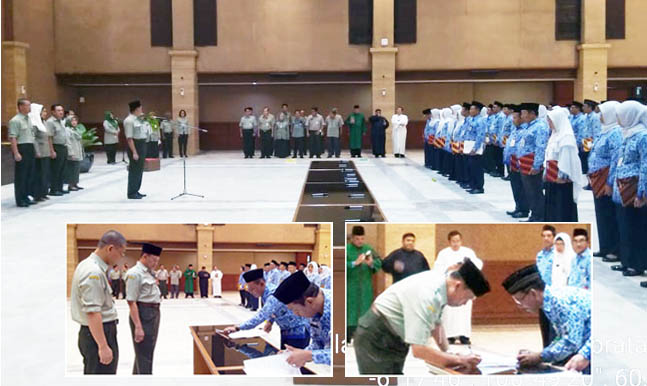 PEJABAT BARU: Kepala BPPSDMP Kementan Momon Rusmono didampingi Sesba Andriko Noto Susanto melantik 60 pejabat eselon tiga dan empat serta 13 fungsional (Foto2: Humas BPPSDMP/Pito)
Jakarta (B2B) - Sekitar 60 pejabat eselon tiga dan empat di jajaran Badan Penyuluhan & Pengembangan SDM Pertanian (BPPSDMP) Kementerian Pertanian RI dimutasi. Kepala BPPSDMP Kementan Momon Rusmono juga melantik 13 fungsional untuk mendukung kinerja institusi mempersiapkan diri menghadapi revolusi industri ke-4 atau RI 4.0 dan globalisasi pendidikan di sektor pertanian melalui pengembangan Politeknik Pembangunan Pertanian (Polbangtan) di seluruh Indonesia.
Mereka yang dilantik antara lain Widi Harjono, mantan Kepala Pusat Pelatihan Pertanian (Puslatan) menjadi Widyaiswara Ahli Utama pada Pusat Pelatihan Manajemen dan Kepemimpinan Pertanian - PPMKP Ciawi; Indria Fitriani sebagai Kepala Bagian Umum di Sekretariat BPPSDMP); Hasan Latuconsina sebagai Kepala Bidang Program dan Kerjasama Pendidikan di Pusat Pendidikan Pertanian (Pusdiktan); Eka Herissuparman sebagai Kepala Bidang Penyelenggaraan Kelembagaan dan Ketenagaan Pelatihan di Puslatan.
Momon Rusmono mengatakan Kementan mempersiapkan diri menghadapi RI 4.0 dan globalisasi pendidikan dengan mengubah pengembangan pendidikan tinggi pertanian melalui Polbangtan, untuk menyiapkan para unggulan di bidang pertanian yang kreatif dan inovatif melalui transformasi Sekolah Tinggi Penyuluhan Pertanian menjadi Polbangtan.
"Kementan mengharapkan kampus Polbangtan di seluruh Indonesia dapat memiliki ciri khas dan keunggulan institusi atau branding, sehingga diakui oleh institusi pendidikan lainnya, dan utamanya di masyarakat secara luas. Tujuannya, meningkatkan animo generasi muda Indonesia untuk menempuh pendidikan di Polbangtan," kata Momon Rusmono dalam arahannya usai pelantikan ke-73 insan BPPSDMP Kementan, Senin petang (12/11).
Tampak hadir Sekretaris BPPSDMP Andriko Noto Susanto dan Kepala Pusat Penyuluhan Pertanian (Pusluhtan) Siti Munifah. Hadir pula dua pejabat baru eselon dua BPPSDMP yang dilantik Menteri Andi Amran Sulaiman pada Senin pagi (12/11) yakni Idha Widi Arsanti sebagai Kepala Pusdiktan menggantikan Gunawan Yulianto yang memasuki pensiun dan Bustanul Arifin Caya, Kepala Puslatan menggantikan Widi Harjono.
Momon Rusmono mengingatkan ke-60 pejabat baru untuk mengedepankan prinsip loyalitas dan kredibel. Kedua hal itu akan membuat aparatur sipil negara (ASN) tetap fokus, cepat bertindak dengan orientasi hasil sehingga tetap semangat dan tidak mudah mengeluh.
"Loyalitas merupakan implementasi dari kemauan dan keinginan untuk mengabdi pada negara, sedangkan kredibel menunjukkan seseorang itu mampu bekerja maksimal sesuai harapan pimpinan," katanya.
Khusus kepada 13 fungsional, Momon Rusmono mengingatkan tentang posisi fungsional tidak kalah strategis dari struktural, karena ke depan semua akan diarahkan ke fungsional khusus, dan tunjangannya setara dengan pejabat struktural.
"Tidak ada cara lain untuk meningkatkan kompetensi selain belajar, belajar dan belajar. Fungsional harus mampu memotivasi diri sendiri, karena atasan saudara adalah profesi saudara sendiri. Keluarkan semua kemampuan untuk meningkatkan kapasitas institusi dan pribadi," katanya.
Tiga dari 13 fungsional yang dilantik adalah pranata Humas BPPSDMP Kementan yang akan banyak berhubungan dengan awak media dan kegiatan Kehumasan. Mereka adalah Nur Fajariyantini, Eko Saputra, dan Yeniarta Margi Mulya. (Cha)
Jakarta (B2B) - At least 60 third and fourth echelon officials of extention and education at the Indonesian Agriculture Ministry underwent a mutation. They were inaugurated by Director General of Agricultural HR Development or the BPPSDMP, Momon Rusmono to support institutional performance to face ´education globalization and the fourth industrial revolution´ or RI 4.0 which requires Indonesia to change the development of higher education.
Mr Rusmono said the ministry was preparing to face the 4.0 industrial revolution, locally known as the RI 4.0 and education globalization by changing the development of agricultural higher education through the Agricultural Development Polytechnic or the Polbangtan to prepare creative and innovative leaders in agriculture sector through the transformation of Agricultural Extension College into Polbangtan.
"The ministry expects the transformation of STPP into Polbangtan not just change the name, but how to manage Polbangtan is a vocational college according to the profile of graduates of study programs compiled with various parties," Mr Rusmono said in his direction.
He reminded about the principle of loyalty and credibility. These principles will encourage civil servants to stay focused, quick response with a results orientation so as to keep the spirit and not easily complain, according to senior ministry official.
"Loyalty is implementation of willingness to serve the country, while the credible shows a person is able to work optimally according to expectations of the leaders," Mr Rusmono said.
Especially for 13 functional officials, Mr Rusmono reminded them of their strategic role of structural officials, because in the future all will be directed to special functions, and the benefits are equivalent to structural officials.
"There is no other way to improve competencies other than learning, learning and learning. Take out all the capabilities to increase institutional and personal capacity," he said.
Three of the 13 functional who were appointed were public relations officers of BPPSDMP which will have a lot to do with journalists and public relations activities. They are Nur Fajariyantini, Eko Saputra, and Yeniarta Margi Mulya.