Kepala BPPSDMP Kementan Lantik 37 Pejabat Baru Eselon Tiga dan Empat
Senior Indonesian Officials of Indonesian Agriculture Ministry were Inaugurated
Editor : M. Achsan Atjo
Translator : Dhelia Gani

PUBLISHED: Kamis, 03 Mei 2018 , 10:30:00 WIB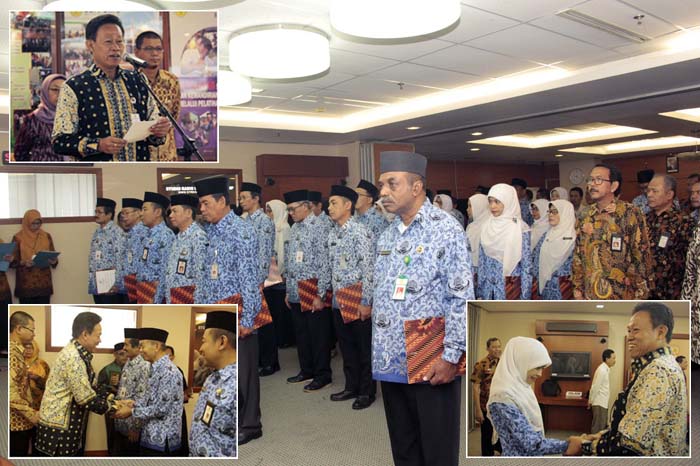 Para pejabat baru yang dilantik, mendengar arahan Kepala BPPSDMP Kementan, Momon Rusmono dan menyalami pejabat baru seperti Kasubbid Informasi Puslutan, Dr Septalina Pradini SPi,MSi (Foto2: Humas BPPSDMP Kementan)
Jakarta (B2B) - Para pejabat baru eselon tiga dan empat pada Badan Penyuluhan dan Pengembangan SDM Pertanian (BPPSDMP) Kementerian Pertanian diharapkan mengedepankan prinsip loyalitas dan kredibel. Kedua hal itu akan membuat aparatur sipil negara (ASN) tetap fokus, cepat bertindak dengan orientasi hasil sehingga tetap semangat dan tidak mudah mengeluh.

Hal itu dikemukakan oleh Kepala BPPSDMP Kementan, Momon Rusmono di Jakarta, Rabu (2/5) pada pelantikan 37 pejabat eselon tiga dan empat untuk ditempatkan pada unit pelayanan teknis (UPT) Badan SDM Pertanian di seluruh Indonesia, dan delapan di antaranya berkantor di Jakarta.

"Loyalitas merupakan implementasi dari kemauan dan keinginan untuk mengabdi pada negara, sedangkan kredibel menunjukkan seseorang itu mampu bekerja maksimal sesuai harapan pimpinan," kata Momon Rusmono.

Dia mengingatkan bahwa loyalitas dan dan kredibel akan menempatkan seseorang untuk mampu bekerja sama, berkomunikasi, berkoordinasi dengan pimpinan, bawahan dan pejabat terkait di lingkungan BPPSDMP Kementan maupun eksternal di luar Kementerian Pertanian RI.

Tampak hadir Sekretaris BPPSDMP Andriko Noto Susanto, Kepala Pusat Penyuluhan Pertanian (Pusluhtan) Siti Munifah, Kepala Pusat Pelatihan Pertanian (Puslatan) Widi Hardjono, Kepala Pusat Pendidikan Pertanian (Pusdiktan) Gunawan Yulianto, Kepala Balai Besar Pelatihan Peternakan - BBPP Malang, Apri Handono dan Ketua Sekolah Tinggi Penyuluhan Pertanian - STPP Magelang diwakili Kabag Administrasi Umum STPP Magelang, Irwan Johan Sumarno.

Tantangan ke Depan
Momon Rusmono mengharapkan ke-37 pejabat baru dapat menjadi roda penggerak organisasi dalam melaksanakan fungsi-fungsi manajemen dan administrasi, untuk menjawab tantangan dan kebutuhan internal BPPSDMP dan tuntutan dari luar sistem birokrasi.

"Pengambilan sumpah dan pelantikan yang baru saja saya lakukan untuk memenuhi tuntutan, tantangan, dan kebutuhan di internal BPPSDMP dalam memberikan pelayanan, juga tuntutan eksternal dari masyarakat yang berkembang cepat sehingga kita dituntut mampu memberi respon cepat dan tepat,"

Kepala BPPSDMP mengingatkan Pemerintah RI memilih pejabat eselon tiga dan empat yang kapabel dan berkompeten pada tugas dan wewenangnya, dan bukan berdasarkan urut kacang atau karena faktor like or dislike. Bangsa dan negara membutuhkan pejabat yang komitmen pada peningkatan produksi pangan strategis mencapai swasembada pangan.

"Mari kita bekerja profesional dan bukan sekadar mencari jabatan. Jangan berharap pada kenaikan pangkat atau jabatan karena faktor urut kacang atau like or dislike, hal itu sudah tidak berlaku lagi saat ini ketika pemerintah bekerja keras untuk mencapai target swasembada pangan," katanya.

Mereka yang dilantik antara lain Winarti SE,MA sebagai Kasubbag Kerjasama Sekretariat BPPSDMP; Dra Ani Bastianingsih (Kasub TU dan Rumah Tangga Sekretariat BPPSDMP), Dr Acep Hariri ST, MSi (Kasubbag Data dan Informasi Sekretariat BPPSDMP); Ir R Erwin Zulkarnaen (Kasubbag Hubungan Masyarakat, Sekretariat BPPSDMP); Dr Septalina Pradini SPi,MSi (Kasubbid Informasi dan Materi Penyuluhan di Puslutan); Yoyon Haryanto, SSt, MP (Kasubbid Pemberdayaan Kelembagaan Petani di Puslutan; Edi Nursantoso, SAG (Pj Kasubbid Program Pelatihan di Puslatan; Dra Dewi Gendari (Kasubbid Sertifikasi Profesi di Puslatan).
Jakarta (B2B) - The third and fourth echelon officials of the Directorate General of Agricultural Human Resource Development or BPPSDMP at the Indonesian Agriculture Ministry were inaugurated are expected to adhere to the principle of loyalty and credibility. These principles will encourage civil servants to stay focused, quick response with a results orientation so as to keep the spirit and not easily complain, according to senior ministry official.

It was stated by Director General of the BPPSDMP Momon Rusmono at the inauguration of 37 new officials in his office and technical service units across the country, and eight of them based in Jakarta.

"Loyalty is implementation of willingness to serve the country, while the credible shows a person is able to work optimally according to expectations of the leaders," Mr Rusmono said.

He cautioned that loyalty and credibility would put one person to work together, communicate, coordinate with leaders, subordinates and internal and external officials outside the ministry.

It was attended by Secretary of BPPSDMP Andriko Noto Susanto; Director of Agricultural Extension Center, Siti Munifah; Director of Agricultural Training Center, Widi Hardjono; Director of Agricultural Education Center, Gunawan Yulianto; Director of Malang´s Livestock Training Center, Apri Handono; Rector of Yogyakarta´s Agriculture Extention College, Ali Rachman represented by Head of Public Administration, Irwan Johan Sumarno.

Challenge Ahead
Mr Rusmono expected the third and fourth echelon officials to be driver of organization carrying out functions of management and administration functions to respond the internal and external challenges and needs.

"The oath and inauguration of officials to meet the demands, challenges, and internal needs of providing services, and external demands from the community," he said.

The government´s commitment to choose officials capable, and competent in the tasks and responsibilities, not because sequence numbers and the like or dislike. The government requires officials who committed to the achievement of self-sufficiency.

Let´s work professionals and not just look for important positions. Do not expect to rank or position because of the sequence numbers and the like or dislike, is irrelevant when the government work hard to achieve self-sufficiency," Mr Rusmono said.