PJ OPA Jabar Gelar Bimtek Pemanfaatan dan Pemeliharaan Alsintan di Karawang
Indonesian Govt Reminded the Farmers Optimized Agricultural Machinery
Editor : M. Achsan Atjo
Translator : Dhelia Gani

PUBLISHED: Senin, 23 April 2018 , 10:42:00 WIB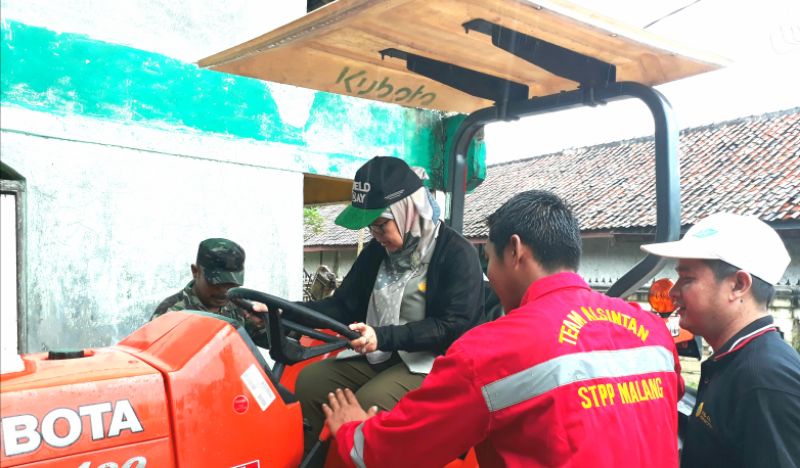 UJI KELAIKAN: Kasubbid Evaluasi Penyuluhan, Siti Hafsah Husas (hijab) mencoba mesin traktor roda 4 dibimbing instruktur Alsintan STPP Malang, Diantoro. (Foto: B2B/Mac)
Karawang, Jabar (B2B) - Kementerian Pertanian RI pagi ini, Senin (23/4) menggelar bimbingan teknis (Bimtek) optimalisasi alat mesin pertanian (Alsintan) untuk meningkatkan pemanfaatan dan pemeliharaan Alsintan untuk para petani di Kabupaten Karawang, Provinsi Jawa Barat.
Kegiatan Bimtek Alsintan Karawang yang dipusatkan di Desa Sekarwangi, Kecamatan Rawamerta dipimpin oleh Kasubbid Evaluasi Penyuluhan, Siti Hafsah Husas mewakili Wayan Ediana sebagai Penanggung Jawab Optimalisasi Alsintan - PJ OPA Bekasi, Subang, Karawang dan Karawang Kota.
Bimtek di Karawang didukung dua instruktur Alsintan dari Sekolah Tinggi Penyuluhan Pertanian - STPP Malang, Diantoro dan Darmanto yang ditugasi Kepala Pusat Penyuluhan Pertanian (Pusluhtan) Badan SDM Kementan, Siti Munifah untuk meningkatkan kemampuan petani melakukan panen padi, pengolahan tanah dan menanam padi.
"Kegiatan Bimtek diawali pengarahan dan sosialisasi manfaat Alsintan untuk menggarap lahan pertanian secara efektif dan efisien untuk meningkatkan produksi pertanian," kata Siti Hafsah mewakili Wayan Ediana.
Setelah sosialisasi kepada petani dilanjutkan kegiatan praktik penggunaan Alsintan seperti mesin penanam padi (rice transplanter), traktor roda empat (TR4), dan mesin panen mini (combine harvester).
Puluhan petani dari kelompok tani (Poktan) Tani Makmur II Dusun Patengong, Desa Sekarwangi menyambut antusias kegiatan Bimtek.
Karawang, West Java (B2B) - Indonesian Agriculture Ministry this morning, Monday (April 23) held technical guidance on the optimization of agricultural machinery or Alsintan, to improve the utilization and maintenance Alsintan for farmers in Karawang regency, West Java Province.
Technical guidance activities in Karawang are centered in Sekarwangi village of Rawamerta subdistrict led by Head of Evaluation Subdivision, Siti Hafsah Husas representing Wayan Ediana as the Person in Charge of Optimizing Alsintan or PJ OPA Bekasi, Subang, Karawang and Karawang Kota.
Technical guidance in Karawang is supported by instructors of Malang´s Agricultural Extension College or STPP Malang, Diantoro and Darmanto assigned by the Director of Agricultural Extension Center or Pusluhtan in the ministry Siti Munifah to improve farmers´ ability to harvest rice, cultivate and plant rice.
"The activity begins the direction and socialization of benefits of Alsintan to work on agricultural land effectively and efficiently to increase agricultural production," said Mrs Husas representing Mr Ediana.
After the socialization continued the practice of using Alsintan such as rice transplanter machine, tractor wheel four, and combine harvester.