LTT dan Opsin Sulsel, Momon Rusmono Minta PPL `All Out` Dukung Petani
Indonesian Govt to Push Agricultural Extensionist Support Food Production
Reporter : Gusmiati Waris
Editor : Cahyani Harzi
Translator : Dhelia Gani

PUBLISHED: Minggu, 08 Juli 2018 , 12:51:00 WIB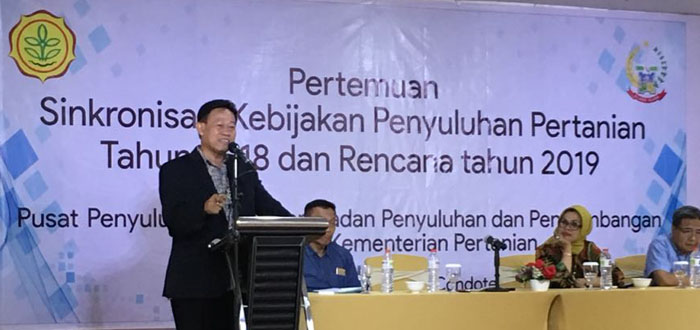 Kepala BPPSDMP Kementan, Momon Rusmono memberi arahan pada kegiatan Sinkronisasi dan Sosialisasi Kebijakan Penyuluhan Pertanian tahun 2018 dan Rencana Kegiatan tahun 2019 di Makassar (Foto: istimewa)
Makassar, Sulsel (B2B) - Sekitar 200 koordinator balai penyuluhan pertanian (BPP) dari sejumlah kabupaten di Provinsi Sulawesi Selatan mendengarkan arahan Kepala Badan Penyuluhan dan Pengembangan SDM Pertanian (BPPSDMP) Kementerian Pertanian RI, Momon Rusmono yang meminta penyuluh pertanian lapangan (PPL) ke depan harus fokus dan all out pada percepatan luas tambah tanam (LTT), dan mendorong petani memanfaatkan alat dan mesin pertanian (Alsintan) secara optimal.
"Kesejahteraan petani bisa terwujud jika penyuluh pertanian bekerja serius dan bersemangat tinggi didukung dengan rencana kerja yang jelas seperti tertuang pada sembilan indikator kinerja penyuluh pertanian," kata Momon Rusmono di Makassar, Sabtu (7/7) pada kegiatan Sinkronisasi dan Sosialisasi Kebijakan Penyuluhan Pertanian tahun 2018 dan Rencana Kegiatan tahun 2019.
Dia mengingatkan tentang indikator kinerja utama (IKU) yang juga merupakan IKU BPPSDMP Kementan antara lain identifikasi potensi wilayah, menyusun program penyuluhan desa, menyusun rencana kerja tahunan, penerapan sistem pertanian terpadu, penilaian kelas kemampuan kelompok tani dan pengembangan kelembagaan ekonomi petani (KEP).
"Percepatan LTT dan optimalisasi Alsintan merupakan program strategis kementerian pertanian karena program ini mampu meningkatkan produktifitas dan produksi di tingkat lapangan, akibatnya Indonesia bisa melakukan ekspor," kata Momon Rusmono.
Menurutnya, peningkatan produksi pertanian strategis dapat tercapai karena sebagian besar petani sudah memanfaatkan Alsintan walaupun masih ada beberapa petani yang belum memanfaatkannya. Namun ke depan, sekitar empat sampai lima tahun, modernisasi pertanian akan digunakan secara menyeluruh oleh petani di tingkat lapangan.
"Modernisasi pertanian lebih efektif, efisien, berkualitas, dan harganya menguntungkan petani," kata Momon.
Makassar of South Sulawesi (B2B) - At least 200 Around 200 coordinators of agricultural extension centers or the BPP from a number of districts in South Sulawesi Province instructed by the General of Indonesia´s Agricultural Extension and Agricultural Human Resources or the BPPSDMP at the Agriculture Ministry, Momon Rusmono to supports extending the rice planting and and encourage farmers to utilize agricultural machinery.
"The welfare of farmers will be realized if agricultural extensionist to work hard supported by the work plan as outlined in nine indicators of agricultural extensionist performance," said Mr Rusmono here on Saturday (July 7).
He reminded the key performance indicators covering the implementation of integrated farming systems, the assessment of farmer group ability classes and the development of farmers.
"The acceleration and optimization of agricultural machinery is a strategic program of the ministry, because the program is able to increase productivity and agricultural production," Mr Rusmono said.
According to him, the increase in strategic agricultural production can be achieved because most farmers already use agricultural machinery although there are still farmers who have not used. But in the future, the modernization of agriculture will be used thoroughly by farmers across the country.
"The modernization of agriculture is more effective, efficient, and beneficial to farmers," Mr Rusmono said.