Tabanan Panen Tiap Hari, Kementan Sinkronisasi Produksi dan Stok Beras Bali
Bali Farmers Increase Rice Production for Food Self-sufficiency
Editor : M. Achsan Atjo
Translator : Dhelia Gani

PUBLISHED: Kamis, 25 Januari 2018 , 13:39:00 WIB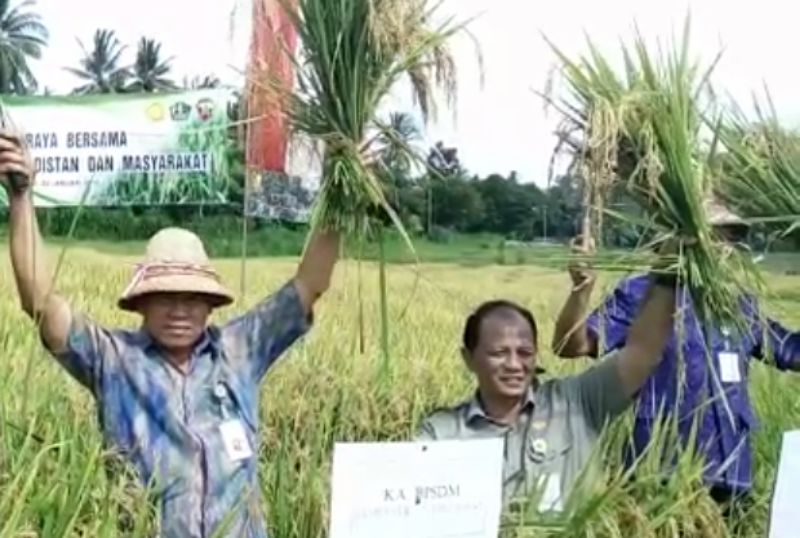 BERAS TABANAN: Kepala Badan Penyuluhan dan Pengembangan SDM Pertanian (BPPSDMP) Kementan, Momon Rusmono panen padi di Desa Subak Anyar Suraberata didampingi Kepala BBPP Ketindan, Kresno Suharto (Foto: B2B/Mac)
Tabanan, Bali (B2B) - Aktivitas petani melakukan panen padi dapat ditemukan di Bali setiap hari, khususnya di Kabupaten Tabanan, dan hari ini, Kamis pagi (25/1) panen berlangsung di lahan seluas 127 hektar di Subak Anyar Suraberata, Desa Lalanglinggah, Kecamatan Selemadeg Barat dari varietas Ciherang, produktivitasnya 6,3 ton per hektar dengan sistem tanam Tegel.

Kegiatan panen dihadiri oleh Kepala Badan SDM Pertanian – Kementerian Pertanian RI, Momon Rusmono ke lokasi panen - 51 km dari Denpasar - untuk mengajak petani setempat meningkatkan produktivitas padi sekaligus melakukan sinkronisasi produksi dan stok beras dengan pihak-pihak terkait di Kabupaten Tabanan maupun Provinsi Bali.

Momon Rusmono mengapresiasi konsep subak sebagai filosofi bercocok tanam padi yang berlangsung turun-temurun, sebagai organisasi pertanian dari masyarakat petani di Bali yang secara khusus menangani pengaturan sistem pengairan sawah atau irigasi dengan cara tradisional.

"Kementan mendorong petani di Tabanan, khususnya di Selemadeg Barat untuk memanfaatkan varietas unggul dan sistem tanam yang tepat, untuk mendorong peningkatan produksi padi di Tabanan dan Bali" kata Momon.

Dia mengharapkan penyuluh pertanian, bintara pembina desa (Babinsa), kantor dinas pertanian dan para pemangku kepentingan mendukung pencapaian target swasembada pangan di Tabanan dan Bali untuk mendukung kebutuhan pangan lokal maupun nasional.

Tampak hadir Kepala Dinas Pertanian Provinsi Bali diwakili Kabid Sunarta WY, Aster Kasdam IX Udayana Kolonel Inf Kadek Subawa; Dandim 1619/Tabanan, Letkol Inf Erwin Gunawan; Kepala Balai Pelatihan Pertanian - BBPP Ketindan, Kresno Suharto; dan Kepala Dinas Pertanian Tabanan, I Nyoman Budana diwakili oleh I Wayan Suandra.

Luas Panen
Dinas Pertanian Kabupaten Tabanan melansir luas panen di Kabupaten Tabanan pada akhir Desember 2017 mencapai 214,65 hektar, varietas padi yang dipanen adalah Ciherang dengan produktivitas tertinggi mencapai 6,3 ton per hektar.

Dari pantauan panen pada 10 Januari lalu, tiga subak di Tabanan melakukan panen yakni Subak Jeran Dewa di Desa Lumbung, Kecamatan Selemadeg Barat, panen padi seluas 30 hektar dari potensi 40 hektar dari varietas Ciherang dengan produktivitas 6 ton per hektar. Potensi luas panen padi 80 hektar yang dikelola Subak Sangkil di Desa Beringkit Belayu, Kecamatan Marga dari varietas ´Pak Tiwi´ produktivitasnya 6,65 ton per hektar. Subak Gubug II di Desa Sudimara, Kecamatan Tabanan potensi panennya 73 hektar dari varietas Cigeulis dengan produktivitas 7,86 ton per hektar.

Kemudian pada 12 Januari 2018, Subak Lumbung Desa melakukan panen seluas tiga hektar dari potensi 10 hektar dari varietas Ciherang menghasilkan rata-rata 6,1 ton per hektar. Subak Gubug II di Desa Sudimara, Kecamatan Tabanan panen seluas dua hektar dari potensi panen 73 hektar dengan varietas Cigeulis yang menghasilkan 6,1 ton per hektar.

Sementara pekan lalu, 17 Januari 2018, di Tabanan dilaporkan ada dua subak yang sedang panen 10 hektar yakni Subak Kelepud di Desa Dalang, Kecamatan Selemadeg Timur dari potensi 37 hektar, produktivitasnya 6,49 ton per hektar dari varietas Ciherang. Subak Pangkung Lengkuas di Desa Gadungan, Kecamatan Selemadeg Timur dipanen tiga hektar dari potensi 15 hektar dengan varietas Ciherang, produktivitas 4,8 ton per hektar.

Tabanan of Bali (B2B) – Indonesia's Bali paddy farmers almost everyday do rice harvest including in Tabanan regency - 51 km from Denpasar, the provincial capital - as today, Thursday morning (January 24) an area of 127 hectares in Lalanglinggah village of Selemadeg West subdistrict. The local farmers uses Ciherang rice varieties with productivity of 6.3 tons per hectare and Tegel planting system.

The rice harvest was attended by Momon Rusmono as the Director General of Agricultural Human Resources Agency at the Indonesian Agriculture Ministry located 51 km from Denpasar, which invited local farmers to increase rice productivity and synchronize rice production and stocks with related parties in Tabanan district and Bali province.

Mr Rusmono appreciated the concept of subak as a rice planting philosophy in Bali that is hundreds of years old, as an agricultural organization from Balinese farmers to manage the irrigation system in the traditional way.

"The ministry encourages farmers in Tabanan, particularly in Selemadeg Barat to utilize superior varieties and appropriate cropping systems, to increase Tabanan rice production," he said.

He expects agricultural extension agents, village counselors, agriculture agencies and stakeholders to support food self-sufficiency in Tabanan and Bali to support local and national food needs.

Rice Harvest Area
The Tabanan agricultural office reported that the rice harvest area in Tabanan district at the end of December 2017 reached 214.65 hectares, Ciherang rice varieties with an average productivity of 6.3 tons per hectare.

From the harvest monitoring on January 10, three farmer groups in Tabanan doing rice harvest in Lumbung Village, Selemadeg Barat District, 30 hectares of rice harvest from the potential of 40 hectares, productivity of six tons per hectare.

From the harvest monitoring on January 10, three farmer groups doing rice harvest that is Jeran Dewa in Lumbung village, Selemadeg Barat subdistrict, 30 hectares harvest area with Ciherang productivity of six tons per hectare. Potential area of 80 hectares managed by Sangkil farmer group in Beringkit Belayu village of Marga subdistrict uses Pak Tiwi varieties with productivity 6,65 tons per hectare. Gubug II in Sudimara village of Tabanan district, rice harvest potential of 73 hectares of Cigeulis varieties with productivity of 7.86 tons per hectare.

Last week, there were two farmer groups harvesting 10 hectares that is Kelepud in Dalang village of East Selemadeg subistrict with potential of 37 hectares, productivity 6.49 tons per hectare of Ciherang varieties. Lengkuas Pangkung in Gadungan village of Selemadeg Timur subdistrict is harvested three hectares with potential 15 hectares with Ciherang variety and productivity of 4.8 tons per hectare.