BBPP Binuang Tingkatkan Kompetensi Penangkar Benih di Kalimantan
Indonesian Agricultural Seed Growers must Attend Vocational Training
Editor : M. Achsan Atjo
Translator : Dhelia Gani

PUBLISHED: Senin, 20 Mei 2019 , 01:35:00 WIB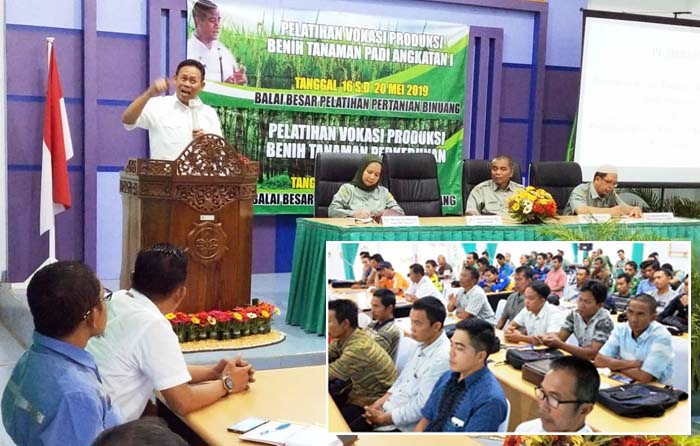 PELATIHAN VOKASI: Kepala BPPSDMP Kementan, Momon Rusmono memberi arahan saat membuka pelatihan vokasi di BBPP Binuang didampingi Kepala BBPP Binuang, Yulia Asni Kurniawati [duduk kiri] Foto2: Sekretariat/Nugroho
Tapin, Kalsel [B2B] - Sedikitnya 30 penangkar benih dari Kalsel, Kalteng dan Kaltim mengikuti pelatihan vokasi produksi benih tanaman padi dan tanaman perkebunan di Balai Besar Pelatihan Pertanian Kalsel [BBPP Binuang] selama lima hari, 16 - 20 Mei 2019, yang diapresiasi Kepala BPPSDMP Kementan, Momon Rusmono sebagai upaya ´menerjemahkan´ instruksi Presiden RI Joko Widodo untuk menyiapkan tenaga kerja berbasis kompetensi.
"Kami memberi apresiasi pelatihan vokasi penangkar benih di BBPP Binuang, yang akan diikuti sertifikasi profesi untuk menghasilkan wirausahawan muda dan tenaga kerja berkompetensi, untuk menghasilkan benih unggul yang dibutuhkan pasar, khususnya petani," kata Momon Rusmono kepada pers di BBPP Binuang, Kamis [16/5] usai membuka pelatihan vokasi tersebut didampingi Kepala BBPP Binuang, Yulia Asni Kurniawati.
Dia mengharapkan Pusat Pelatihan Pertanian [Puslatan] pada Badan Penyuluhan dan Pengembangan SDM Pertanian - Kementerian Pertanian RI [BBPPSDMP Kementan] mendorong dan mendukung unit pelaksana teknis [UPT] di seluruh Indonesia untuk meningkatkan kemampuan wirausahawan muda dan tenaga kerja pertanian berbasis kompetensi untuk mendapatkan sertifikasi kompetensi.
"Pelatihan vokasi menjadi salah satu opsi Pemerintah RI dalam hal ini BPPSDMP Kementan untuk mendorong peningkatan kompetensi SDM pertanian. Pelatihan vokasi juga unggul dalam hal durasi waktu lebih singkat dibandingkan pendidikan formal," kata Momon Rusmono.
BPPSDMP Kementan mengembangkan pelatihan vokasi berbasis kebutuhan industri [demand driven], alumni diharapkan berperan sebagai pencipta lapangan kerja [job creator] dan atau membuka lapangan kerja [job seeker].
Kepala BBPP Binuang, Yulia Asni Kurniawati mengatakan pelatihan vokasi produksi benih tanaman padi dan perkebunan berlangsung di Aula Bangkinang selama lima hari [16 - 20 Mei], peserta berasal dari tiga provinsi: Kalimantan Selatan, Kalimantan Tengah dan Kalimantan Timur.
Menurut Yulia AK, pelatihan vokasi tersebut mengacu pada Kurikulum Standar Kompetensi Kerja Nasional Indonesia (SKKNI). "Metode dan pola pelatihan yang digunakan adalah pendekatan experential learning cycle disingkat ELC dan focus group discussion." [Nug]
Tapin of South Borneo [B2B] - At least 30 seed growers of three provinces in Borneo participated in vocational trainining production of seed crops for rice and plantation crops in South Borneo Agricultural Training Center [BBPP Binuang] for five days, 16 to May 20, 2019, which was appreciated by Momon Rusmono, as the Director General of Agricultural Extension and HR Development at the Indonesia´s Agriculture Ministry [BPPSDMP Kementan].
"We appreciate the vocational training of seed growers at BBPP Binuang, which will be followed by professional certification to produce young entrepreneurs and labor competent," Momon Rusmono told the press at BBPP Binuang on Thursday [May 16] after opened vocational training accompanied by Director of BBPP Binuang, Yulia Asni Kurniawati.
He expects the Agricultural Training Center [Puslatan] at the BPPSDMP Kementan encourage and support technical implementing units [UPT] throughout the country to improve the competence of young entrepreneurs and agricultural labor.
"Vocational training is one of options for Indonesian government to improvement of agricultural HR competencies. Vocational training is chosen because the time is shorter than formal education," Rusmono said.